Spondylolisthesis is a spinal condition that occurs when a vertebrae slips out of place, causing pain and discomfort.. Sitting can exasperate the problem due to the additional pressure placed on the lumbar spine where the slippage usually occurs at.
So, how should one sit with spondylolisthesis?
The best way to sit with spondylolisthesis is with a neutral spine where the lower back is fully supported by the backrest of the chair. Minimize any awkward postures such as bending, twisting or slouching. Uncross your legs and keep your hips level.
What is Spondylolisthesis?
Spondylolisthesis happens when one of the vertebrae in the spine slips out of place. Frequently caused by overextending the spine, genetics, or wear-and-tear with time, spondylolisthesis may result in pressure on a nerve, leading to pain.
Surprisingly, in some instances, a person with spondylolisthesis may not even notice they have it. This is because this condition can happen without any symptoms occurring.
Generally, common symptoms of Spondylolisthesis include:
Low back pain
Low back tightness or stiffness
Pain in the buttocks and down the legs
Trouble walking or standing for long durations
Pain when bending
Tight hamstrings
Numbness, tingling, or weakness in the foot.
Typically, this condition is diagnosed via image testing showing that a vertebrae is out of alignment.
Treatment often involves strengthening of the abdominal and back muscles through physical therapy, bracing, steroid shots, and anti-inflammatory medications. In severe cases, your doctor may recommend surgery.
How to Sit With Spondylolisthesis
1. Sit with a Neutral Spine Posture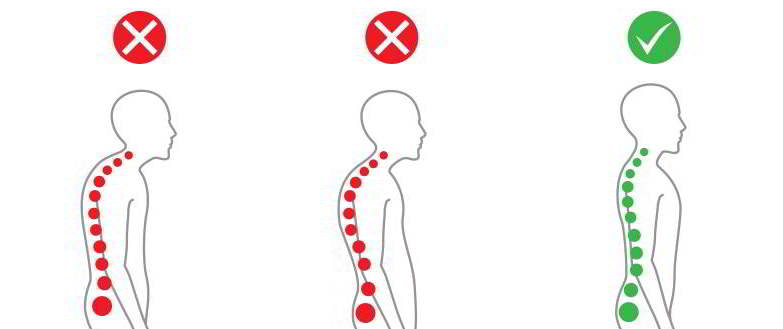 The most important thing to keep in mind when sitting with spondylolisthesis is to try to maintain a neutral spine as much as possible. This takes the pressure off the lower back where the affected vertebrae is typically located, preventing further agitation.
In ergonomics, the term neutral spine refers to a state where the 3 natural curves of the spine are preserved. Like a series of arched bridges, this allows the spine to distribute the weight placed on it evenly across the entire structure.
In the lower back, you should feel a slight inward bend when seated as a result. This is easier to achieve with the help of a lumbar support, whether in an ergonomic chair or external pillow: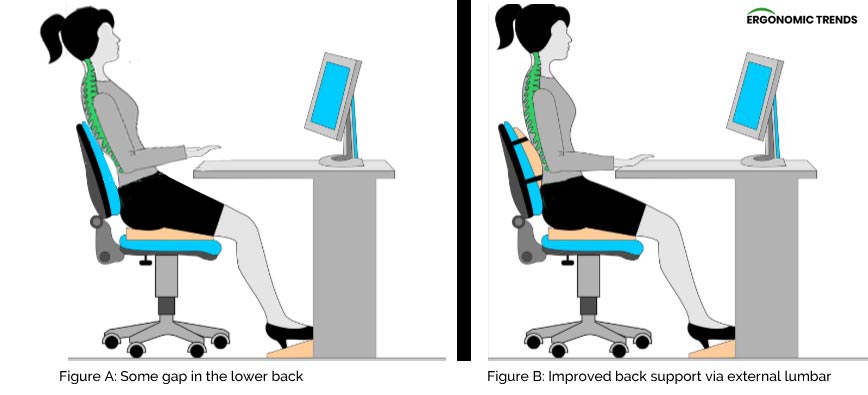 2. Adjust Your Posture Periodically
There are multiple neutral back postures, and it's a good idea to cycle through them periodically in your day. This is particularly important for people with any back issues, including spondylolisthesis.
Periodic postural changes gives different joints and muscles in your body a respite from pressure build up while allowing blood to circulate to those areas. For the spine, this is essential to promote proper healing.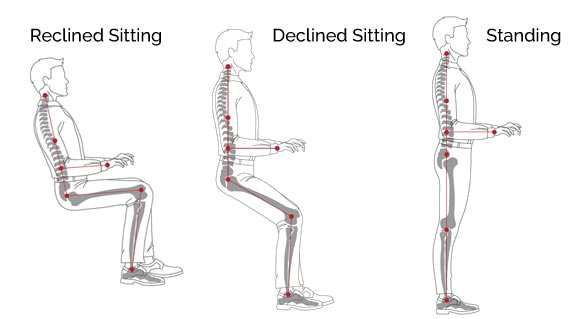 Some sitting postures that encourage a neutral back are:
Reclined sitting: Sit with the backrest slightly reclined (100 – 110 degrees) while the back is fully rested on the backrest. Again, observe that the lower back has a slight inward curve to it.

Declined sitting: Using a kneeling chair or office chair with forward tilt, sit at a downward sloping angle (ideally around 20 degrees) where the knees drop below hip level. This naturally shifts the hips forward to facilitate a neutral spine effortless.

Standing: Standing is an excellent working posture that makes it easy to maintain a neutral spine. In fact, one study showed switching between sitting and standing helped decrease lower back pain by up to 54% in participants.
Set an alarm every hour or so to help remind you to change sitting positions.
3. Get Up and Move Often

For those with spondylolisthesis, low impact exercises that don't involve twisting or overextending the back can be very helpful. This includes standing, walking, and certain stretches that alleviate the pressure placed on your vertebrae.
According to Mayo Clinic and Healthline, the following low impact exercises can be performed by people with spondylolisthesis to reduce pain and strengthen the surrounding muscles at the same time:
4. Wear a Back Brace
Research suggests that back braces can help reduce pain associated with spondylolisthesis. A back brace limits further slippage of the vertebrae from its rightful place, preventing fatigue and pain. When the vertebrae slips further out of alignment, this can place additional stress and strain on your muscles and surrounding structures.
According to a 2007 study, experts recommend a semi-rigid or rigid back brace for those with spondylolisthesis. This limits movement, which could cause the vertebrae to slide even more out of place, and limits pain associated with this condition. Generally, this brace should target the lower lumbar spine area, where spondylolisthesis is more likely to occur. If corset or stabilization braces don't alleviate your spondylolisthesis symptoms, you may want to look into a custom brace specifically fitted and designed for your body and lower spine.
There are many types of back braces on the market. On Amazon, people with spondylolisthesis have reported relief using the King of Kings Lower Back Brace.
5. Invest in an Ergonomic Chair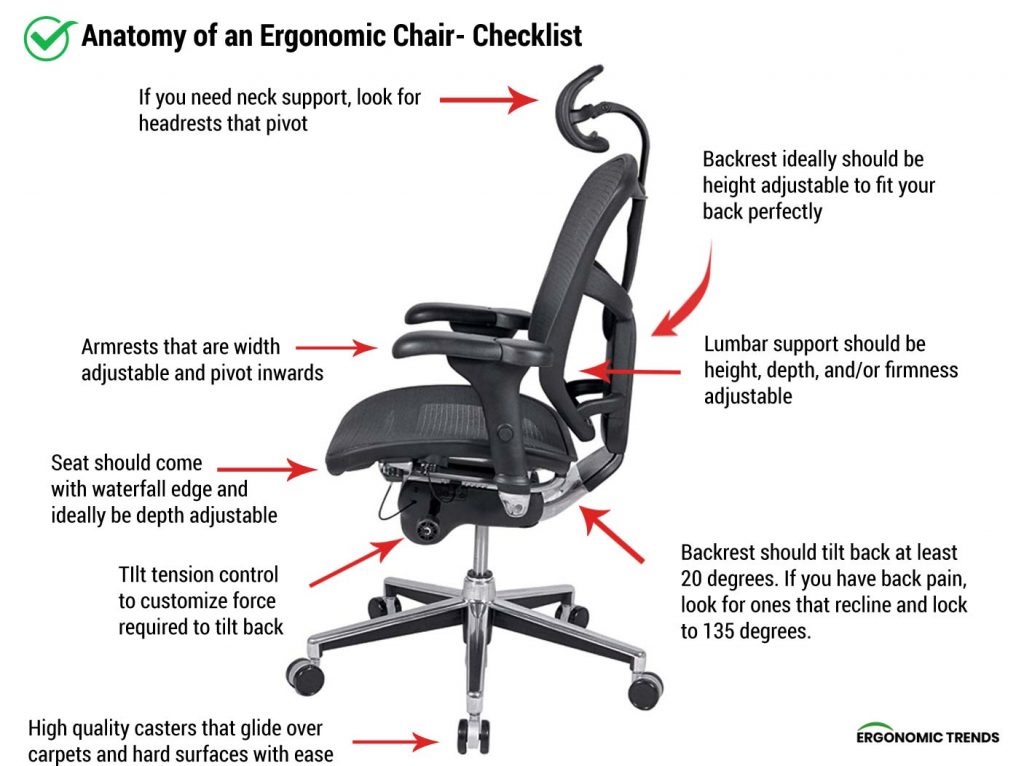 Investing in an ergonomic chair that is made to support your body can help in leaps and bounds. It makes maintaining that neutral spine that much easier.
The best ergonomic chairs for spondylolisthesis are those with robust lumbar support that can adjust for both height and depth. Examples of this include the SAMOFU office chair and new Secretlab Titan Evo.
6. Maintain a Healthy Weight and Lifestyle
Excess weight can put unnecessary pressure and stress on the spine. Thus, maintaining a healthy weight can help individuals with spondylolisthesis.
Furthermore, maintaining an overall healthy lifestyle can limit and reduce spondylolisthesis symptoms. This means staying relatively active (without aggravating your condition), drinking enough water throughout your day, and eating an array of healthy and nutritious foods. If you're unsure how to create a healthy diet, consulting with a nutritionist can help you figure out what foods work for you, your body, and your goals.
Spondylolisthesis Doesn't Have to Hold You Back!
Many people live with spondylolisthesis and have limited or no pain. The truth is that this condition is often manageable without invasive surgery. It all comes down to treating your body right and taking the necessary care when you sit for work.
Use the tips above to help you determine what works for your and your spondylolisthesis. Consult with local experts when you need it. Take lots of breaks. Seek out support, such as a back brace, ergonomic chair, and more, if you need to. And overall, maintain a healthy lifestyle that supports your body and your life.