On the fence whether to get a Killabee gaming chair? It's easy to be, with so many gaming chairs all looking eerily similar.
To help you decide, I went ahead and purchased the most popular gaming chair in the Killabee family – the KILLABEE 8204 Big and Tall Gaming Chair- to put it through the paces for 30 days. The end result is a comprehensive review not just based on my initial impressions of the chair, but actual daily usage after 4 weeks.
Quick Video Review
Overview of the Killabee Brand
The Killabee brand is one of the more well known in the gaming chair industry, and one that has survived for over a decade in a cut throat space where gaming chair brands pop up and disappear like wild mushrooms.
Longevity in the market doesn't necessarily mean good quality however.
Killabee produces quite a few gaming chairs, with the three most popular models being:
Most Popular
KILLABEE 8204
Recommended Height: 5'6" - 5'9"
Recommended Height: 5'8" - 6'1"
Recommended Height: 5'6" - 5'9"
Most Popular
Recommended Height: 5'8" - 6'1"
The model I bought and tested in this review is the KILLABEE 8204 Big and Tall, arguably the most well rounded of the three chairs.
Assembly of the KILLABEE 8204 Gaming Chair
This is one of the most overlooked aspects when purchasing an office chair- what's the assembly process like? It's one thing if a chair takes 2 people or a long time to put together. It's much worse, however, when screw holes don't line up properly and you end up with armrests that are uneven or a backrest that doesn't recline properly.
Luckily with the Killabee, assembly was fairly easy, even with just myself putting it all together.
Two things that made the assembly more straightforward:
Most of the screws were placed in their holes already when you unpack the parts to show where they go once you need to tighten them.
The key parts are relatively light, such as the backrest, which makes it easy for one person to assemble.
An allen key and spare screws are included. I was also pleasantly surprised to see a pair of gloves among the package, which was a nice touch, though not exactly necessary.
KILLABEE 8204 Gaming Chair Specs at a Glance
Before I continue with the review, let's go over the main specs of the Killabee 8204. A couple of them may instantly cross you out as a potential buyer:
PU leather seat and backrest
90 – 155 degree backrest recline
Chair height from floor to top of seat: 19″ to 22″
Backrest that tilts/rocks as well
External neck and lumbar pillow
Lumbar pillow has massage function
Built in footrest
Unit weight: 57 pounds
Maximum weight: 350 lbs
Recommended user height: 5'8″ – 6'1″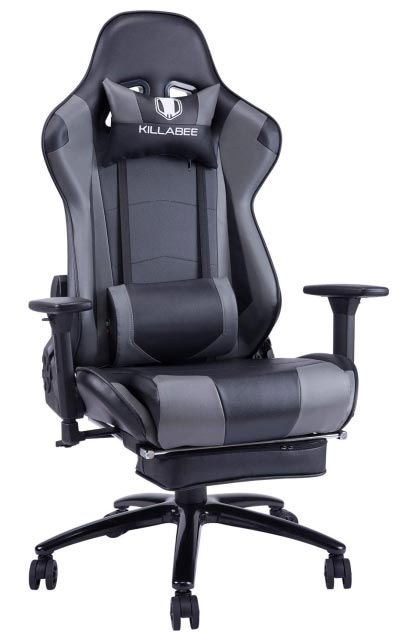 I'm 5'8″, and find the lowest setting perfect for my height. This means if you're shorter than that, adding a footrest is a good idea.
How Good is the Recline?
The most celebrated feature of the KILLABEE 8204 gamiing chair is the high degree of recline, and of course the footrest. So let's kick off the review with these two things.
Well, to start the backrest on this chair both tilts and reclines:
Tilting: As you apply force, the backrest tilts back around 15 degrees (and bounces back by itself). There is a tilt tension control as well.
Recline: The entire backrest can recline all the way down to what feels like an almost horizontal 155 degrees. The resting angle of the backrest can be locked anywhere between 90 to 155 degrees.
Then there's the pullout footrest. It slides out really smoothly, and is held up by two metal rods. I wouldn't lean my entire weight on it, but it's certainly sturdy enough when you're in a reclined position.
To me, the combination of the robust tilt, recline, and footrest is really worth highlighting here. They are my favorite features on the 8204 chair that a lot of regular office chairs lack.
The large tilt acts like a rocking chair, which lets me quickly bring some movement to my upper body on demand.
The large recline along with the footrest basically turns the KILLABEE 8204 gaming chair into a napping chair. No, for real. I can easily fall asleep at the maximum relining angle. It's extremely relaxing- and fun I must say.
Are the External Pillows any Good?
So this Killabee gaming chair comes with two external pillows- a neck pillow and a lumbar pillow that also massages.
The neck pillow is actually surprisingly functional. Attached through the cut outs in the headrest, you can move it a good 4 inches up and down to match it to the curvature in your neck. In other words, it gets a surprising thumbs up from me.
The lumbar pillow is interesting in that it can be USB powered to provide heating and massaging. If you're starting to get excited, stop it right now. These features I can testify are unfortunately just gimmicks. The heat is very weak, and the massage is more of an annoying vibration than anything else.
Still, after one month, both the neck and lumbar supports are still attached to my KILLABEE 8204 gaming chair. As supplemental support for your body, they do add value.
Seat Comfort Tested
The Killabee 8204 gaming chair's seat is comprised of PU leather with multiple layers of memory foam inside. The thickness of the cushion measured at the seat's edge is 4″, which is on the generous side.
If a chair's seat is not comfortable, it's no good. To really test this aspect of the Killabee 8204 gaming chair, I used the chair as my sole driver throughout the 30 days. This means around 8 hours of usage daily.
Well, after all this time, I can say the Killabee 8204's seat in terms of comfort deserves top marks. Whether I'm sitting with both feet on the floor, indian style, or one leg tucked under the other, the cushion manages to stay very comfortable. The best say to describe the seat is that it's soft yet supportive. This is a chair that I'm actually able to stay in for a few hours at a time without feeling my joints and bones aching.
On the flip side, it's hard to say how long the good times will last. A potential issue with memory foam is that it tends to sag over time. The Killabee tries to offset this with multiple thick layers of this stuff, and so far after 30 days, I notice no deformity. Still, your mileage will depend primarily on your weight and daily usage time.
Body Limit and Build Quality
The Killabee 8204 advertises itself as a big and tall gaming chair. That means everything from the dimensions to the weight capacity are supposedly amplified to support larger users. The reality as far as I can see is a bit of a mixed bag.
In terms of body height, Killabee says the chair is best suited for people between 5'8″ – 6'1″. I find this to be accurate. I'm 5'8″, and the size and seat height feels perfect for me at the lowest setting. For your information, the seat height can be adjusted between 19″ and 22″ measured from the top of the seat cushion to the floor.

Advertised as a big and tall chair, Killabee also claims the 8204's maximum weight capacity to be at 350 lbs. My own estimation is that the chair is probably best suited for people under 250 lbs. Key components of the chair do not seem to be properly reinforced to handle heavier users, in particular the gas lift cylinder, backrest, and the footrest.
One annoying thing about the chair is that it squeaks. I'm told not every chair will be like that, but mine started making annoying noises whenever I rock the backrest after the 2 week mark. Squeaking is a common problem that is less frequent in higher end chairs I've found.
Overall it would be unfair to say the build quality of the Killabee 8204 is poor. However, at 57 lbs, it's a bit of a lightweight compared to real big and tall gaming chairs like the Noblechairs Hero, which weighs 68 lbs. There are noticeably less metal parts in the former that give me pause it will support any person over 300 lbs.
In summary, the Killabee 8204's ideal user in my opinion should be below 6'1″ and under 250 lbs. If you're under the 5'8″ recommended height, just get a footrest and you'll be fine.
Should I Get the Killabee Chair?
At the end of the day, the Killabee 8204 is your average gaming chair whose main redeeming quality is the wider than average seat and footrest compared to other gaming chairs, for those of you looking for more wiggle room when you sit.
Ironically, it's not the best for big folks due to the build quality. For those over 250 lbs or taller than 6'1″, my suggestion is to look for something beefier, such as the Anda Seat Big and Tall or our other choices for big and tall gaming chairs.