The seismic shift to working from home these days has liberated the way we sit. No longer confined to just an office chair for 8 hours on end, for once we can choose how to sit (or stand) and for how long.
There is no better time than now to start trying other ways of sitting for the sake of your health, two of them being to kneel and squat.
Kneeling and squatting are better than regular sitting in the following key ways:
Require more muscle activity to maintain (up to 8x more than regular sitting), creating a form of active sitting that eliminates a lot of the health issues associated with normal sitting.
Better preserve the natural curvature in the lumbar spine to protect against back pain.
There are drawbacks however. Read on to learn just what the research says, and best practices for how to kneel or squat at the desk when you work.
The Problem with "Regular" Sitting
We've all heard this line far too many times already- "Sitting is the New Smoking!". But have you ever read past the headlines to understand why that is?
The truth is, there is nothing inherently detrimental about sitting in itself. If that's true, this implies as humans we should constantly be active – walking, running, or moving about – most of the time. Biologically this is counterproductive where conservation of energy has always been a cornerstone to survival in the wild.
The real problem with sitting lies in the manner we sit these days combined with the lengthy duration.
The two conditions when both met is when the real damage occurs.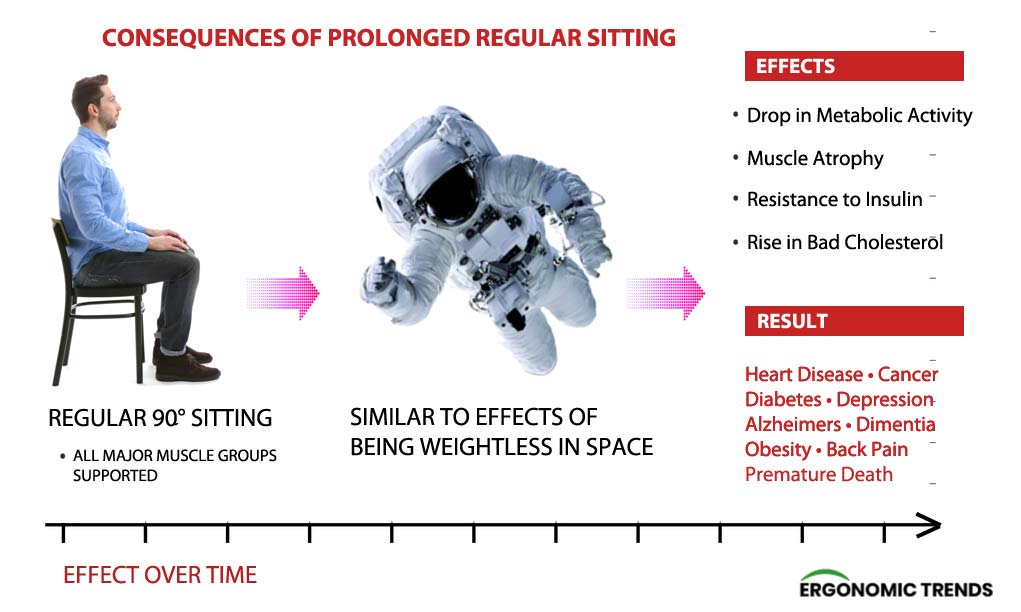 Modern day sitting involves sitting in a chair where all of our major muscle groups are relaxed. The goal is to allow us to sit for as long as possible without fatiguing or physical discomfort. And to that end the modern chair has succeeded beautifully, enabling us to stay in the same position for many hours at once.
Having your bigger muscles, joints and bones all supported for a short while is fine, even therapeutic. The problem is, we often remain in this sedentary position for a long time, day in and day out.
Dr Joan Vernikos, a former NASA scientist, likens the negative effects to that of being weightless in space for a long time.
What ensues is a dramatic drop in metabolic activity, rise in bad cholesterol, muscle atrophy, and resistance to insulin, among other precursors to all the nasty things associated with a sedentary lifestyle.
The main takeaway here is this: Sitting itself isn't necessarily bad- it's how we sit these days and the length of time it's often done that is.
Why Kneeling and Squatting is Different (and Better)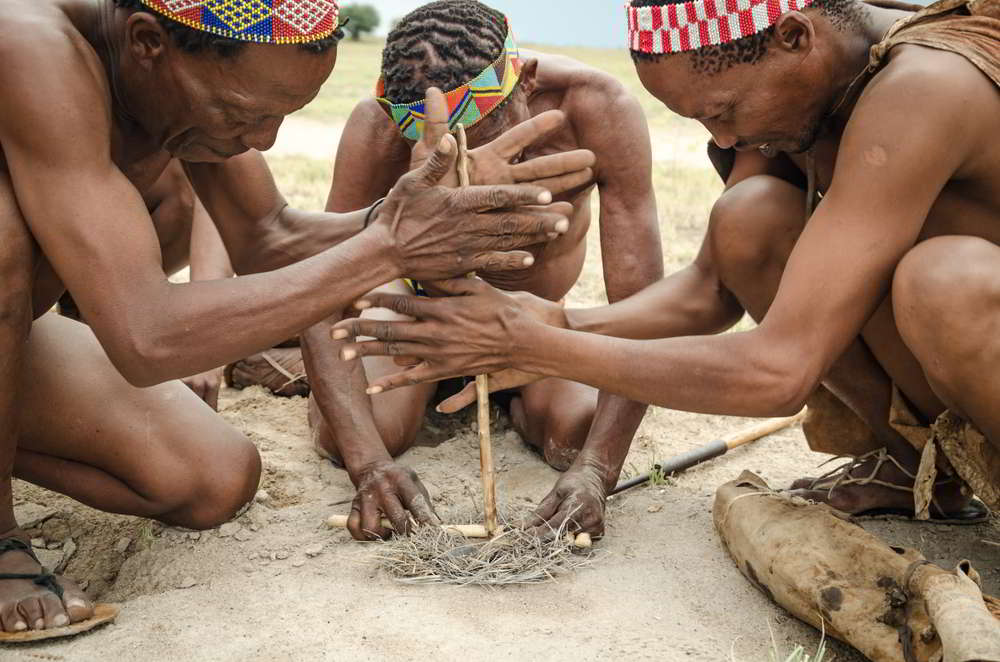 Kneeling and squatting are fundamentally different. Unlike regular sitting where our hips and knees rarely go past 90 degrees, these positions engage the thighs, open up the hips, and trigger opposing muscles activity. In other words, while you may appear inactive in these positions, your hips, thighs, and feet are all working to balance and support the body so it doesn't topple over.
One study conducted by the University of Southern California affirms the benefit all this muscle activity brings:
The USC lead team of scientists studied the lifestyle of the Hadza, a modern group of hunter-gatherers in Tanzania with long sedentary down time of up to 10 hours daily, not unlike the rest of us. However, the group exhibited little to none of the typical health issues that come with a sedentary lifestyle.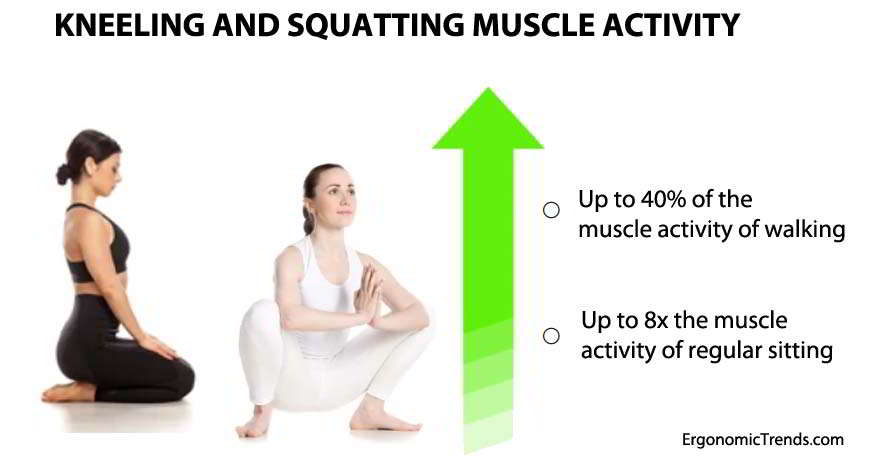 The main reason according to the study? The Hadza people don't use (or have for that matter) chairs when they rest – they knee and squat. These positions despite appearing inactive are anything but from a muscular and metabolic standpoint. In fact, the team found that kneeling and squatting elicits up to 40% of the muscle activity of walking, while sitting only requires 5%.
In other words, kneeling and squatting generates 8x more muscle activity than modern day sitting.
Nature already came up with the perfect active sitting solution, and that is to kneel and squat.
Better for Your Back as Well
Another upside of both kneeling and squatting is that they are much easier on the back.
In normal 90-degree sitting, the lumbar spine loses its inward bend, leading to compression and pressure build up that over time causes back pain.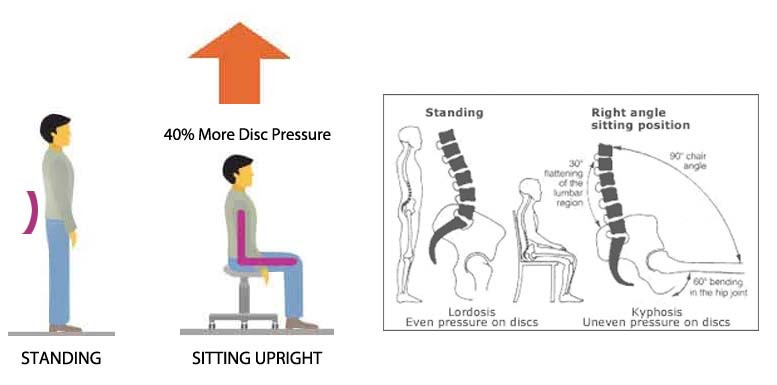 When we kneel or squat however, the hips open up and shift naturally to preserve the natural curvature in the lumbar spine, similar to what happens when we stand. This is where the spine is most happy, with the 3 natural curves intact and supporting the upper body weight evenly, like in a series of arch bridges.
Yogis will tell you one of the best postures for back pain is the Malasana. That's another word for squat sitting.
How Often Should I Kneel or Squat when Working?
I advise my clients to start out with just 5 minutes of either kneeling or squatting a day. As your hip mobility and leg strength improves, gradually go up to 15 minutes each in these positions.
Fill the rest of your working hours with regular sitting and standing. Variety is the key to escaping the sedentary trap.
Tips when Kneeling and Squatting at the Desk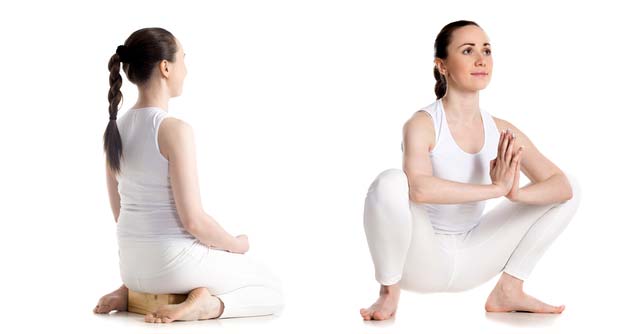 Ok, so you're ready to start sitting the Hadza way. Here are the most important tips to keep in mind:
Place your laptop and work materials on a low coffee table where things are at eye level.
Ensure the keyboard is within arms reach so you don't have to round your shoulders to reach it. Use a wireless keyboard if needed.
Make sure your back is flat with a slight arch in the lower back at all times. Pivot at the hips if needed to lean forward.
Arms should be parallel to the floor or at an open angle (past 90 deg). Wrists should be neutral. Neck should be straight.
Special Considerations when Squatting

Assume a full resting squat when squatting at the desk. That is feet flat on the floor, shoulder width apart, and toes pointing straight or slightly outwards.
If you're unable to rest your feet fully flat on the ground, you're not alone. Many adults have very tight hip flexors and poor ankle flexibility due to a lifetime of 90-degree sitting. Use a yoga block or rolled up blanket to prop up your heels as your squat. As your hip mobility improves, you can eventually remove these aids.
Maintain a straight spine whether you're upright or bent forward at the hips.
Check out the below video on how to do a proper resting squat:
Special Considerations when Kneeling
If it gets uncomfortable kneeling, place a blanket between your buttock and legs.
To work in the kneeling position for longer, use a kneeling chair instead.
Consider using a kneeling chair if you have back pain. The 20 degree declining seat better preserves the natural lumbar curve compared to normal kneeling for even less spinal pressure.
See Also