Laptop ergonomics hasn't changed much since the advent of the first laptop in 1981, We're still looking at basically the same form factor that is a screen attached to a keyboard. Best practices for ergonomic laptop use that were relevant 20 years ago still very much hold true today.
A lot of the more exciting developments in laptop ergonomics these days are found in laptop peripherals and passages inside research papers.
In this modern guide to laptop ergonomics, we take into account the latest research and technologies to provide an updated checklist of how to work best on your laptop without ruining your body.
Good Laptop Ergonomics at a Glance
The aim of an ergonomic laptop setup is to enable your body to work in a neutral position. There is where there is minimal stress on your muscles, nerves and bones as you operate the laptop. Prolonged deviation from the body's neutral position, such as flexing your back, extending your wrists or slumping your shoulders overloads the musculoskeletal system, resulting in debilitating RSI injuries over time.
Ergonomic Checklist for Frequent Laptop Use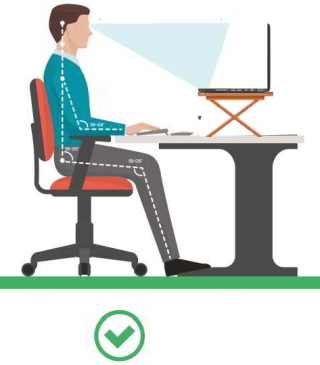 Use a laptop stand to elevate the screen to eye level.
Connect an external keyboard to help maintain neutral wrists when typing.
Strive for a neutral neck where it's vertical, with the ears aligned with the shoulders.
Sit up straight or at a reclined angle, supported by the backrest.
Open your chest and maintain the natural curve in your lower back. This reduces spinal pressure.
Adjust the armrests and seat height to create a 90°- 100° open elbow angle.
Both feet should be flat on the ground and not crossed.
Stretch or take a quick walk every 30 minutes.
Ergonomic Checklist for Casual Laptop Use
Avoid placing your laptop on your bare thighs at all costs. This places your upper body in the worst posture possible to view the screen or type (neck flexion, rounded back, and chest compression).
Cushion and elevate the laptop over your thighs with a laptop tray or wedge shaped binder.
If possible, look for an elevated surface to place your laptop on instead, such as a coffee table. Kneel or squat with a straight back to work on the laptop.
When working outside, reduce glare and blue light exposure with an anti-glare filter and blue light blocking glasses, respectively.
Pick and Use the Right Laptop Stand
The key to good laptop ergonomics is to raise the screen so it's as close to eye level as possible. This naturally guides your entire upper body back into proper alignment – your back is suddenly more straight, shoulders relaxed, and neck upright.
If you're on a budget, a stack of books will do, though a purpose built laptop stand offers a lot more in terms of adjustability.
On the market you'll find 4 main types, each with their own pros and cons:
Wedge Shape Stands: Flattens and easy to carry around. Renders laptop keyboard unusable and requires more desk space however in a proper ergonomic setup, as the external keyboard can't be tucked underneath. Recommended when portability is your top priority.

Dual Rise Stands: More robust angling and height adjustments. Also, allows external keyboard to slide underneath to bring laptop screen closer to you. Recommended option for use at home or at the office.

Laptop Trays: Big and stable surface, though bulky and requires large desk space. Best for use on the bed or as a desk riser on a tall surface such as the kitchen counter.

Daddy Long Legs: Long adjustable legs, though a big hassle to adjust into desired position. Best to use to prop up laptop when sitting on the floor.
Check out this video for a detailed breakdown of each type of laptop stand:
For the home or office, the dual rise stand is overall the most versatile and ergonomic.
Alternate Between Laptop Working Positions (Stand, Sit, Squat and Kneel)
Mobility is arguably the laptop's biggest ergonomic strength. It doesn't tie you down to your desk, allowing you to more easily break free from the sedentary lifestyle trap of the modern workforce.
If you're working from home or your workplace permits it, come up with a plan to switch between different working positions hourly. With a laptop that's easy to do.
Apart from standing periodically, a recent study shows that kneeling and squatting can also be extremely beneficial.
These two working positions can elicit up to 8 times the muscle activity as sitting. They also help restore your hip mobility, something most of us have lost since childhood due to the way we sit. Good hip mobility carries many benefits, including decreasing your risk of developing back pain due to compression.
A good ergonomic routine to follow when working with a laptop is to divide each hour equally between sitting and standing. Then sometime during the day, kneel or squat for up to 15 minutes. Move your laptop to a low desk or coffee table where the screen is at eye level in your new position.
Reduce Laptop Blue Light Exposure
Save your eyes, filter out that blue light coming from your laptop screen now.
The high energy, short wave light doesn't just disrupt your sleeping at night, it penetrates the back of your retina to cause permanent eye damage over time. A 2018 study by the University of Toledo details how this occurs, as blue light exposure kills photoreceptor cells in the eyes that are needed to see. And once dead, these cells do not regenerate.
Proximity to the source of the blue light is a big factor, which is why staring at your laptop or smartphone can be worse than looking at a desktop monitor that's farther away. In fact, a woman in Taiwan developed a hole in her retina after years of looking at her smartphone outdoors daily.
To successfully block the harmful effects of blue light on your laptop, I recommend a three pronged approach:
Install a free program like f.lux that regulates the color temperature of your screen depending on the time of day. It's mainly useful for helping you sleep better, but won't do much to actually filter out harmful blue light.
Use a pair of blue light blocking glasses or screen filter. While the research is still inconclusive, there is plenty of anecdotal evidence that they help, with no reported side effects.
Look away from your laptop screen frequently. Use a timer like this one to remind you to rest your eyes for 20 seconds every 20 minutes. This is something I do religiously these days.
Other Helpful Articles Related to Laptop Ergonomics