Updated: Aug 22nd, 2019
Most computer keyboards on the market are designed with the numeric keypad on the right side of the keyboard. For left handed people and certain other segments of the population, this is not the ideal ergonomic set up. Enter left handed keyboards.
In this post I'll explain when left handed keyboards ,can be beneficial, what to look for when shopping for such a keyboard, and finally, my list of the best left handed keyboards on the market.
Who Should Use a Left-Handed Keyboard?
Firstly, people with a dominant left hand would benefit the most from left-handed keyboards. Unlike standard keyboards, their left-handed counterparts have the numeric keypad placed on the left side, making it more accessible to the dominant left hand.

Left handed keyboards can also be beneficial for right-handed computer users with right shoulder and arm pain. By moving the numeric keys to the left side of the keyboard, the mouse is closer to shoulder width on the right side, reducing the need to overreach when operating the mouse.
Finally, left handed keyboards are beneficial to people with an injured right hand who often need to do 10-key data entry. Though it might take some getting used to, a left-handed keyboard will allow their injured right hand to recuperate or, at least, prevent their symptoms from getting worse.
From a productivity perspective, a left handed keyboard offers many advantages as well. Watch this video for some of the benefits:
Ergonomic Innovations to Look for in Left-Handed Keyboards
Just like "normal" keyboards, there are some ergonomic features you will want to consider when shopping for a left-handed keyboard for sustained comfort and to prevent RSI over time. Some of them are:

Low Force Keys: This type of keyboard requires less energy to depress and activate. When you consider the hundreds of thousands of key strokes we all make each year, the actuation force can make a big difference. The lower the actuation force is, the lighter the touch you need to type. Low force keys often have an actuation force of 35g to 45g, compared to 50 to 60g on standard keyboards.
Tenting: Unlike flat keyboards which put the hands at a pronated position, keyboards with a latent inclination can help keep the wrists at a neutral position while typing, reducing the risk of musculoskeletal disorders (MSDs). When getting a left-handed keyboard, find one with an adjustable tenting feature, since your optimal tenting angle will depend on your individual physiology.
"A" Shaped Layout: This feature positions the keys at a slanted "A" layout, matching your natural forearm angle when typing to reduce ulnar deviation and prevent Repetitive Strain Injury (RSI).
Mechanical Keys: Most keyboards nowadays use rubber membranes which provide little tactile feedback. This means that it's harder to estimate how much force you need to apply to get a response. On the other hand, mechanical switches offer much better tactile feedback, either by sound or resistance. Aside from being more robust, they are also less fatiguing to use since you don't have to press all the way down to get a response.
Separated Keypads: Last but not least, you may simply want to consider an ergonomic keyboard with a separate keypad to place precisely where it is most accessible to you. Some people find the keypad positioned at the center of the keyboard works best for them.
Taking into account all of this, the following are our picks for the best left handed keyboards to try out for comfort and ergonomics.
| | |
| --- | --- |
| Dimensions | 18.72″ L x 8.1″ W x 0.98″ H |
| Compatibility | Apple Mac and Windows |
| Connectivity | USB, wired |
| Keyswitch | Membrane |
| Warranty | 1-year limited warranty |
The Ergoguys Left-Handed Keyboard is our top pick for wired keyboards with an A-shaped layout and a left-sided numpad.

Loved by both left and right-handed users, one user who has a dominant right hand said that he found this unit to be an inexpensive ergonomic fix that helped eliminate his neck and shoulder pain by bringing the mouse nearer to the keyboard.

A-Shaped Key Layout: The angled shape of the keys positions your wrists and forearm in a more neutral position when typing, reducing radial deviation that can cause RSI over time.
Tactile Bump: The F and J keys have tactile bumps that make it easy to get back to typing. The same goes for the 5 key of the numpad.
12 Programmable Hotkeys: This unit comes with the iKeyWorks Program, a software which allows you to configure its 12 multi-functional hotkeys.

Overall, this is your best choice if you're in the market for an inexpensive left handed keyboard with A-shaped keys that can reduce unnatural wrist bends.
| | |
| --- | --- |
| Dimensions | 16″ L x 9″ W x 2.48″ H |
| Compatibility | Windows |
| Connectivity | USB and PS/2 adapter |
| Keyswitch | Cherry red mechanical key switches |
| Warranty | 1-year |
Next on our list is the DSI Keyboard, one of the best left handed mechanical keyboards for those of you that don't mind buying a little more for all the ergonomic and productivity benefits that mechanical switches bring.
This unit is designed for lefties, but it can be an ergonomic solution for right-handed people too.
By bringing the keypad and arrow buttons to the left side of the keyboard, the mouse can be operated on the right side closer to shoulder width, reducing overreaching on the right side. A buyer who bought this after getting a shoulder surgery said that not only does it help him type faster, it also eases his shoulder pain while working. Highlights of this keyboard:

Mechanical Keys: The DSI uses Cherry red linear mechanical keys that are great for typists and gamers. The keys require little force to press and readily bounce back. It also has a low actuation force of 45g.
Tactile Bumps: There are tactile bumps on the F and J keys, making it easy to reorient yourself to get back into typing after a break.
Left-Sided Numpad and Arrow Keys: By moving both the keypad and arrow keys over to the left, this can improve comfort for both left and right handed users, by reducing the chances of overreaching for the mouse.
The main caveat to the DSI is the price; as a mechanical keyboard it's around 3x the cost of the Ergoguys counterpart above. Which one to get really comes down to whether you're a casual or heavy typist.

| | |
| --- | --- |
| Dimensions | 16″ L x 9″ W x 2.48″ H |
| Compatibility | Windows, Apple Mac OS |
| Connectivity | USB 2.0 dongle, wireless |
| Keyswitch | Membrane |
| Warranty | 3-year limited warranty |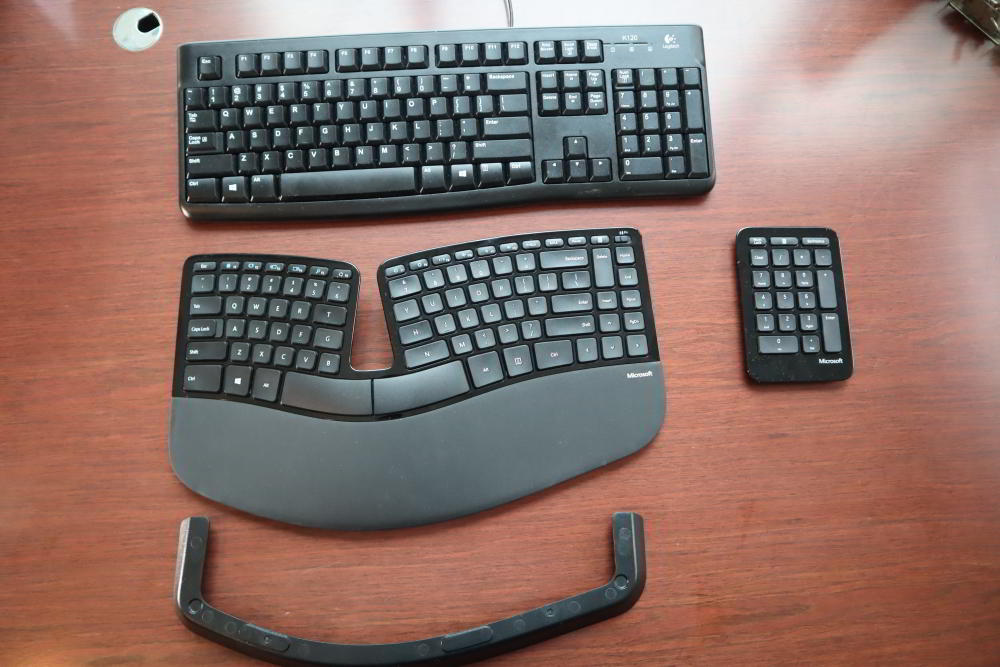 The MS Sculpt features a dome shaped layout and separate numbers keypad. This lets both left and right handed people decide for themselves where they wish to position the keypad on the desk for optimal comfort and productivity.

The highlight of the MS Sculpt is the domed split keyset design which puts your wrists at a neutral position when typing.

Many users have mentioned how comfortable and supportive the Sculpt is. One buyer who has had surgery due to carpal tunnel syndrome before said that the keyboard has been "a lifesaver". Highlights of this keyboard:

Separated Keypad: This is especially ergonomic if most of your tasks require 10-key data entry. You can place the keypad either on the left or right side of the keyboard, allowing you to alternate between hands for data entry.
Domed Split Keyboard: The keys are tapered upward in the center, conforming to your wrist's resting position and reducing the distance your fingers have to reach to type. Its split and domed layout can also reduce the risks of RSIs associated with excessive forearm and wrist pronation.
Reverse Tilt Angle: A bundled raiser bar lets you optionally add a negative tilt to the keyboard, further helping you maintain neutral wrists as you type.
Cushioned Palm Rest: The Sculpt has a well-sized palm rest that is supportive.
Compatible with Macs: You can remap the Windows key to act like the Mac option button and the Alt key to serve as your Mac command button. To do this, just go to the Keyboard Modifier Keys in the OSX keyboard settings.

This popular Microsoft product has some limitations however. To start, the keys aren't backlit, and there are no light indicators for the caps and num lock. The wireless connection can also be finicky.

Despite these drawbacks, the Sculpt is still a must-try for lefties and righties alike because of the dedicated numbers keypad and domed shaped keys.

| | |
| --- | --- |
| Dimensions | 15.9″ L x 9.2″ W x 1.3″ H |
| Compatibility | Windows, Linux, Chrome |
| Connectivity | USB, wired |
| Keyswitch | Membrane |
| Warranty | 60-day money-back guarantee, 2-year warranty |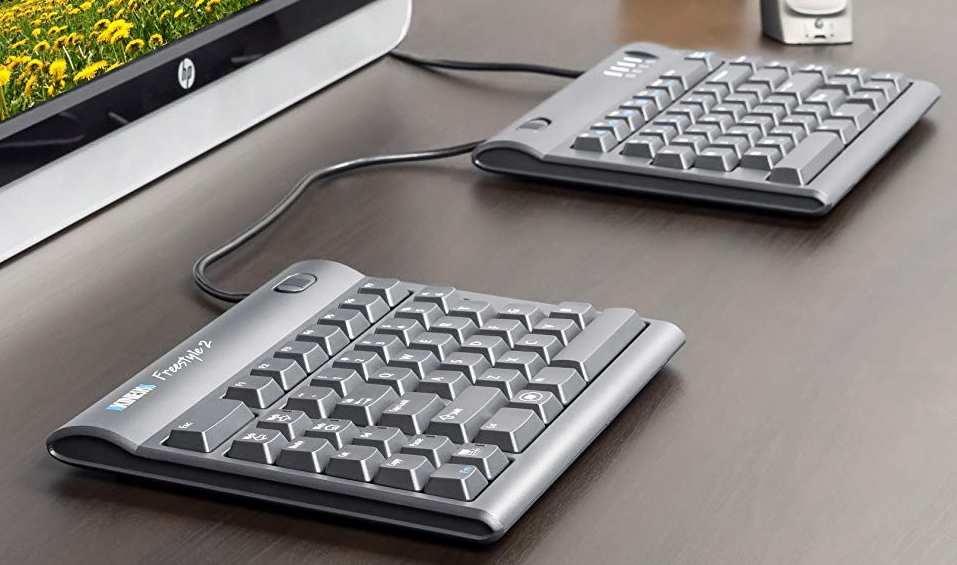 The Kinesis Freestyle2 Ergonomic Keyboard is a 2-piece split keyboard with a maximum 9-inch (also available in 20-inch) separation. This makes it much easier to achieve a neutral wrist, forearm and shoulder position regardless of your body type and preference. The lack of the numbers keys also makes it more compact and allows you to pair it up with your favorite external numeric keypad.

Low profile, low-force key switches, and an adjustable splay all contribute to the long term comfort the Freestyle2 provides. One user happily commented that her wrist pain was gone just after a few days of using this along with the VIP3 accessory, which adds tenting on the Freestyle2.

Low-Profile Design: The Freestyle2 has a 0° slope, keeping wrist extension at a minimum. This helps reduce the risks of MSDs like carpal tunnel syndrome.
Adjustable Split Layout: With the keyboard's 9-inch separation cord, you can position the two parts closer to shoulder width and at a more comfortable angle, minimizing radial deviation in your wrists.
Detachable Pivot Tether: Rotate the two parts of the keyboard from a pivot point to achieve the desired typing angles.
Low-Force Keys: With an activation force of just 35g, the Freestyle2 can reduce finger fatigue and strain.

Some of the complaints that people have about the Freestyle2 are its poorly placed "convenience keys". They are placed on the left side which are easily and accidentally triggered.
Though the layout of some of the keys are odd, the Freestyle2 is still one of the most ergonomic tenkeyless keyboards out there.

Check out this video for more information onthe Freestyle2 Keyboard:
| | |
| --- | --- |
| Dimensions | 8.27″ L x 5.51″ W x 1.18″ H |
| Compatibility | Windows 7 to 10 |
| Connectivity | USB 2.0, wired |
| Keyswitch | Membrane |
| Warranty | 60-day money-back guarantee, 2-year warranty |
The perfect companion to the Freestyle2 keyboard above is none other than the Freestyle2 dedicated keypad. This low profile, low force keypad can be paired up with any Windows keyboard to achieve an ergonomic set up.
The keypad features convenient Windows hotkeys, num lock and fn indicator lights, and low-force and tactile membrane switches.
Highlights of this dedicated keypad:

Low Profile: At just 0.875" thin and a 0° slope, the Freestyle2 Numpad keeps any bending of the wrist to a minimum while keying.
Low Force Keys: With an activation force of 35g and a travel distance of 3.9mm, the rubber-domed membrane keys are easy to press, doesn't produce much noise, and offer just enough tactile feedback.
Convenient Hotkeys: It has embedded hotkeys to commands like "Cut", "Copy" & "Paste", "Tab", "Backspace" and "Equals", saving you time and energy and reducing fatigue during data entry.
Separated Keypad: Since the Freestyle2 Numpad isn't attached to a keyboard, you can freely position it anywhere on your desk.

It's not really a drawback, but a lot of users wish that there's an available palm rest to go with the Freestyle2 Numpad.

All in all, this Kinesis unit is a great buy for anyone who does a lot of 10-key data entry, especially lefties who have to reach too far to use the numpad in standard keyboards.
| | |
| --- | --- |
| Dimensions | 4.9″ x 3.4″ x 1.5″ |
| Compatibility | Windows and Mac |
| Connectivity | USB, wired |
| Keyswitch | Mechanical |
| Warranty | Not indicated |
If you're looking for a gaming style mechanical keypad to go with your ten-key-less keyboard, the Qisan Mechanical Numeric Keypad is among the better buys.

The first thing you'll notice about the Qisan is its beautiful blue backlit Gateron brown switch keys. Then, once you start using it, you'll love the enhanced numeric keypad with its fn functions and other additional keys. Also, according to user reviews, it doesn't fall short in terms of ergonomics either.

Functionality: The numeric keypad of the Qisan is enhanced to include hotkeys, symbols, navigation, and more, making it an efficient partner for 10-key data entry.
Adjustable Backlighting: You can use the fn key to switch between 4 backlight models and 6 levels of brightness.
Lightweight: The plate of the Qisan is made of aluminum, making it lightweight and portable. The bottom of the plate also has rubber feet to prevent it from moving.
Mini Kickstand: The keypad comes with mini kickstands for when you want to type at a slight angle.
Gateron Brown Key Switches: Mechanical switches are color-coded depending on their design. The brown version has a slight tactile bump sensation and a low actuation for less finger fatigue.

Personally, we found nothing to complain about the Qisan. However, some buyers who received defective products complained about their unresponsive customer support.

Performance-wise, the Qisan is a great, affordable mechanical keyboard that you can use to boost your productivity while still being ergonomic.