Poor lighting contributes to a host of ergonomic issues in the office, from CVS (computer vision syndrome), to even neck and back pain.
If you often experience blurred vision, dry eyes, or even headaches after working on the computer, optimizing the ergonomics of the lighting in your office or room can go a long way in addressing the problem.
Overview of Good Lighting Ergonomics in the Office
Here are the main things to look at when optimizing for good lighting ergonomics at the office or your desk:
Is there sufficient lighting to accomplish the task without straining your eyes?
Are there unwanted dark spots and shadows being cast that can be eliminated?
Is there excessive glare, especially on your computer screen?
Is there enough contrast between your task and the background?
Is the color temperature appropriate based on your mood or task?
Step 1: Ensure Sufficient Lighting
Above all else, ensuring sufficient lighting around your workspace is the most important part of good ergonomic lighting. Inadequate lighting forces your eyes to work overtime to make sense of the task, creating eye strain and headaches.
For normal office work, experts generally recommend around 300 – 500 lux of illumination. Position your workspace to take advantage of natural sunlight as much as possible during the daytime.
Measure Brightness Properly (Watts vs Lumens vs Lux)
Watts is a poor way of measuring light brightness as it only tells us the amount of power a light source consumes, not how much light it gives off.
A better way to express the brightness of a bulb is using lumens and lux.
Lumens are a measure of brightness, or light output. Choosing a bulb with higher lumens provides you with a brighter light. Lux measures the actual amount of lumens that hits a surface per square meter. lux = lumens/m2
The closer the light source is to an object (in addition to angle and focus), the higher the lux level as the light is more concentrated.
Watts to Lumens Chart
To work out how to much brightness in a light bulb you need in terms of lumen based on watts, refer to the following handy table:

| | | | | |
| --- | --- | --- | --- | --- |
| Brightness (lumens) | 450 | 800 | 1100 | 1600 |
| Incandescent | 40 W | 60 W | 75 W | 100 W |
| LED | 8 W | 13 W | 17 W | 20 W |
| CFL | 9 W | 14 W | 19 W | 23 W |
| Halogen | 29 W | 43 W | 53 W | 72 W |
Lumens to Lux
As mentioned, lux is the amount of lumens that hit a square meter area of space. It's determined not just by the brightness (lumens) of a light source, but the distance and angle of the light relative to the surface we're calculating.
So how do we go about determining the lux level of a light bulb on a surface area, such as our desk? There are a few ways.
Firstly, some light bulbs will provide this information on the packaging, such as "500 lux at 10 feet".
If you want to get technical, you can measure lux yourself using a lux meter. There are luxmeter apps that use your phone's light sensors to detect lux as well, though they aren't quite as accurate as a light meter.
In an office environment, strive for between 300 – 500 lux of illumination around your entire workspace as part of good lighting ergonomics.
Step 2: Eliminate Unwanted Dark Spots and Shadows
Dark spots and shadows around your workspace are usually caused by over-reliance on direct lighting, and is another common type of poor lighting ergonomics that causes eye fatigue.
Many people like to work on their computer in a relatively dark space with just a bright task light. This creates a huge imbalance in illumination, forcing the eye muscles to constantly contract and expand to acclimate to each area. The result is eye strain and even headaches.
To eliminate unwanted dark areas and shadows, use a mixture of both direct and indirect lighting to illuminate your workspace more evenly.

Direct lighting is any light that directs most of its illumination towards a specific area of the room. Examples of this include task, spotlight, and certain overhead lights with partial shades that channel the light downwards.
Indirect or general lighting spreads light evenly across a large area. With light fixtures, this is typically done by directing most of the light upwards. The light is then reflected off the ceiling and walls to light up an area. Examples of this include recessed LED lights, ceiling lights with inverted domes, and the sunlight.
The best lighting arrangement is a combination of direct and indirect lighting. Use the later to provide a consistent level of ambient lighting that eliminates shadows and dark areas, and direct lighting where you need more illumination, such as on your keyboard or writing area.
Step 3: Minimize Direct and Indirect Glare
Glare is produced by a bright light source that either directly enters your line of sight, or indirectly by reflecting off glossy surfaces. Glare greatly strains your eyes by impeding your ability to discern anything but the brightest light (the glare) properly.
Direct glare is caused by bright lights that are within your field of vision, such as a bright overhead light or floor lamp with a naked light bulb. Windows directly in front of your workspace can also produce direct glare on bright days.
Indirect glare is caused by light reflected off of glossy surfaces such as your computer screen, a shiny desk surface, or windows stationed at certain angles etc onto your eyes.
Glare causes eye fatigue by forcing your eyes to adjust to its brightness level, leaving duller areas of your workspace harder to see.
Some Tips to Reduce Direct and Indirect Glaring:
Position your workstation or chair at a 90 degree angle from large windows to reduce glare from the sun.
Install blinds on windows. Use vertical blinds for East/West facing windows to block out sunlight depending on its position throughout the day. Use horizontal blinds for North/South facing windows to block out general sunlight.
Adjust your monitor brightness to match the brightness of the area directly behind it. A program like flux can help.
Replace a single high intensity light fixture with several lower intensity ones instead.
Avoid positioning your monitor directly below an overhead light fixture.
Equip conventional florescent light fixtures with diffusers to soften the light.
Cover naked bulbs with shades or louvers to soften and direct the light away from your eyes.
Use monitor privacy filters that filter out blue light and glare at the same time.
Step 4: Ensure Sufficient Contrast Between Foreground and Background
Contrast is the relationship between an object and its background in terms of their color or brightness. When improperly calibrated, your eyes have to work harder to make sense of the foreground object. There are two types of contrast to be aware of in lighting ergonomics.
Color contrast is the first thing to pay attention to. This is especially important for monitor screens where many of us spend most of our working hours staring into:
As you can see, when color distinction is insufficient between the foreground and background, it becomes much harder to see the former.
Most monitors allow you to calibrate your screen for contrast and brightness. Adjust these settings to find one that produces the best contrast for you. As a starting point, you should be able to discern 16 different shades of black and white in the below stripe:
Lighting contrast refers to the difference in brightness between two areas.
The opposite of color contrast, big variation in lighting contrast between the foreground and background should be avoided. If you've ever tried to use your phone outside during daytime, you've experienced poor lighting contrast that makes it difficult to view what's on your phone.
To fix poor lighting contrast in a room, look for big differences in levels of brightness. First make your background area uniform in brightness, then your immediate workspace brighter.
Step 5: Calibrate Color Temperature for Mood and Type of Work
Lighting ergonomics isn't just about mitigating physical health issues, but using lighting in a way that enhances your mood and productivity.
Several studies have shown the profound effect color temperature have on both of these fronts.
Kelvins are used to indicate the color temperature of your bulb, ranging from warm yellow-red hues to cooler blue light: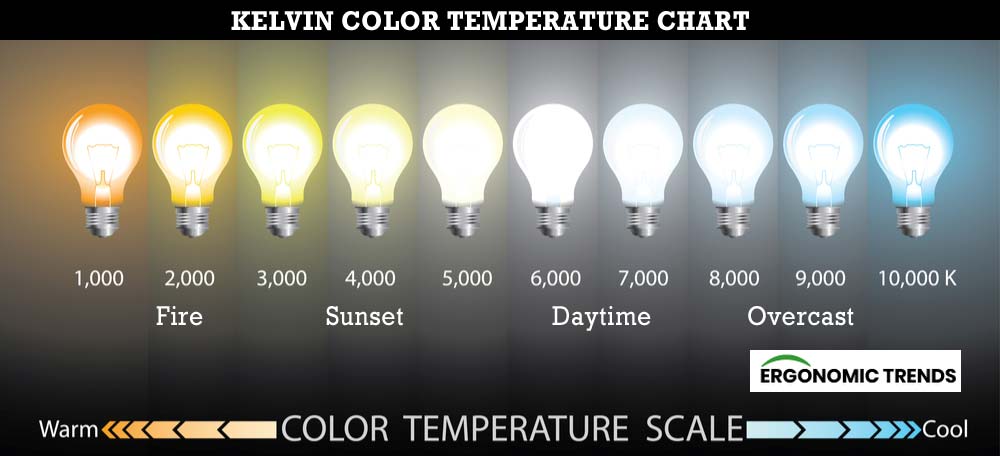 Lighting with the lowest number of Kelvins will provide a warm environment promoting comfort and relaxation.
Mid level Kelvins give a cool white light providing a bright and vibrant environment. Sunlight on a sunny day usually is around 5,000 kelvins.
Blue-white light, in comparison, can help to lift mood and promote productivity. Blue light interferes with your circadian rhythm and keeps you alert.
Research from the University of Pennsylvania suggests light that fall within a warmer color spectrum may be safer for our eyes.
For home office environments, I recommend using a combination of a yellow warm overhead night in combination with a blue cool task light on your desk to get the best of both worlds during work.
A Note about Color Rendering Index (CRI)
Colour accuracy can be another important consideration in lighting ergonomics depending on your job . In daylight we are able to see the colors as they appear naturally around us. So how can we emulate this when using artificial light sources?
Bulbs have a color rendering index (CRI) rating of between 0 and 100. This rating identifies how well colors are defined. A rating of 0-55 will give a very poor render, meaning that colors will appear different from how they would appear in natural light.
To see colors reproduced accurately you would need to have a CRI of above 90, however over 80 is suitable for most situations:

CRI rating is unrelated to the color temperature. A bulb with a high number of Kelvins could have a lower CRI, alternatively you could have a bulb with high colour temperature and excellent CRI.
Quick Overview of the Types of Lights
A big part of what affects lighting ergonomics at the end of the day are light bulbs. Technology has come a long way, and some light bulbs are definitely better than others.
Incandescent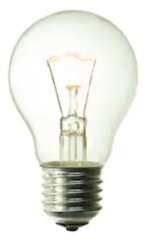 With incandescent bulbs, light was created by heating the filament inside the glass. They generally lasted for about a year and were compatible with dimmer switches. Referred to as the 'traditional' light bulb, incandescent bulbs have almost all but phased out due to not being energy efficient. There are also concerns about the amount of carbon dioxide incandescent bulbs produce.
Incandescent bulbs also produce more carbon emissions for the same amount of illumination compared to other types of bulbs, up to 7 times:

LED (Light Emitting Diode)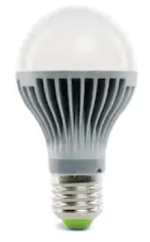 An LED bulb is an ideal choice for a desk light, lasting longer than any other type of bulb, in some cases up to 50 times longer. It uses less power and its directional light provides a beam of light focused on where you need it the most. Although more expensive initially, they are better value due to their longevity. Not all LED lights work with dimmers, so look for bulbs marked 'dimmable'.
Many desk lamps these days come with non changeable LED lamps they may be ergonomic, but not particularly environmental.
Halogen
Halogen bulbs are also incandescent bulbs, though they use a different type of gas. This allows them to be more energy efficient than traditional bulbs.
Halogen bulbs can emit a lot of heat, so exercise caution and keep them away from flammable items. They provide instant light without needing to 'warm up' and can be used with dimmers.

CFL (Compact Fluorescent Lamp)
CFL bulbs are cost effective long lasting bulbs that are commonly used. When first introduced, the CFL bulb required time to warm up and become bright. Nowadays they reach full brightness almost immediately.
There are potential health risks associated with this type of bulb due to the use of mercury inside the bulbs. If one breaks you need to ensure people and pets leave the room to avoid inhalation.
Look for Adjustable Brightness
To dim or not to dim. Lamps with adjustable brightness allow you to reduce the light to just the right level of ambience.
An ergonomic desk lamp for your eyes will generally have the ability to adjust the brightness. If you are using an LED bulb you will need to ensure that it is marked as dimmable.
If your lamp does not have dimmable brightness, angle the light head to reduce brightness by changing the direction of the light instead.