A set of comfortable, aesthetically pleasing bar stools can really bring the whole family together.
The modern day household spends a lot of time around the kitchen. This is where everyone quickly gathers for breakfast on a weekday, and where you'd host your girlfriends for a cocktail when the kids are at school. It's where you read the newspaper, or sit with your spouse as you plan your next exciting vacation together.
In this buyer's guide, we look at the most comfortable bar stools for the home that help encourage all types of family gatherings around the kitchen and more.
Leopard Swivel Bar Stool
Adjustable height of 22.5 to 32.5 inches
Two-piece set
Made from environmentally-friendly PU leather
Quilted design with large variety of colors
Easy to assemble
When it comes to comfort, style and versatility, the Leopard Outdoor Bar Stool manages to capture all three to be our top pick.
This stool is perfect for people of all sizes as the height can be adjusted between 22.5″ to 32.5″ . Although it is perfect for the home bar, many owners also use it in the lounge and even on the front porch.
The Leopard earns high praise for its large contoured seat and generous padding. Even one large owner that measures 6'3″ and 220 lbs find the stools incredibly comfortable. The modern design is also a universal hit.
The one potential drawback is the size of the round base. It's not quite as wide as some other stools, making it less stable on high pile carpets.
From a large choice of colours to choose from to the adjustable design, the Leopard is your best best for most corners in your home. It comes in a set of two.
Pros:
Large seat with waterfall edge
360 degree swivel
Cotemporary design that fits most decor
Cons:
May not be stable on high pile carpets
Sale
Zuri Furniture Bar Stool
Adjustable height of 23.5-32.5 inches
Weight capacity of 275 pounds
Large stable footrest
Many colours available to choose from
With a generously padded seat, leatherette upholstery and a thick and stable footrest, the Zuri stool comes in at a close second for the most comfortable bar stool on our list.
This bar stool is built for comfort and can offer an upmarket look to your home. The upright seat is covered in a leatherette material which is both soft to touch and classy to look at. Customers have commented on this bar stool being a dream to kick back on after a long day. The seat is filled with high density foam which offers supportive cushioning to ensure comfort.
With Zuri Furniture you know you are getting a top quality product. Customers love the rust-resistant stainless steel base, and the central iron tube is thicker than competitors too. This is an incredibly stable stool to sit on with no issues of it possibly toppling over at the slightest touch.
This bar stool is shipped out well-packaged to ensure every customer receives an unblemished item.
All in all, if you are working with a higher budget, it's hard to go wrong with the Zuri in terms of both quality and comfort.
Pros:
Ultra large and stable footrest
Durable stainless steel base
Comfortable and well padded seat and backrest
Cons:
Only one bar stool included
Duhome Velvet Bar Stool
Non-adjustable height of 31 inches
Beautiful, velvet covering
Thickly-padded for comfort
Many colours to choose from
Large weight capacity of 285 pounds
A backless stool lets you engage with people easily without swiveling. They are also more portable. If those are important qualities to you, check out the Duhome Velvet Stool.
The Duhome bar stool features an attractive and plush design with a silky soft, velvet covering which is luxurious to touch. This elegant bar stool gives the home a sophisticated feel and is designed with a charming, golden footrest and four sleek legs. One reviewer absolutely adores this item and is equally impressed with its beauty and comfort.
This stool is both stylish and functional. The pyramid leg structure is designed for stability and features an x-shaped design that can withstand up to 280 pounds. This is 30 pounds more than the Leopard Outdoor Bar Stool.
This stool is easy to assemble but some people have reported missing or ill-fitting screws. However, the seller is happy to help and is quick to address the problem.
Overall, we think this chic bar stool is an excellent choice. It offers both style and substance and is a great buy if you want to add a dash of elegance to your home.
Pros:
Thick 4.7″ thick seat padding
X-shape bottom creates a very sturdy foundation
Comes with two bar stools
Easily assembled in just 15 minutes
Manchester Swivel Bar Stool
Non-adjustable height of 29 inches
Constructed from solid wood
Ergonomic design for support
Designed to swivel 360 degrees
Robust packaging
The Manchester Swivel Bar Stool is a classic choice for those who want to add an element of warmth to the kitchen.
Constructed from solid wood, this wooden bar stool is great for people looking for something comfortable and sturdy. Buyers rave about the quality and the weight of this wooden bar stool and have mentioned the high level of stability they feel this seat offers.
This homely bar stool is ergonomically designed to support the body. The backrest is slightly curved to accommodate the natural alignment of the spine and is padded with high density foam. There is a general consensus that this bar stool is extremely comfortable and can hold a lot of weight.
A lot of customers recommend this bar stool for the 360 degree, bi-directional swivel design. It features quality ball bearings which allow you to swivel in the stool quietly and smoothly.
The main drawback is the assembly, which can be tricky. But once you get past the initial hurdle, what you have is an extremely comfortable, classic stool that will elevate the decor of any setting.
Pros:
Solid hardwood frame
Designed with ring footrest for ease of movement and comfort
Backrest designed with attractive wave pattern
Cons:
Assembly not always the easiest
Chita Counter Bar Stool
Non-adjustable height of 26 inches
Made with solid wood
Choice between two different heights
High weight capacity of 300 pounds
Auto-return swivel design
With a four legged stable foundation and high back, the Chita bar stool is a supremely comfortable stool that is also upholstered in premium fabric for that extra warm and homey feel.
Firstly, for those that hate putting together furniture, the Chita actually comes pre-assembled! Just remove the packaging and you're ready to lounge.
The stool features a 90 degree, bi-directional swivel and is designed to automatically return to the front. It does not need to be manually readjusted, which many people appreciate.
The height of this bar stool is a huge draw for many buyers, There are two options – a 26″ and 30″ version to cater to different height countertops and kitchen islands in your home.
The seat depth of this bar stool is 16.5 inches, which one person found to be too small for comfort. Although this is not an issue for the average size sitter, we recommend that you take measurements to ensure it is the right fit for you.
All in all, this is the great stool for countertop conversation and around the kitchen island. This upholstered bar stool offers the classic look of a traditional chair but with added height and a swivel capability.
Pros:
No assembly required
Supple breathable fabric upholstery
Choice of two heights to fit different tabletops
Beautiful hardwood frame
Cons:
Seat depth inadequate for large sitters
Only one bar stool included in price
Homall Bar Stool – Best Budget White Counter Stool
Sale
Homall Bar Stool
Adjustable height of 22.4 inches to 33.4 inches
3″ thick padding in both the seat and backrest
Very easy to install
Includes two bar stools
The Homall Bar Stool is a comfortable white bar stool that brightens any kitchen, and at a extremely budget friendly price to boot.
Homall is best known for their line of gaming chairs that are both affordable yet well made, as we found out first hand. As such, the company has a lot of experience producing quality furniture.
The Homall stool is height adjustable between 22.4 inches to 33.4 inches, making it perfect for even teenagers in the house. It is designed with a sturdy footrest and a 11 inch backrest for lumbar support.
There is always a worry that white furniture is high maintenance. However, the stool comes with low maintenance PU leather covering which one customer confirmed is easy to clean using a sponge.
The Homall Bar Stool is bright, comfortable and very affordable. Whether you need a bar stool to match your white kitchen décor or looking for a piece of furniture to modernize your bar, this is the one for you.
Pros:
All around 3″ thick padding
Bright white PU leather upholstery that's easy to clean
360 swivel and height adjustability
Cons:
15″ wide seat not suitable for larger people
KKToner Swivel Bar Stool
Adjustable height of 23.4 inches to 31.5 inches
Sleek low back design
Choice of 4 colors
High weight capacity of 300 pounds
If you are torn between a backless and full backrest stool, the KKTONER PU Leather Bar Stool offers the perfect medium between the two. The low back stool offers enough support for comfort but will not peek out over any surfaces.
With a seat diameter of 14.6 inches the KKToner stool is extremely compact. This means you can fit quite a few in just a small strip of space.
The 360 degree swivel function and easy to adjust height adjustment is a big hit with many owners.
The bar stool can be used in the kitchen, at the bar or even in the game room. It has a high weight capacity of 300 pounds and many owners report that the cushioning is surprisingly comfortable for its compact size.
The seat of this bar stool is slightly smaller than other models. However, one buyer thinks that it is not a problem if used for a short period of time and that the overall appearance compensates for the size.
If you are looking for a bar stool that is sleek, compact and comfortable, this is the one for you. This low backrest option is unobtrusive and can be used in different areas of the home.
Pros:
Compact, low back design to fit into small areas
Designed with protective, anti-slip foot caps
Made with low maintenance PU leather
Cons:
Small seat meant for perching and short term sitting only
Types of Bar Stools on the Market
There's a dizzying array of choices when it comes to bar stools. The first step to picking out the right one for your home is to familiarize yourself with the major types of stools out on the market.
High Profile Bar Stools
Bar stools with a high profile are ideally suited for any type of tall surfaces around the house.
Low Profile Bar Stools
Low profile bar stools are the best choice for low counter height tables and most kitchen islands. They are the better choice if you have children at home as well.
Height Adjustable Bar Stools
These versatile stools are tailored to accommodate people of differing heights. An adjustable bar stool can even be paired with a standing desk to offer brief respites from standing while you work.
Wooden Bar Stools
Bar stools with frames made of hardwood are a sturdy option and can withstand a higher weight capacity than other stools. They offer a warm, classic touch to a kitchen space.
Plastic Bar Stools
Plastic bar stools are lightweight and can be easily picked up and moved around. Some are designed to be stacked which makes for efficient storage. For the eco conscious buyer, there are also ones made out of recycled plastic.
Metal Bar Stools
Metal based bar stools are sturdy and low maintenance. They are great for adding a splash of industrial design to your décor.
Low Back Bar Stools
A low back bar stool is designed to offer some back support while not taking up as much visual space as a high back option. This stool can be hidden beneath countertops until needed.
High Back Bar Stools
A high back bar stool offers better back support than other types of stools. They are ideal for long term sitting around the bar or kitchen counter.
Backless Bar Stools
Backless stools are perfect for compact spaces and can offer a sleek, contemporary look. Although they offer the least amount of support, they take up a small amount of space and are ideal for perching.
Bar Stools With Arms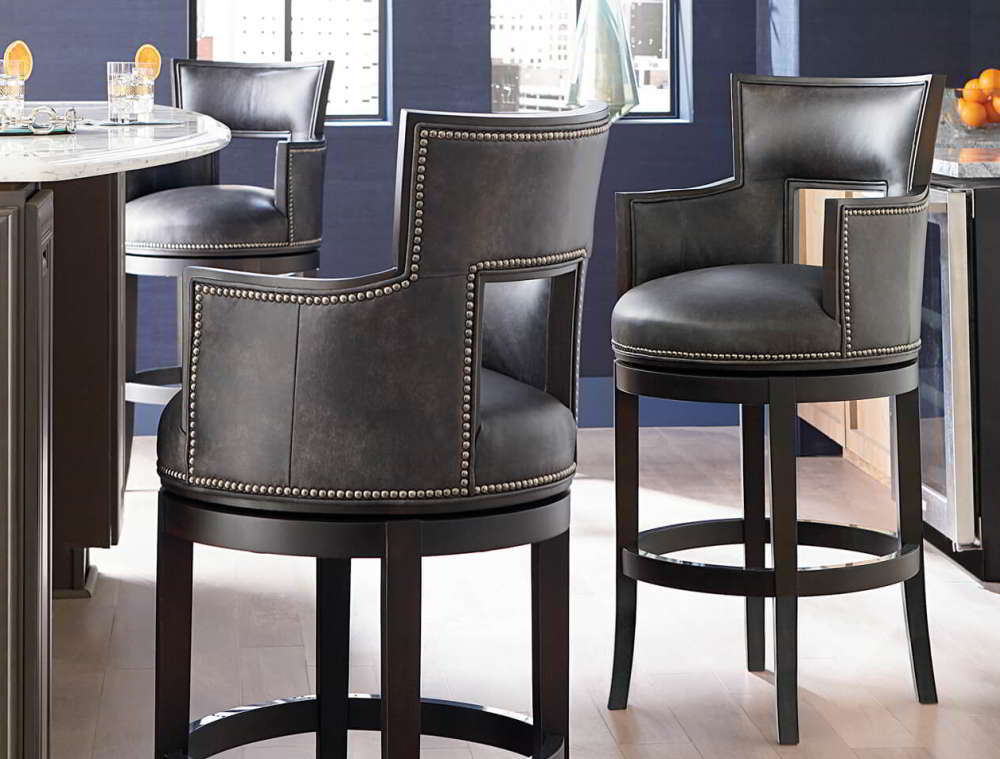 Bar stools with inbuilt arms provide a stylish option for people who want to feel nestled in as they sit.
Pedestal Bar Stools
Pedestal bar stools feature one sturdy column and an ergonomically designed foot ring. They are often paired with a metal frame and used in modern dining areas.