Does your office or gaming chair squeak? It's one thing if the chair is old and rusty (see solution below), but if it's only a few weeks ago, "Huston, we have a problem."
Surprisingly, from our years of testing office chairs, it's not uncommon to run into even new office chairs that squeak and break up marriages. Usually this is a sign of abundant cheap parts or improperly secured bolts. Squeaking is especially common in budget gaming chairs it seems.

Whatever the reasons, a new squeaking office chair is a huge annoyance at a minimum, a safety hazard at worst.

Here are 6 office and gaming chairs that don't squeak (on arrival or the next few months). And yes, we've tested every one of them.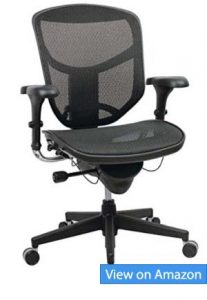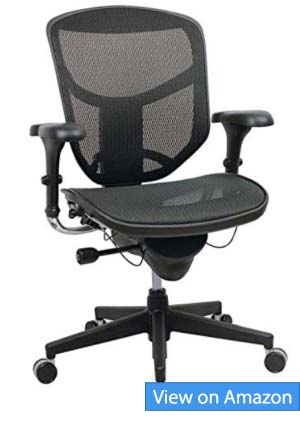 When we reviewed the Quantum WorkPro 9000, we found it to be one of the most solidly built midback office chairs in any price range. The entire base is made of one solid metal frame that extends to the armrests and backrest stem.

The result? Zero squeaks. I owned this chair for at least one year before selling it, to make room for other office chairs to review. During this whole time the chair performed admirably in this regard, maintaining its "strong and silent" reputation.
In other respects, the Quantum WorkPro 9000 is no slouch either. The office chair is deceptively adjustable. The seat depth can be modified, the armrests are generously padded and pivot, and the entire backrest can be raised up and down to better match your torso length.

All in all, it's hard to go wrong with the WorkPro 9000 if you're looking for a squeak free, relatively inexpensive mesh office chair.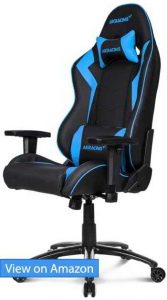 Gaming chairs can be notoriously loud and squeaky, at least in a lot of the cheaper ones we've tested in the $200 range or less. There's nothing more disappointing than putting together your brand new gaming chair only to realize it won't shut up everytime you sit in it.

You won't have this issue with the AKRacing Gaming Chair. There are zero squeaks and creaks, whether I'm shifting or rocking in the chair. This is thanks to the one piece metal frame covered in anti-corrosive paint and other premium parts that push the price of the chair to over $350 at last check.

Apart from the solid build, the AKRacing also offers excellent comfort as well. Besides a high degree of backrest recline and tilt/lock, I love the armrests on the AKRacing, which pivot and are length adjustable. The cushions are thick and consist of cold cured foam that are a lot more resistant to sagging than the memory foam you find in cheaper gaming chairs.

For a quiet durable gaming chair for the average build person, the AKRacing is hard to top.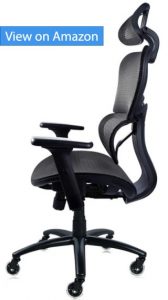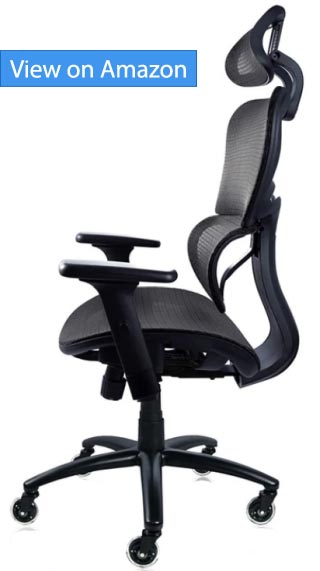 The Nouhaus Ergo3D is an all around ergonomic office chair that also happens to be squeak free. The high back and adjustable headrest offers great back and neck coverage while the flexible lumbar support cradles your back regardless of your sitting posture.

The all mesh design on the Nouhaus is great in hotter climates or if you sweat easily. However, the seat is on the firmer side.

The backrest on the Nouhaus reclines to a respectable 135 degrees. Along with an extremely large and pivoting headrest, and this makes for a great office chair for people with back or neck pain.

I'm a big fan of the rollerblade style casters on the Nouhaus as well. They're vastly superior to the normal plastic ones, and help the chair glide through carpets and hardwood with ease without leaving streaks.

Squeak and streak free is what Nouhaus brings.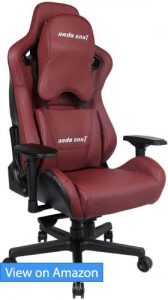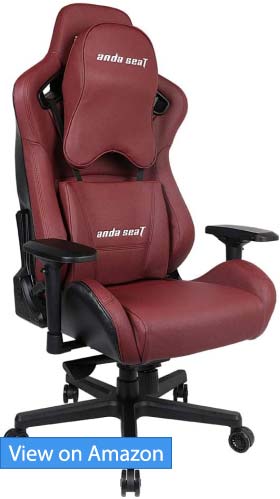 King of large gaming chairs, that's an appropriate moniker for the Anda Seat Big and Tall. It is quite simply one of the most rugged and thickly cushioned gaming chairs we've reviewed. Everything about the Anda Seat is larger than life, including the build quality. The result is a tank of a chair that is quiet as a mouse even after many months of using it.

The Anda Seat comes with a 6" thick cushioned seat filled with cold memory foam. This is especially great news for heavy people that often see the seat in their office chair depress after just a few days. The upholstery consists of PVC and carbon fiber that is basically tear resistant.

As a large chair, the Anda Seat is not for everyone though. I found the dimensions ideally suited for people between 5'9" to 6'9". If you're below this range, your feet will dangle off the floor even at the lowest seat height. A foot rest will solve that problem, though the large seat and backrest may still make petite users feel like a small fish in a big pond.

If you're a large or tall gamer looking for a squeak free, dependable gaming chair, it's hard to go wrong with the Anda Seat Big and Tall.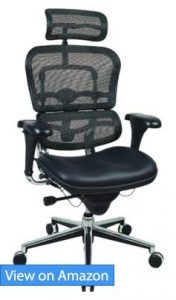 If your budget allows it, the ErgoHuman is a heftier version of the NOUHAUS Ergo3D mentioned above. There are a lot more metal parts and adjustability. Naturally, the chair is completely squeakless.

There are a plethora of adjustable options that make the chair especially good for long hours of sitting. The lumbar support is dynamic, and automatically conforms to your lower back whether you're leaning back or forward. The backrest is also height adjustable to better fit the curvature of each individual's back. And finally, the large head rest can be a godsend to relieve pressure off your neck in an upright or reclined sitting position.

The ErgoHuman is on the expensive side, though this is a quiet and highly ergonomic office chair that will easily last you 5 to 10 years.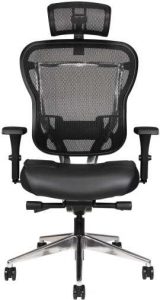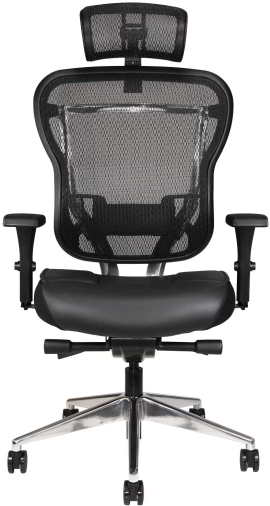 The Aloria Office Chair combines the best of mesh and genuine leather to produce an extremely high quality and ergonomic office chair. Apart from the high level of adjustability, the one piece metal frame and tight fitting means the chair is squeak free as well.

The Aloria Chair comes with a generously padded seat with genuine leather upholstery. This creates a supple and premium feel that mesh seats simply can't match. And to prevent your back from sweating during hotter days, the Aloria opts for mesh for the backrest.

Other highlights of the chair include a seat that is depth adjustable and lumbar support that can move up and down to target your lower back. Throw in a pivoting headrest and 4D armrests, and the chair is ready to conform to your body in any working posture.

The Aloria office chair provides one of the highest value in its class, backed by a lifetime on all the components.
How to Fix a Squeaky Office Chair
If you're stuck with a squeaky office chair, not all is loss. Watch the following two videos on things you can try to make it quieter: