Color affects our daily lives far more than we realize. In the office, skillful use of colors can boost your productivity, health, and even happiness. Studies have shown that tapping into color psychology can also improve your employees' productivity and job satisfaction, and positively impacts how your clients, visitors, and customers perceive your business.
But before we head on to the highlights of this post, let's first take a closer look at just what color psychology is in home and office decor.
What is Color Psychology?
Color is a powerful psychological tool that can affect the way we feel and how we perceive things. This is the reason why one's favorite colors can tell a lot about his or her personality.
There are several principles that comprise color psychology:
Each color has a specific meaning.
These meanings can either be learned or biologically innate.
Perception of colors causes evaluation, which in turn leads to color-motivated behavior.
Typically, colors influence a person automatically.
The effect and symbolism of a color can depend on context.
Color psychology is so powerful that it can even affect us physically. Some hues have been found to increase blood pressure and boost metabolism.
Here are some studies that show how colors can impact ours lives.
In the office, effective use of colors go hand in hand with good ergonomics in creating a productive and harmonious workplace.
Color Psychology Chart
For quick reference, here's a chart of all the colors along with their meanings.
Best Colors for The Office Explored
Since color psychology is so powerful, it is used in various industries including marketing and interior design. This means that even for your office, you can harness the power of colors to your advantage. Set the mood with the right hues and reap the benefits.
Here are the best colors according to the effects they offer.
Best Colors for Focus and Productivity
First, let's talk about the colors that stimulate the mind. Incorporate these shades in work spaces, meeting rooms, and research areas to keep your employees focused and productive even during long hours of work.
Light Blue Color Psychology and Productivity
Light blue is a universal favorite of industries like accounting wherein employees need to be productive and focused on repetitive tasks. This intellectual color soothes the mind, encourages clear thoughts, and reduces mental strain. It also promotes orderliness, confidence, and loyalty.
Partner blue with neutral colors like white to prevent the interior from looking cold and unfriendly. Adding orange accents can introduce some emotions to keep it balanced too.
Red Color Psychology and Productivity
Several studies have found that red increases the heart rate and boosts the blood flow. So, if your job requires you to do a lot of physical activity or you need to be mentally alert, then red is your productivity color.

Red shouldn't be used in excess, however, or it might cause aggression and competition between team members. This energizing color is better used for furnishings and decorations with a neutral palette as the backdrop.
Yellow Color Psychology and Productivity
Yellow is said to be the memory color since it boosts attentional level. This means that putting some yellow accents in areas of learning can help your employees retain information.
So, for example, if you paint the wall behind your whiteboard yellow, new employees will theoretically absorb more of the things taught to them during training. This, of course, leads to better productivity.
Orange Color Psychology and Productivity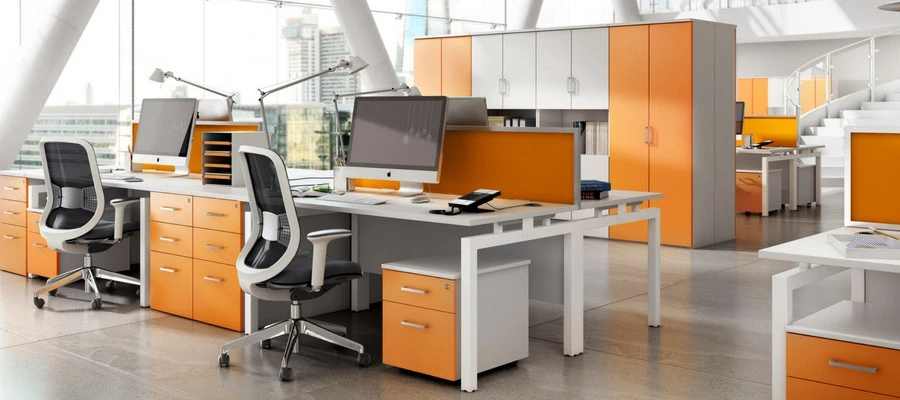 Because orange is a combination of the physical red and the emotional yellow, it can stimulate both the mind and body. It's a fun color that symbolizes happiness and determination.
Too much orange, however, will create a social atmosphere which is counter-productive. For productivity, what you want to do is use orange to complement another color. For example, painting one wall orange can give a splash of color to an otherwise boring white room. This will increase the energy flow and prevent low-energy afternoons in the office.
Green Color Psychology and Productivity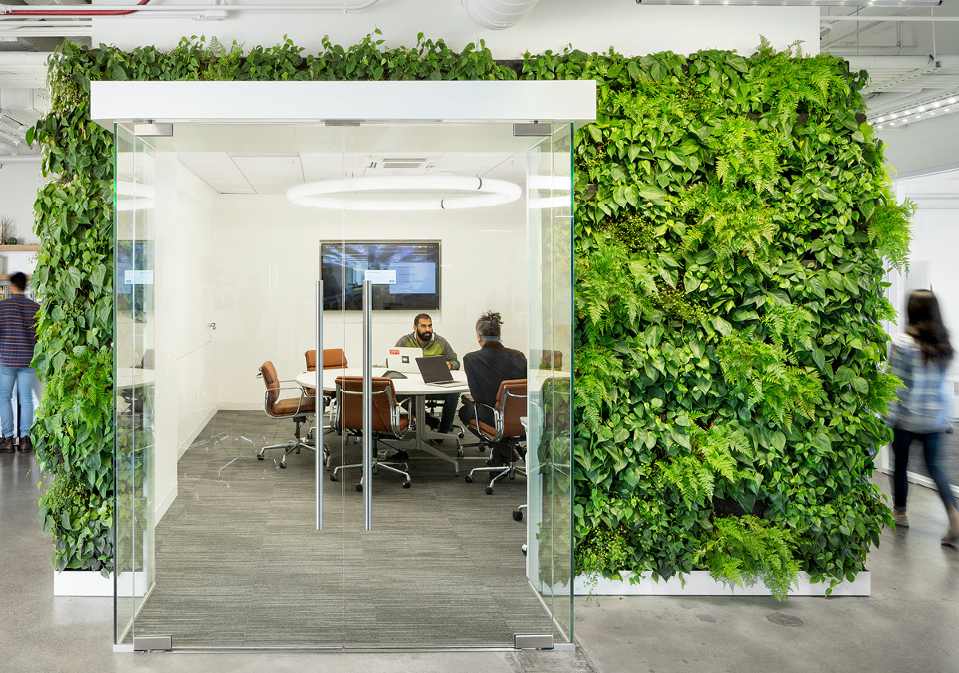 Green is the color that you want in your office if you work long hours. Aside from gently stimulating the mind, it is the easiest color on the eyes. Less tired workers means higher efficiency and improved productivity.
A great way to incorporate some green into your office is by adding some indoor plants. Not only do you get the wonderful benefits of green, you also get a health boost from the fresher air and anti-stress effects.
Best Colors for Creativity
Color psychology can be used as well if you want to keep your employees at their creative best. Just adorn their workspace with the following colors to inspire and boost their confidence.
Yellow Color Psychology and Creativity
For most people, yellow is reminiscent of the sun. This makes it a warm and optimistic color. By stimulating your spirit, yellow inspires innovation and gets your creative juices going.
Just like red, yellow should be used sparingly because it can have the unfortunate effect of making people hungry. Now, we finally understand why McDonald's loves red and yellow.
Red Color Psychology and Creativity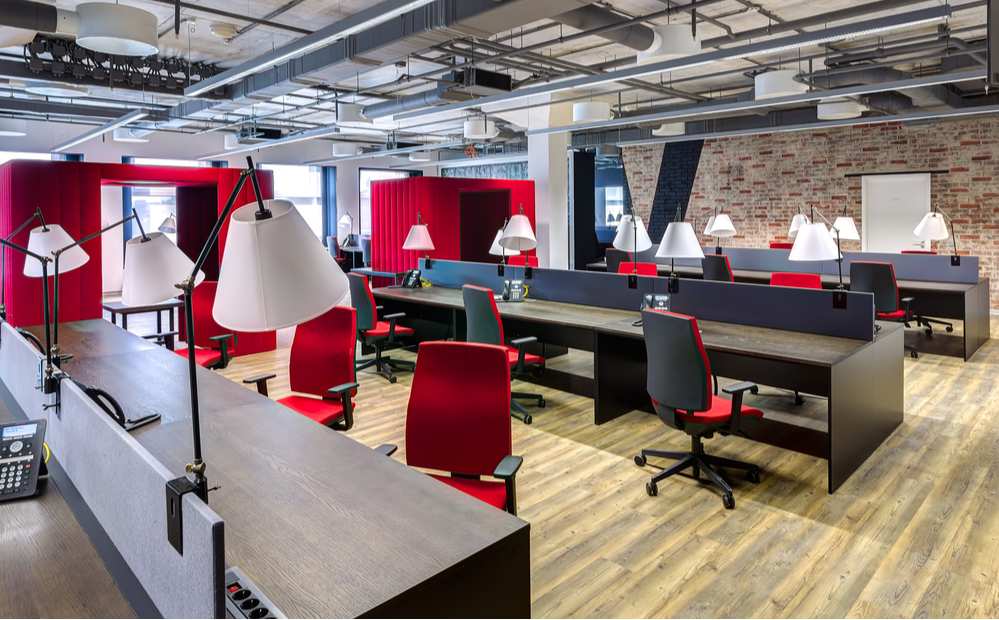 Red is a volatile, active, and passion-inducing color. It will stimulate and excite you to do creative work when you see it in your office. Of course, too much of anything can lead to disastrous effects. Most of the time, using red sparingly is enough to trigger its energizing effects.
Orange Color Psychology and Creativity
Being a secondary color of red and yellow, orange is naturally vibrant and warm. It creates a sense of comfort and confidence while still being a fun color. As such, adding a touch of orange here and there together with other colors can give you a creative boost.
Best Colors for Projecting Power
Next, show your dominance, professionalism, and power in your specific industry by using these authoritative colors.
Black Color Psychology and Power Projection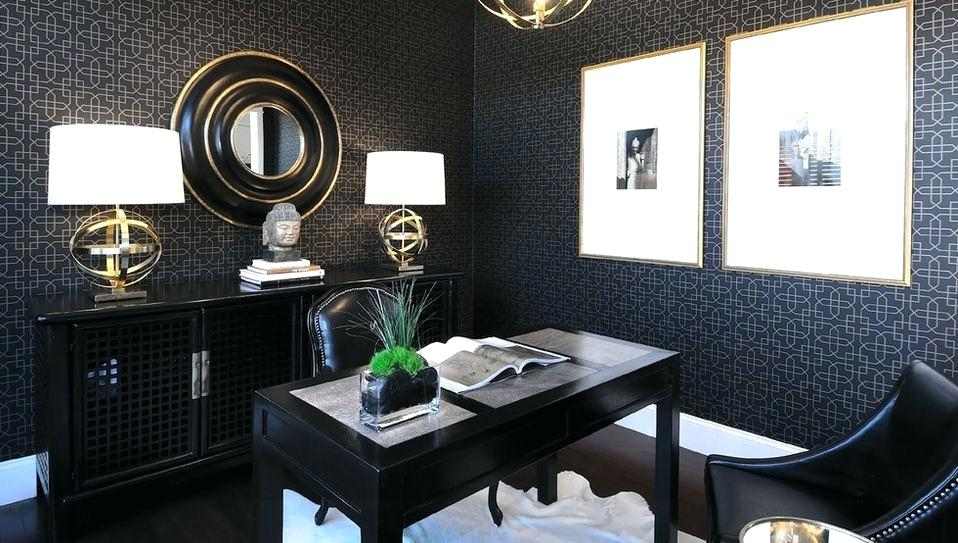 Black stands for power, authority, and control in color psychology. When used with the right accents, it can make your office look either mysterious or elegant as well. Use it with care though since too much black can look too intimidating and sinister.
Brown Color Psychology and Power Projection
Pair rich wood furniture with a brown backdrop and you have yourself an office which screams strength, power, and masculinity. Though it has the same darkness as black, it has more warmth and feels more supportive because of its earthy color. At the same time, it signifies being industrious and steadfast.
To prevent your office from being stodgy, you can add some greens and blues. You can also pair it with ivory to make your workplace look classy and sophisticated.
Best Colors for Relaxation and Comfort
If your work requires you to deal with agitated clients or nervous patients, you'll want to design your office with relaxing and comforting hues. These are typically shades that have a lot of white in them.
Blue Color Psychology and Relaxation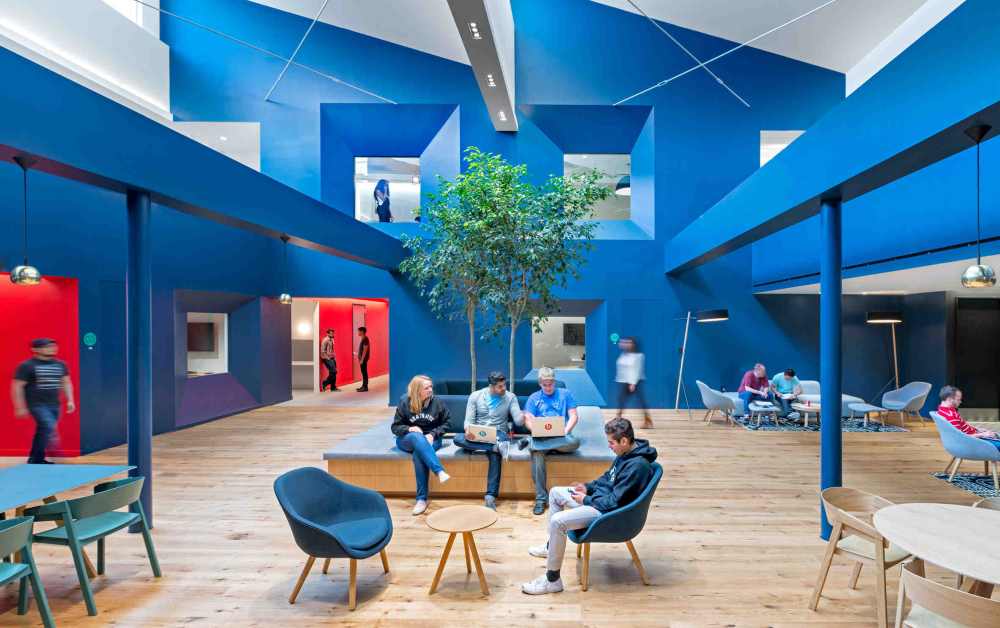 When people think about calming colors, the first that they usually think of is blue, especially its lighter shades. Being the color of the sky, it has a refreshing, calming, and soothing effect. This serene hue is especially suitable for a doctor's office where nervous patients come.
Pink Color Psychology and Relaxation
Pink is a calming and nurturing color that radiates femininity, hope, and romance. It also stands for good health and success which is why people say 'in the pink' and 'everything's rosy'. Because of its closeness to red, it still has the same warmth and energy without being too intense. In fact, it's so effective at relaxing people that many prisons use it to calm violent inmates.
Green Color Psychology and Relaxation
As the most dominant color in nature, green is restful, reassuring, and full of vitality. It is associated with well-being and balance. This makes this low-wavelength hue fitting for finance offices where people deal with money and medical offices to relax sick patients.
Pastel Colors Psychology and Relaxation
Also known as the colors of spring, pastels are colors that contain a lot of white. Since they are less saturated than normal colors, they feel light, soothing, and soft. Offices that are painted with any pastel look sociable, gentle, and caring.
Best Colors for Happiness
According to research, workers are up to 13% more productive when happy. This means that by painting your office fun colors, you're not only helping them maintain an optimistic outlook, you're also enabling them to do great things.
Yellow Color Psychology and Happiness
Sunny yellow is the shade of warmth, optimism, positive self-esteem, and vivaciousness. As a happiness-inducing color, it brightens the spirit and boosts the ego. Incorporate yellow in office areas of teamwork to instill openness and friendliness.
Orange Color Psychology and Happiness
Spreading friendliness and cheerfulness, eye-catching orange represents success, youth, determination, and warmth. Orange can help keep your workers maintain an enthusiastic and positive outlook on life. Paint casual office lounges and collaboration areas with extroverted orange to encourage social communication and discussion.
Pink Color Psychology and Happiness
Pink, especially its deeper shades, is your go-to color if you want the energy and happiness of red without being too intense. It alleviates negative feelings like anger, aggression, resentment, and abandonment, keeping your workers cheerful all the time. Since too much pink can be too draining, emasculating, and claustrophobic, use it to paint one wall or as an accent color to neutral hues.
Best Colors for Spaciousness
Next, let's talk about how a color can affect space. Light colors, especially white, will make your work area looking fresh and spacious. The more comfortable the work environment is, the better your workers' job performance and satisfaction.
White Color Psychology and Spaciousness
Any spatially-challenged workspace will look bigger and brighter when painted with white. It also creates a sense of balance and neutrality, giving it the ability to diffuse brighter colors. White in color psychology means purity and cleanliness.
But, remember, too much white can look uninviting, boring, and clinical. Pure white can also look too harsh so the softer, warmer off-white can be a better choice.
Best Colors for Luxury
Finally, boost your confidence while impressing your clients at the same time by decorating your office for success. Take advantage of color psychology to make your workspace look luxurious and sophisticated.
Purple Color Psychology and Luxury
As the color of royalty, go for regal purple if you want your office to look luxurious. It's associated with the finest quality as well so using it to decorate your workspace can communicate to your clients that you are the best. This stemmed from olden times when purple was a very expensive pigment and only the richest (i.e. royalty) can afford it.

Depending on the colors you pair it with, it also has a magical and mysterious feel to it that conjures thoughts of romance and fantasy. Be careful of how much purple what shade you use, however, as it can bring thoughts of gloom when used excessively.
Black Color Psychology and Luxury
Show dominance while still looking classy by pairing black with a good complementary color like gold. This dark hue also exudes formality, sophistication, and dignity so you can showcase your professionalism.
Jewel Tones and Luxury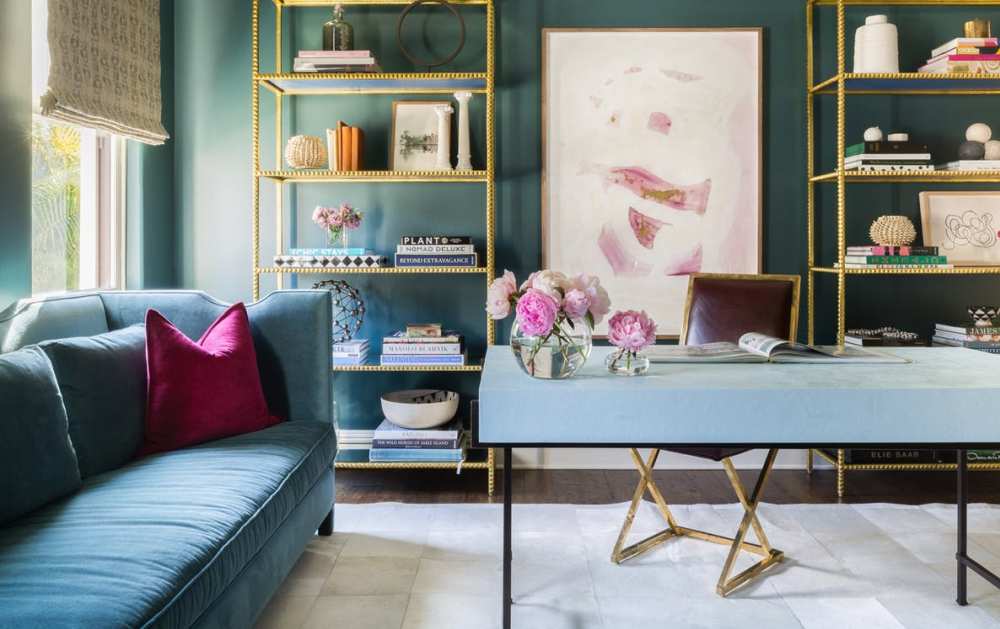 Jewel tones like deep blue, green, and red emanate wealth and luxury. One reason for this is their association to gemstones like emerald, ruby, and sapphire.

Pair jewel tones with other bold colors for a strong sense of contrast. Of course, neutral colors, including metallics, work well too.
Harnessing Colors in the Office
As you can see, colors in the office and in our everyday lives in much more than just aesthetics. When used skillfully, it can elevate our moods, improve our productivity, and sharpen our focus at the office.