Do you work in an office and often experience neck or shoulder pain? You'e not alone. According to statistics, office and computer workers are among the most at risk groups for developing these chronic conditions, leading to financial loss and even disability. Neck pain ranks 4th in the leading causes of disability worldwide.
With that said, here are the 7 most common reasons you're suffering from neck or shoulder pain at work, and how to fix them.
1. Looking Down Constantly at the Laptop Screen
What most people do when using a laptop is to simply place it on their desk (or God forbid on their laps). This might be okay for a short while, but any time longer, and your neck and shoulders will start to feel it.
According to studies, even a 15° tilt of the neck to look down at the laptop screen doubles the amount of force exerted on our necks to hold up the head. If you place your laptop on your lap, that force can be 3 times as great compared to a straight neck.
Dr. Kenneth Hansraj, in his research found that, even though the human head only weighs 10 to 12 lbs on average, the weight drastically increases as the head tilts forward. At a 15° angle, the weight jumps to 27 lbs, 40 lbs at 30°, 49 lbs at 45°, and 60 lbs at 60°.

Hence, though the motion of looking down might seem harmless, doing it for long periods of time can lead to neck pain, upper back muscle spasms, and even damage the vertebrae.

Solution: Use a laptop stand to elevate the laptop screen to eye level.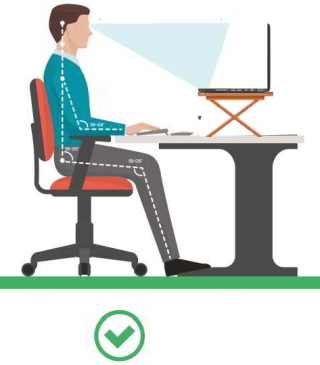 The solution is simple,- use a laptop stand or even any old cardboard box to elevate your laptop screen to eye level. This not only eliminates the need to look down, it also allows you to lean on your chair for back support.
A laptop stand starts at $20 with pricier ones coming with helpful features like adjustable height and angle.
If you wish to save money, even a cardboard box or a pile of books can do the trick.
With any of these solutions, we highly recommend that you use an external keyboard to maintain the ideal 90° elbow angle and neutral wrist position while typing.

2. Poor Monitor Positioning
Just like an poorly positioned laptop screen, an incorrectly placed monitor can become a real pain in the neck, literally. Put the monitor too low or high and you're constantly craning your neck to look at the screen. If you use a second monitor, wrong placement will have you constantly turning your neck to see the screen. Both of these actions will lead to neck pain overtime.

We've already talked about how bending the neck down can put a heavy load on the neck and shoulder muscles, nerves, and spinal discs. But what's wrong with turning your head frequently to look at a second monitor?
Turns out, plenty. Studies have shown that frequent twisting of the neck to utilize dual monitors can also lead to neck pain and other necked related musculature disorders.
Solution: Configure your monitor(s) for the proper height, distance, and angle.
For this issue, the solution depends on the following:
Whether you're using one or two monitors simultaneously
With two monitors, how often you use monitor #1 and #2
Proper Single Monitor Setup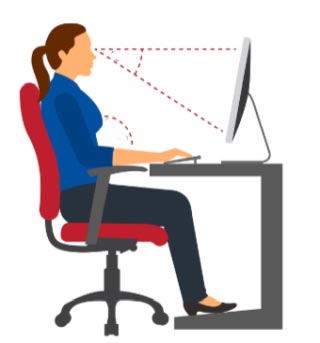 Keep your spine at a neutral position and minimize neck and eye strain by doing the following.
Place your monitor directly in front of you.
The monitor should be an arm's length away from you, about 18 to 28 inches. Too close and you'll ruin your eyes. Too far and you'll have to tilt your head forward to look at the screen.
If you do not wear glasses or only have single prescription lenses, the first line of text should be at eye level.
If you wear bifocals, trifocals, or progressive lenses, the main viewing area of the screen should be slightly below eye height while the center area should be about 17.5° below eye level.
Some monitors are designed to be height-adjustable. But, if yours isn't you can use monitor risers or even a pile of books to place it at the right height.
Proper Dual-Monitor Setup
As with a single monitor setup, the guidelines for the height and distance is the same for a two-monitor setup. The difference lies in where you should place each one. For this, assess your usage of each monitor.
Equal usage: If you use your two monitors equally, position them so they form a semicircle around you. The inner edges of the screens should be as close as possible to each other, this point being directly in front of you.
One monitor is used more: Position the primary monitor as you would with a single monitor setup. For the secondary monitor, place it on the side of your dominant eye. Again, the inner edges should be touching and the monitors are concave around you.
To find out which is your dominate eye, do the following quick exercise:
Look at an object some distance away from you
Extend your arm out in front of you with the thumb facing upwards
Position the thumb so it's obscuring the center of the object in your view
Now, close one eye at a time. The eye that when open keeps the object in the same position as when both eyes are open is your dominate eye.
3. Poor Sitting Posture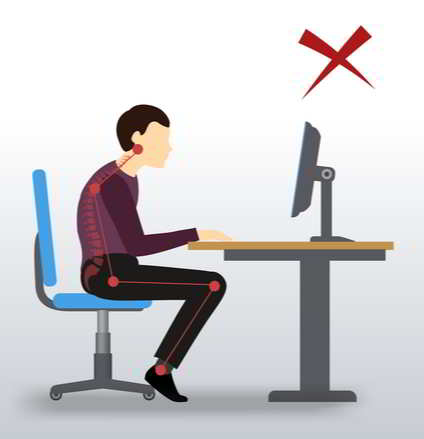 Another possible reason for your neck and shoulder pain is poor sitting posture. After sitting for a while, many people's natural inclination is to start leaning on the desk for support, hunching their shoulders and craning their neck forward.

In medical terms, the forward neck crane occurs when the head is far ahead from the center of the shoulders. This can happen due to fatigue, or if the computer monitor is placed too far for your eyes to view easily.
According to a 2012 research, a forward head posture over stretches the muscles, reduces balance, and leads to chronic neck pain. It is often accompanied by upper crossed syndrome where the shoulders and upper body are hunched forward.
Solution: Be keenly aware of your upper body posture when you sit, optimize your workspace, and take periodic breaks.
Here are some key points to remember when sitting:
Sit with your back straight and shoulders slightly pulled back.
Your neck should be straight, with your ears aligned with your shoulders.
Set the backrest of your office chair at a 95 to 110° recline to reduce spinal pressure and discourage leaning forward.
Consider getting an office chair with a dedicated headrest if you are tall. A good lumbar support is a must as well to support your back.
In terms of optimizing your workspace for your neck and shoulders, here are a few tips:
Position your monitor or laptop so that it's at the proper height, distance, and angle from you. (check above)
Adjust your chair and armrests height so your elbows form a 100-110 degrees open angle with the desk. This helps relax the shoulders, among other benefits.
Practice touch typing so you're not constantly looking down at your keyboard to find the keys.
And finally, for most people, it's difficult to maintain good sitting posture for a prolonged amount of time. This is why the below tips are perhaps the most important:
4. Stiff Neck and Lack of Upper Body Movements
Regardless of how perfect your sitting posture is, a lack of upper body movements at regular intervals will lead to neck pain after a while.
Solution: Move your neck and shoulders periodically. Strengthen your spinal muscles.
Moving your neck and shoulders periodically is critical in encouraging blood circulation and warding off pain in those regions. Do the following simple exercises at regular intervals at work:
1) Neck Relaxer
The neck relaxer helps bring blood flow to the neck and release tension quickly.
Bring your head slowly to the right, feeling the stretch across the entire side of your neck.
Hold the position for 2 seconds
Switch over to the left side.
Repeat for 3 times.
2) Overhead Shoulder Stretch
This is a great exercise to reduce stress in your neck, shoulders, and upper back. It also encourages the body to return to its natural alignment which is a must if you have poor posture.
Sit upright with your chest out and your shoulders back.
Bring one arm straight overhead and bend it at the elbow.
Grab your bent elbow with the other hand and gently pull it behind your head.
Hold the position for ten seconds.
Relax and return to starting position.
Do the same for the other arm.
There are many more ergonomic exercises you can do at your desk.
According to physical medicine instructor Dr. Dana Kotler, the best long-term strategy against neck aches is to strengthen the muscles that support the spine. Having weak core muscles forces the neck and shoulder muscles to overwork. This means you should include core strengthening routines such as planks and bridge poses into your workout regime as a long term strategy for keeping neck pain at bay.
5. Inadequate Neck Support in Office Chair
Another common source of neck pain is the office chair you're sitting in. This is an especially a factor if you tend to sit for hours on end staring at the computer.
Most task and mid back office chairs lack a headrest, which is actually not necessary to get into an ergonomically sound sitting posture with the neck straight and at a neutral position. However, if you often sit for a long time without taking breaks, it becomes difficult to maintain that posture. Neck and shoulder pain will start to creep up.
Solution: Opt for an office chair with a dedicated headrest that's adjustable.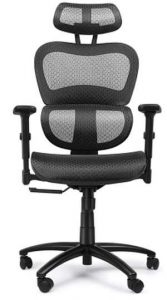 When you lean back to rest on your headrest, you're taking the pressure off your neck and upper shoulders. This gives your body time to rejuvenate and better hold a good posture and avoid slouching once you return to your computer work.
Look for office chairs with a high back, or better yet, an adjustable headrest to better conform to your head at different seating positions. A good neck pillow may also be enough to do the trick.
6. Frequent Switching Between Computer Screen and Paper Documents
Whether it's inputting invoices or typing up a contract, most of us work with paper documents and our computer at the same time. This may all seem harmless, but the motion of constantly looking up/down or to the side to switch between the computer screen and documents can be another reason why you have neck pain.
The same goes for cradling the phone using your neck and shoulders, another bad habit that is all too common among office workers.
Solution: Use tools like a document holder and headset to make common admin tasks less taxing on the neck and shoulders.
A document holder is one of those office accessories that no one asks for, but everyone could use one of . They make a huge difference in relaxing your neck when you work with a computer and paper documents simultaneously.
There are several types of document holders to choose from depending on your workstation set up. The end goal is all the same- to prevent unnecessary neck movements, by bringing the documents inline with your keyboard or to eye level.

In-line Document Holder – This positions your documents in between your keyboard and monitor, eliminating the sideways head movement. It works best if you have a height-adjustable monitor.
Screen Mounted Document Holder – This elevates your documents to eye level next to the monitor, and removes the need to constantly look up and down.
Free-standing Document Holder – Strong and easy to use, these can hold even text books with ease. Get the ones that are height-adjustable for best results.
If you frequently talk on the phone while working, get a headset to prevent bending your neck for long periods of time.
7. Poor Sleep Quality
If you sometimes wake up with a stiff neck, then your poor quality or lack of sleep might be one of the reasons for your neck pain during office hours. Sleep efficiency also amplifies any existing pain you may already be feeling, such as neck pain.

Solution: Establish good sleep habits that will help you get more quality sleep.
There is no other way to put it: A good day starts with a good night rest. Here are some tips to improve your sleep quality:
Cut exposure to electronic devices that emit blue light (cell phones, monitors etc) at least 2 hours before bed time.
Go to bed consistently at the same time nightly.
Avoid caffeine, alcohol, and other stimulants, especially at night.
Get an ergonomic pillow that can encourage better sleep.
Conclusion
At the end of the day, neck and shoulder pain has many possible causes. Fortunately, most of them can be prevented and remedied.
Make simple changes to your work routine and lifestyle and you can be pain-free all day and all night. Here are some key points to remember.
Optimize your workstation by adjusting your monitor and getting an office chair with a headrest.
Take advantage of tools that can make work less taxing on your neck and shoulders.
Be active and do exercises that can relax and strengthen your neck, shoulder and spinal muscles.
Maintain proper posture while working, but lean back every now and then to give your neck a break.
Maintain good sleeping habits so you can get enough quality rest every day.