Behind the positive headlines on remote working that paint a picture of happier, more productive employees is an uncomfortable truth- remote workers are increasingly feeling burnt out.
In this post we'll look at some surprising statistics on remote work burnout, and the myriad of reasons contributing to this silent problem.
Remote Work Burnout at a Glance
While stress is prevalent in any workplace, for remote workers, this is usually exasperated due to the lack of a structured working environment. Working overtime, social isolation, constant distractions and poor work life balance all pave the way to faster burnout.
69% of employees working from home report burnout symptoms.

[1]

Work burnout affects millennials disproportionately, with over 84% of millennials report experiencing work burnout.

[7]

59% of people working from home are taking less time off to decompress than before.

[1]

41% of remote workers report high stress levels, compared to just 25% of office workers, according to a UN Report.

[6]

29% of full time remote workers report feeling "always burned out" post covid-19. This is a remarkable jump from just 19% before the pandemic hit.

[2]

48% of employees feel more pressure to be online all the time since working remotely.

[4]

45% of remote workers say they work more hours weekly now than before the pandemic, including on the weekends. Parents and men were most likely to work overtime while remote.

[9]

On average, remote workers work an extra 26 hours more every month since the pandemic.

[8]

Employees who experience workplace burnout are 63% more likely to go on sick leave and 13% less confident in their job performance.

[2]

Close to 70% of employees feel their employers are not doing enough to prevent burnout at work, according to a Deloitte survey of 1,000 full time US workers. 21% of those surveyed say their company does not have any program in place for alleviating work burnout.

[7]

Workplace burnout costs companies $190 billion in healthcare expenses annually, according to a study by Stanford.

[11]
Why are Remote Workers Burning Out?
From an employee's perspective, there is undoubtedly widespread support for remote working. According to surveys by Prudential and CNBC [4][5]:
87% of employees would like to be able to work remotely at least once a week
1 in 3 employees would not want to work for a company that required them to work from the office full time.
Remote workers report a higher happiness index score compared to those that work from the office (75 out of 100 vs 71 out of a 100).
If the majority of employees embrace remote working and seem happier, why are they still feeling the burn?
Main Struggles Remote Workers Face
According to Buffer's Report on Remote Work, the 5 biggest struggles remote workers say they face are: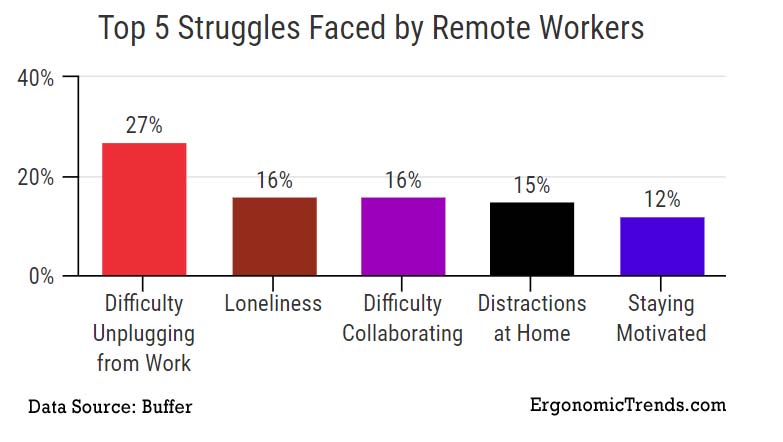 Many of these challenges are unique to a remote work environment. With a lack of proper guidance from HR and management, many employees feel overwhelmed. This is why despite feeling happier, work burnout can actually be more prevalent amongst remote employees compared to their onsite colleagues.
Let's look at the top contributors to remote work burnout in more detail:
Difficulty Unplugging from Work: Remote workers are 1.27 more likely to struggle to disconnect from work compared to workers that go into the office. [3]
With the home office now always accessible, many remote workers suffer from an "always on" mindset when it comes to work. The boundary between when work stops and your personal life begins is often blurred. Perpetuating the problem is a prevalent culture where managers often message remote employees even during off hours via email and text.

Lack of Social Support/ Loneliness: In a survey of 1,000 professionals, 76% say "lack of social interaction" was what they disliked most about working from home. [13]
Due to the pandemic, remote working has mostly meant working from home, and this has no doubt put a mental toll on employees. A study by Flexjobs reveal that since the pandemic, employees are 3x more likely to report poor mental health compared to before. [14] A big part of the issue is social isolation. Whereas in the past, it was easy to turn to a colleague sitting next to you to let off steam or have a good laugh with your teammates during lunch, remote working has changed all of that. The lack of in-person interaction over time can lead to a loss of motivation, increased stress, and even depression according to experts.
Virtual Overload: Employees are conducting 50% more video meetings since the pandemic, according to Owllabs. [8]. As a consequence, 49% of professionals surveyed say they suffer from "Zoom Fatigue". [10]
Remote workers are completely dependent on technology such as email, slack, Zoom, and a barrage of other software to interact with their teammates. The large number of virtual "touchpoints" creates sensory overload, leading to burnout faster. Contrast this with onsite workers, where interactions between people are much more balanced, spread between one-on-one, in group settings, during lunch breaks, and finally, virtually (online).
Frequent Distractions: When you're working remotely and with no supervision, it's a lot easier to get distracted. And there are plenty of things to distract you if you're working from home.
Apart from juggling family life, the temptation to lie down, watch TV, or play games is always there. These distractions can sideline a remote worker, creating frustration and leading to burnout as one tries to play catchup with his work.
What are the Signs you're Burning Out at Work?
According to Mayo Clinic, workplace burnout is defined as a special type of stress involving both physical and emotional exhaustion. It is often accompanied by a decreased sense of accomplishment plus loss of personal identity.
Here are the top signs you're burning out at work:
Lack of motivation and energy at work
Unable to meet project deadlines
A loss of satisfaction from accomplishments
Erratic mood swings
Problem waking up or falling asleep
Frequent headaches, stomach or bowel problems
How can HR and Management Help with Employee Burnout?
HR and Management should take a lead role in setting up policies and support systems that remote workers can use to better deal with work burnout. The need is clearly there when nearly 70% of remote workers say their employers are not doing enough to help alleviate burnout in the workplace. [7]
Here are some effective strategies HR can deploy to reduce remote work burnout:
Create a more robust hybrid work model that includes a third space. For example, employers may choose to subsidize coworking spaces that employees can drop in and socialize at the same time periodically. Research shows that 79% of people have expanded their social networks since joining a coworking space.
Set clear company policies that respect remote workers' personal time. Management need to take charge in setting clearer guidelines on when employees are expected to work. Discourage managers and supervisors from communicating with employees during off hours. 
Provide access to mental health support: Now more than ever, employees are feeling isolated, overwhelmed, and even depressed due to the lack of in-person interactions and support from colleagues. HR should set up programs that encourage socializing between employees and easy access to mental health support.
Encourage physical fitness at home: According to a UK survey, 46% of workers say they exercise less since working from home, and 39% report developing musculoskeletal problems.

[12]

Physical and mental health are intimately connected. Employers can encourage better physical fitness in WFH employees by hosting online fitness classes and subsidizing home offices with essential ergonomic equipment such as a laptop stand and ergonomic chair.
Remote Work Burnout Statistics Infographics
Share this Infographic on your site:
In Conclusion
The widespread adoption of remote working since the pandemic has largely been successful, though employee burnout is an issue that cannot be ignored by either employees or their employers. Left unchecked, it can lead to a drop in employee productivity, mental health, and higher turnover rates.
References Used