Repetitive strain injury (RSI) is an umbrella term referring to different musculoskeletal and nervous system disorders that are caused by repetitive tasks, forceful exertions, vibrations, mechanical compression, or sustained or awkward positions.

Though RSI has been documented as early as the 1700, it wasn't until the 1970's that the world saw a huge spike in the number of RSI cases. This is largely due to sweeping changes in the workplace that emphasized computerized and repetitive work in a stationary position.

So now, almost 50 years later, how has RSI affected workers? Let's take a look at some of the most important RSI statistics in 2019 to educate you on the dangers of repetitive strain.
General RSI Statistics
1. 1.8 million workers are afflicted by RSI's per year: Almost 2 million US workers suffer from RSI's like carpal tunnel syndrome (CTS) and tendinitis each year. [1] 600,000 workers take time off work each year to recuperate and treat their RSI. [2]
2. 1 in every 50 workers has RSI symptoms: According to the Trades Union Congress (TUC), 1 in every 50 workers has reported experiencing RSI symptoms. [3] These numbers are even higher in industries like computer operation where the prevalence is as high as 1 in every 4 employees.
3. Half of people who work with computers suffer from RSI symptoms: Researchers in Sweden revealed that almost half of all people who work with computers complain of RSI related pain in the wrist, hand, neck and shoulders. [4]

More alarmingly, even children who use computers frequently suffer from similar discomfort, according to a study in Australia. It's found that 60% of children that use computers often complain of some sort of discomfort.

4. Wrists are the most common RSI trouble spot: A survey on RSI trouble spots found that wrist pain is the most common point of pain out of all RSI related injuries [5]:
Wrists – 69%
Fingers – 29%
Forearms – 23%
Thumbs – 20%
5. 6 out of 10 office workers suffer from wrist pain: In a 2008 report by the BLS, 60% of computer workers in the US have wrist pain. [6] One reason for this is poor ergonomics, with 51.2% of these employees stating that their keyboards are placed too high. An ergonomic mouse and keyboard may help. Another reason for this is a lack of taking breaks: 49.7% of workers do not take adequate computer breaks when working.
6. Up to 23.8% more women complain of RSI symptoms compared to men: More women have poor office health compared to men. A workforce survey by the Federal Institute for Occupational Safety and Health found that 63.5% of women experience neck and shoulder pain while only 39.7% of men do. The same goes for back pain, which is more common in women (51.4%) than men (44%). [7]
7. 55% of RSI-afflicted employees are women: According to the RSIA's Overview on Upper Limb Disorders, women account for more than half of all workers suffering from RSI. [8] This is mostly due to the fact that women still bear the brunt of most domestic responsibilities on top of their careers.
8. 33% of workers with RSI are below 45 years old: Surprisingly, about one-third of workers with RSI are under 45. [9] This number is quite high considering the fact that degeneration due to old age is still not yet a factor at that point.
9. 62.2% of young workers do repetitive motions at least 25% of their work time: Based on the European Survey on Working Conditions 2000 report, a majority of workers aged 15 to 24 years old are exposed to repetitive motions for at least a quarter of their work time. [10] This can lay the foundation for developing RSI later in life.
10. 34% of all lost workdays are due to work-related musculoskeletal disorders: The data collected by the Bureau of Labor Statistics (BLS) indicates that work-related RSI's are the most common reason for lost or restricted work time, accounting for more than a third of lost workdays. [11]
11. Employees suffering from occupational RSI's take an average of 23 days to recover: A 2002 survey by the U.S. Department of Labor showed a staggering amount of time employees suffering from RSI take to recover compared to other types of injuries. [12]
Most injuries take an average of 9 days for full recovery while RSI's require 23 days off work on average.
12. Every day, 6 workers are forced to leave their jobs due to permanent RSI disability: Data shows that 6 employees are estimated to quit their jobs each day due to RSI. [13] The numbers are extremely unfortunately since RSI can easily be prevented and treated with proper office ergonomics.
13. Musculoskeletal Disorders account for one out of three dollars spent on worker's compensation: According to a 2014 report by OSHA, musculoskeletal disorders (MSD's) are among the nation's costliest occupational health problems. [14] It accounts for more than $20 billion annually in workers' compensation and up to $100 billion for indirect costs like hiring and training replacement workers.
14. For every $1 spent on RSI prevention, companies get back $17.80 in return: RSI prevention is cost-effective too. According to the Buckle and Devereux 1999 report, every dollar that a company with an office environment invests in ergonomics intervention strategy gets a return of $17.80. [15]
Carpal Tunnel Syndrome Statistics
16. CTS accounts for 32.5% of all repetitive motion injuries in the workplace: According to the BLS, 32.5% of all occupational RSI's are due to carpal tunnel syndrome (CTS). [16]
17. 6.7% of US workers will get diagnosed with CTS in their lifetime: A 2013 report about the prevalence and work-relatedness of CTS studied 27,157 adults. It reported that the overall lifetime prevalence of CTS among workers was as high as 6.7%. [17]
18. 67.1% of CTS cases are work-related: In a related statistic, close to 7 out of 10 cases of CTS are attributed to work by clinicians. [18] Additionally, it is the second most likely chronic condition caused by work.
19. The 35 to 44 age group has the highest number of CTS cases: According to a 2003 BLS report, the distribution of CTS cases by age groups is as follows [19] :
< 25: 3.3%
25 – 34: 19.2%
35 – 44: 34%
45 – 54: 30.4%
> 54: 13.1%
20. 7 out of 10 workers with CTS are women: Based on data collected by the BLS from 1992 to 2001, female employees make up 70% of CTS cases. [20]
21. A whopping 75.4% of CTS cases involve white, non-Hispanic workers: In 2001, the distribution of CTS by race or ethnicity are as follows [21] :
White, non-Hispanic: 75.4%
Black, non-Hispanic: 13.3%
Hispanic: 8.8%
Asian: 2.2%
American Indian: 0.2%
CTS is more prevalent in developed countries like the US, UK, and Netherlands. [22]
22. Obese individuals are 2.5 times more likely to develop CTS than people with normal BMI: A study published by the University of Michigan Medical Center reported that individuals who have a body mass index (BMI) greater than 29 have a 2.5 times higher risk of developing CTS compared to individuals with less than 20 BMI. [23]
23. CTS is most common among fabricators, laborers, sales and administrative support workers: A study of CTS cases that required days away from work found that it is most prevalent in these two occupational groups [24] :

Operators, fabricators, and laborers (36.7%)
Technical, sales, and administrative support office workers (34.2%).
It is least prevalent in farming, forestry, and fishing occupations (0.9%).
24. CTS accounts for the longest number of days lost among all occupational injuries and illnesses: The BLS reported in 2001 that out of all nonfatal injury and illness cases, CTS has the highest median days away from work at 25 days. [25] This is followed by fractures (21 days) and amputations (18 days).
25. CTS surgery is the second most common type of musculoskeletal surgery performed: Surgery for CTS is second only to back pain when it comes to the most common type of musculoskeletal surgery. [26] On average, 460,000 to 500,000 endoscopic carpal tunnel release surgeries are done each year in the US. [27]
26. Up to 30% of CTS patients experience wrist strength complications post-CTS release surgery: According to the University of Maryland Medical Center, post surgery, up to 30% of CTS patients have wrist strength loss. Moreover, as much as 15% change jobs and only 23% are able to return to their professions after the procedure. [28]
27. 57% of CTS patients reported a return of pre-operative symptoms 2 years after surgery: According to the Journal of the British Society for Surgery of the Hand, 57% of CTS patients start experiencing preoperative symptoms like pain 2 years after surgery. [29]
Cubital Tunnel Syndrome Statistics
Cubital tunnel syndrome (CuTS) is an impingement of the ulnar nerve due to constant direct pressure, stretching, or intense strain. Symptoms include pain, tingling, numbness, and weakness in the pinky and ring fingers, hand, and forearm.

Tasks and habits that keep the elbows bent or pressured for long periods of time like typing, scanning items at checkout, and leaning your elbows on hard armrests. Office employees, construction workers, cashiers, and factory workers are especially at risk.
28. CuTS is the second most common upper extremity entrapment neuropathy: CuTS is second only to CTS when it comes to the most commonly reported entrapment neuropathy of the upper extremities. According to a 2017 study of a US administrative health care claims database, the CuTS incidence rate is 30.0 per 100,000 person-years. [30]
29. Slightly more men suffer from CuTS than women (31.2 vs 28.8 cases per 100k people): Unlike Carpal Tunnel Syndrome which is more common in women, CuTS is slightly more prevalent among men at 31.2 vs. 28.8 cases per 100k people. [31] Moreover, older males make up for 41.3% of patients who receive surgical intervention.
De Quervain's Tenosynovitis Statistics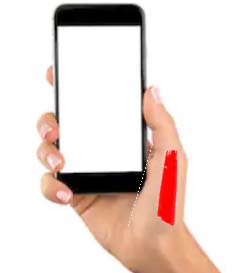 Also known as texting thumb, De Quervain's tenosynovitis (DQT) is a painful inflammation of the two thumb tendons. Pain worsens when the thumb and fingers are moved, the wrist is turned, and when trying to grasp something.

People who have jobs or hobbies that require them to do repetitive hand and wrist motions are at risk of this condition. This includes gaming, gardening, sewing, racket sports, intensive computer mouse use, and typing.
30. DQT is 80% more common in women: 0.5% men and 1.3% women are estimated to suffer from DQT. [32] It is most prevalent in the forties age group and in women who are in their postpartum period. [33]
31. 58% of young mobile phone users have DQT: In a study of mobile phone users aged 16 to 30, 58% have DQT. [34] Interestingly, compared to the forties age group which was comprised of mostly women, 64% of the young mobile phone users who have DQT are male.
Tendonitis Statistics
Just as its name suggests, tendonitis or tendinitis is an inflammation of the fibrous cord which attaches muscle to bone. Though it can happen to any tendon, it occurs most around the shoulders, elbows, wrists, knees, and heels.

Tendonitis happen when people stress their tendon through repetitive use, vibration, or significant impact. For example, this condition is common in office workers who type for hours or put their wrist at an awkward position by mousing.
32. Each year, 70,000 workers miss work due to tendonitis: In 2014, the BLS reported that 70,000 workers cited tendonitis as their reason for missing work. The good news is that 80% of patients reach full recovery within 12 months. [35]
33. Construction and extraction occupations account for 44.2% of job-related tendonitis cases: A 10-year study of traumatic tendon injuries in the hand and wrist reported the following as the prevalence for occupational tendonitis.
Construction and extraction occupations: 44.2%
Food preparation and serving related occupations: 14.4%
Transportation and material moving occupations: 12.5%
Intersection Syndrome Statistics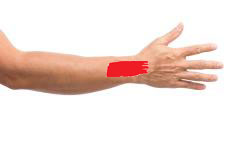 Often misdiagnosed as De Quervain's Tenosynovitis, intersection syndrome is a condition that affects the lateral side of the forearm. Symptoms include pain in the dorsal forearm and wrist.

People who develop intersection syndrome often have a history of overuse through repetitive wrist flexion and extension. Common activities associated with this condition are rowing, weight lifting, pulling, and gardening.
34. Intersection syndrome only affects 0.2 to 0.4% of the general population: Compared to DQT which is often confused with this condition, intersection syndrome is a rare overuse disorder that affects less than 0.4% of the general population. [36]
35. 60% of intersection syndrome patients can recover solely through conservative treatment: Most cases of intersection syndrome can be resolved through conservative therapeutic strategies like rest, immobilization with a splint, analgesic and non-steroid anti-inflammatory drugs (NSAIDS), and stretching and muscle strengthening.
For those that don't respond well to conservative treatment, surgery is known to be very effective.
Rotator Cuff Syndrome Statistics
Rotator cuff syndrome (RCS) is an injury of the group of muscles and joints that help move the shoulder. There are two main possible causes for this condition – repetitive overhead motions and a sudden, single injury.

You might be at risk for RCS if you often sleep on your shoulder, do sports like swimming, baseball, and tennis, or work as a painter or carpenter.
36. Up to 65% of patients over 80 years of age have RCS: The greatest risk factor of RCS is old age. [37] It is most common in patients more than 80 years old (60 to 65%) while incidence is lowest in patients younger than 20 years of age (5 to 10%).
37. RCS incidence is at a 1:1 ratio for men and women: Studies show that there is no predominance in terms of gender when it comes to men and women. [38] Smoking, however, increases the risk of RCS.
Radial Tunnel Syndrome Statistics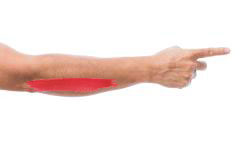 Radial tunnel syndrome (RTS) occurs when the radial nerve that runs from the forearm to elbow is compressed. Symptoms include pain, weakness, and fatigue in the forearm, back of the hand, and wrist. Unlike CTS and CuTS, RTS affects the muscles, not the nerves.

Repetitive motions such as twisting, gripping, and pulling and arm and hand overuse can lead to RTS.
38. RTS only affects 0.03% of the general population per year: According to a 2015 article published in The Archives of Bone and Joint Surgery, the annual incidence rate of RTS is quite low at just 0.03%. It is also more prevalent in women between 30 to 50 years old. [39]
39. Up to 93% of patients who receive surgical treatment report full recovery: Surgical intervention for RTS is very effective, with 67 to 93% of patients reporting completely diminished symptoms. [40]
Writer's Cramp Statistics
Writer's camp is a task-specific focal dystonia of the fingers, hand or forearm. Though the exact cause of this condition is unknown, experts associate it with excessive fine motor activity and a tense or improper writing posture or technique.

Just as its implies, symptoms like excessive gripping, wrist flexion, and elbow elevation occur when you write or do other highly skilled movements like sewing, typing, or playing a musical instrument.
40. Writer's cramp accounts for 5% of hand conditions: Writer's cramp is rare, accounting for only 5% of all conditions affecting the hand. [41] Incidence is extremely low at 7 to 69 per million people in the general population. [42]
41. 66% of writer's cramp patients will suffer from abnormal writing: According to a 2009 study, 66% of people suffering from writer's cramp will have constant abnormal writing that may eventually become illegible. [43]
References Used