There's a reason why saddle stools are so popular in dental offices and beauty salons. In this post, I'll go over the benefits (and drawbacks) of a saddle chair for use in the office, and why you might want to give one a try.
The Benefits of a Saddle Chair (Backed by Studies)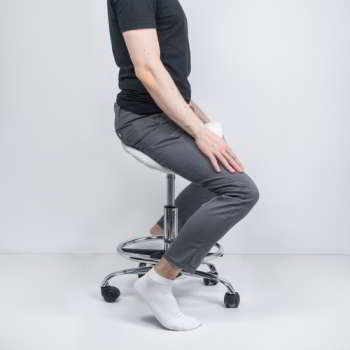 Using a saddle chair has quite a few proven benefits due to the shape of its seat:
In a 2018 study, a saddle chair was found to lower the ergonomic risks of prolonged sitting in dental students compared to normal chairs, by promoting an active sitting posture that engages underutilized muscles while encouraging a neutral lumbar posture.
In the same study, it also found evidence that saddle chairs can be beneficial for people with back pain. The forward declining shape of a saddle seat according to the findings is conducive for maintaining a lumbar lordosed sitting posture, which decreases pressure on the lower back.
A 2012 research concluded that saddle chairs are good for maintaining the natural spinal angle of the lumbopelvic and cervical regions. This means that this kind of chair can also be helpful for correcting postural problems like flatback.
Based on the findings of a 2005 study, saddle chairs can improve upper limb function to boost productivity of office workers.
Similarly, saddle chairs are better than standard chairs in helping the arms and hands sustain power while making small precise movements, by stabilizing the shoulder girdle in the seated position. This is one reason why saddle stools are favored by dentists.
A saddle chair can help ease the strain on the female parts of pregnant women. Aside from preventing pelvic and lower back pain, it also allows for easy breathing by preventing a hyperextended posture.
Are Saddle Chairs Good for Your Back and Hips?
The short answer is yes, saddle chairs are better than standard office chairs for your back. The equestrian style seat also has the added benefit of opening up your hips. Tight hip flexors increase your chances of developing lower back pain.
One of the reasons people experience back pain after sitting for a long time is due to sustained compression of the spine: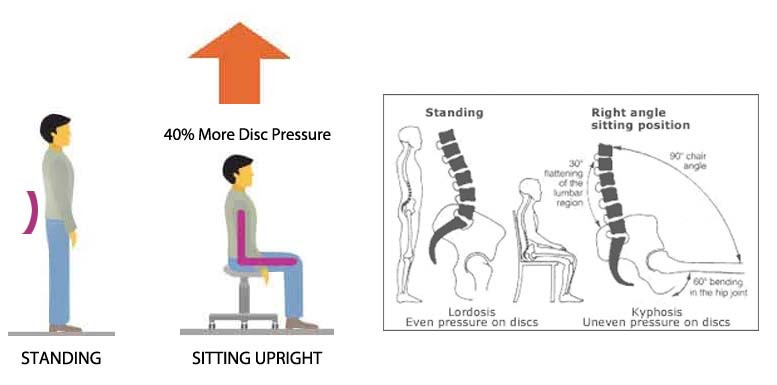 On a standard chair, the lumbar spine loses its natural inward bend in the seated position, compressing and exerting up to 40% more pressure on the back relative to standing where the natural curve is preserved.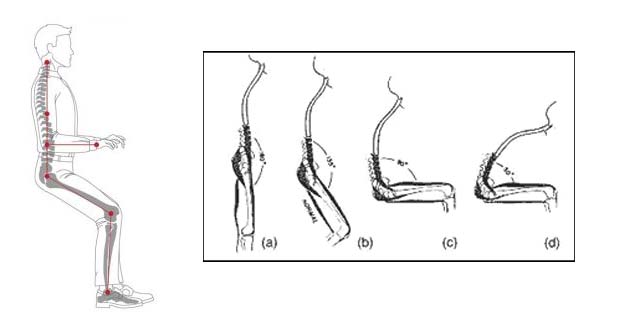 The tall seat of a saddle chair and its unique shape helps the lower back assume a posture akin to standing. The declining seat edge drops the thighs 45 degrees from horizontal, shifting some of the body weight to the stronger thigh muscles while at the same time helping maintain the natural curvature of the lumbar spine. When the lower back is in this lordosed position, pressure is more evenly distributed, similar to an arch bridge.
The sideway sloping seat also opens up your hips when you sit. This encourages lymph flow and blood circulation to the pelvic and thigh area. This wide joint angle reduces the load on the hip and knee joints as well so the cartilages and ligaments can remain healthy.
How Do Divided Saddle Chairs Affect the Pelvic Area?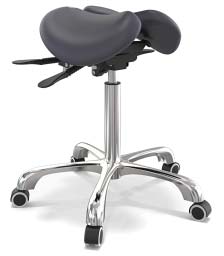 There are two types of saddle chairs – solid and divided. For males with genital health concerns, a saddle chair with a divided seat may be a better option due to the gap in the middle that eliminates pressure in the genital region.
A study looking at the sitting pressure of different types of saddle chairs show that the divided seat design results in the least amount of pressure over the pectineal line. Blood flow isn't unhampered so metabolism and nerve endings in the internal pelvis remain healthy.
According to ergonomics specialist Veli-Jussi Jalkane, men can expect enhanced fertility and sexual health using a divided saddle chair, since it doesn't put pressure on the male pudendal nerve like traditional seats do. Constant, prolonged pressure on the pudendal arteries causes its walls to thicken, which can eventually lead to erection disorders.
Women can reap the benefits of a divided saddle chair too. The gap between the two halves improves ventilation and lowers the temperature in the genital area, leading to a lower probability of infections.
What Are Some Drawbacks of Saddle Chairs?
The main obstacle you'll face when using saddle chairs is your own tolerance. After all, your body has been sitting for years in conventional seats. Depending on your fitness level, it can take you days, weeks, and even years to get used to a riding style sitting position.
Most are Too Tall by Default for Standard Desks
For use in the office or at home, one of the biggest issues with saddle chairs is that most are simply too tall.
The ideal chair height should be such where your forearms are parallel to the desk when typing, and the top line of the screen is at eye level. Assuming your desk height is 29" (standard desk height), for someone that is 5'9" for example, a chair height of around 18.6" would fit that bill.
Most saddle chairs are designed with a tall minimum height. Researching different brands online, the shortest we could find had a 19.5" minimum height, which is simply too tall for the average user to be comfortable.
This means in order to pair a saddle stool with your desk, you'll most likely need to invest in a desk riser or even standing desk in order to be ergonomic.
Sore Sitting Bones
Those who often slump while sitting in standard seats will find their ischial tuberosities or sitting bones to be sore the first few weeks. In a slouching position, the pelvis rotates backwards so the pressure is on the tail bones.
With a saddle seat, you sit with an erect posture where your pelvis is rotated forward, causing you to sit on your sit bones. Though you might get sore at first, the sit bones are actually better equipped to support your body's weight and withstand high pressure.
Seat Pressure
Depending on how big the horn of the saddle chair is, some men might experience pressure or numbness in their groin area, just like with horseback riding. If that happens, opt for a divided saddle chair.
Hip Joint Discomfort
People with stiff hips may experience discomfort anywhere from 3 weeks to 3 months. The wide seat will stretch out your hip joints which have become stiff from sitting the traditional way.
The good news is, once you pass the adjustment period, you'll have more flexible, mobile hips. This is crucial for healthy movement and injury prevention.
General Fatigue
With conventional seats, your postural muscles – back extensors, abdominals, pelvic muscles, and large leg muscles – are all passive when you sit. Meanwhile, saddle chairs activate these muscles. As such, you can expect general fatigue that may limit the amount of time you can sit in them, at least initially.
It can take your body 6 to 18 months to tone up these muscles that have weakened from disuse. Frankly for some people, they may never build up enough core strength to sit in a saddle chair for long periods of time at a stretch.