The first time I heard of SecretLabs was 3 years ago on a gaming website. The review was so unabashedly positive, I immediately dismissed it as some sort of ad, and never gave the brand another serious look since.
Fast forward 3 years, and here I am, sitting on a SecretLab Titan chair and crafting my own review, which ironically may end up sounding eerily positive.
Follow along as I break down what I liked so much about the SecretLab Titan, and how it compares to some of the other gaming chairs we've reviewed.
See Also: Are Secretlab chairs worth it?
Three Models to Rule Them All – Omega, Titan, and Titan XL
The first thing that SecretLab got right was to offer 3 variants of their gaming chair based on body size. A big part of comfort and ergonomics in a chair is in its dimensions relative to yours. A small gaming chair will never be comfortable for a big guy, and visa versa.

To that end, you'll find 3 different models with different dimensions and even features to cater to your weight and height:
Omega
Titan
Titan XL
Recommend Height:
5'3″ – 5'11"
5'9″ – 6'7″
5'11" – 6'10"
Recommend Weight:
< 240 lbs
< 290 lbs
< 390 lbs
Seat Dimensions
(excl. wings):
14″ x 19.3″
(Width by Depth)
20.5″ x 19.7″
(Width by Depth)
22.6″ x 19.9″
(Width by Depth)
Seat Height
(Floor to top of cushions)
18.1″ – 21.9″
18.7″ – 22.4″
19.1″ – 22.8″
Backrest Height:
31.5″
33″
33.5″
Armrests:
4D
4D
4D
Max Recline:
165 degrees
165 degrees
165 degrees
Weight:
66 lbs
77 lbs
79.4 lbs
Check Price:
Omega Chair
Titan Chair
Titan XL Chair
In terms of upholstery, all models offer a myriad of choices depending on your budget and preference:
Secretlab PRIME™ 2.0 PU Leather: Default option. 4x stronger than standard PU leather.
Secretlab SoftWeave® Fabric: More breathable than PU leather but easier to get dirty
NAPA Leather: Premium real leather with the best of both worlds.
My advise is to just stick with the default 2.0 PU leather unless you live in a hot climate or tend to sweat a lot. Fabric may be more breathable, but it's also harder to clean when stained.
SecretLab Titan Review
For the purpose of this review, SecretLab sent us a review unit of the Titan chair with the standard PU leather option, so full disclosure here.
My body size is 5'8″ (174 cm) and 154 pounds (70 kg) btw, and the Titan fit me perfectly except the seat height, which I wish could be lowered by just a tad more.
Unpacking the Titan- First Impressions
If there's an running theme that permeates the SecretLab Titan chair, that's the meticulous attention to detail.
From the moment I opened the box, I was awe struck by the amount of effort that went into creating the ultimate assembly experience.
Like the luxury lounge afforded by airlines to first class flyers, I was greeted with a large poster welcoming me to my new chair, a full size color instruction manual, and parts that were so meticulously packaged I felt undeserving:
Assembling the SecretLab Titan was relatively straightforward, though I found the 20+ steps instructions too detailed actually, to the point it actually got confusing (if that makes sense).
Throughout the assembly process, I found signs of SecretLab's extraordinary attention to the little things.
For example, there are rails on the sides of the backrest that help secure it in place with the seat as you fasten the screws. And the plastic side covers on the two sides that you usually have to screw in? On the SecretLab chairs, they are magnetic, and just snap on. Why didn't other gaming chairs think of that?
Titan Build Quality
The SecretLab Titan is perhaps the most refined gaming chair we've ever reviewed.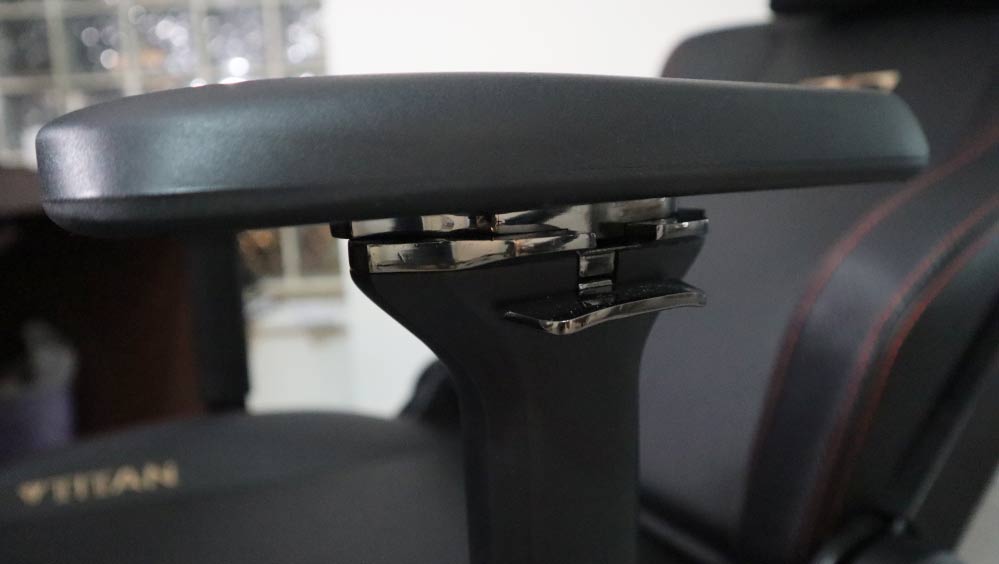 Everything about the chair feels top notch. The base is made of high strength aluminum reinforced with ribs and gussets. The gas lift consists of a class 4 heavy duty KGS cylinder. The switches on the armrests are made of stainless steel to ensure they don't snap off over time. Even the default PU leather upholstry feels premium and non plasticky, and apparently is 4x more resistant to peeling compared to regular PU leather.
The end result is an extremely stable, silent gaming chair with no obvious weak links. The last gaming chair I reviewed with this type of build quality is the Anda Seat Big and Tall. This is a gaming chair that should last you a good 5 – 10 years.
Chair Features and Adjustments
All models within the SecretLab lineup share similar features, including a depth-adjustable lumbar support that actually works. Kind of.
The first thing you'll find on the Titan are thick 4D armrests. It's one of the widest we've seen yet, with a rubber exterior that's firm but still light years ahead of plastic armrests in comfort. But what you'll appreciate the most are their ability to move in all directions, including being width adjustable. This means whether you're typing, reclined back, or have narrow shoulders, the armrests can be adjusted to meet you exactly where your arms are.
There's a lot to like about the multi-tilt mechanism on the SecretLab Titan. While the 165 degree maximum recline is fairly standard, the chair also supports seat tilt angle lock like in some other high end gaming chairs. This means the angle of the seat as it points upwards can be locked in as well, not just the angle of the backrest:
Seat tilt angle lock is fabulous when you wish to work in a heavily reclined position, by angling your whole body – and not just your back – upwards, similar to in a zero gravity chair. This is a game changing feature (no pun intended) in my opinion.
Let's talk about the lumbar support now. On the SecretLab Titan, it's built into the backrest, with a knob that lets you control its depth, very similar to that found on the Noblechairs Hero. Unlike on the Hero though, this one actually works fairly well – at its maximum setting, there is a sizable bulge that cradles my entire lower back to offer decent lumbar support. Having said that, it may still not be pronounced enough for some people. It would have been good if Secretlab also included an external lumbar pillow to cover the gamete.
And last but not least, there is the external neck pillow, which deserves a paragraph of its own. It's bar none the most premium and comfortable neck pillow we've tested on a gaming chair. There is some sort of gel inside that engulfs your entire neck as you sink into it.
Seat Comfort and Firmness
A lot has been written about the firmness of the seat and cushioning on the SecretLab chairs. Some people love it, while others, not so much.
Honestly, I don't get the whole fuss. To me, the seat on the SecretLab Titan is medium in terms of firmness, and certainly not hard to the point of possibly being uncomfortable (like in the Noblechairs Hero). In fact, from an ergonomic standpoint, a slightly firmer seat can help you maintain good posture easier than a mushy one. Just think of your couch for an example of the later.
Still, in the end, it does come down to personal preference to some extent. Do you prefer a softer or harder mattress? Personally I consider the seat on the SecretLab Titan more than comfortable, though I have friends that say they still prefer the one found on my Andaseat Big and Tall when they tried both.
Final Thoughts and Takeaway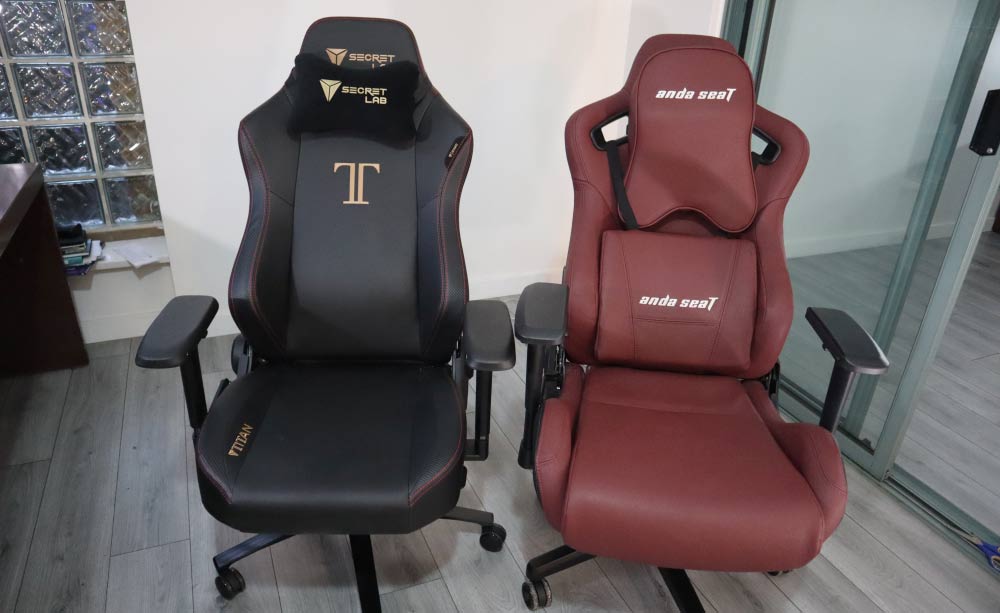 After 30 days with the SecretLab Titan, I can say, the hype mostly matches up with reality. No, you won't find any rocket boosters underneath the seat or missile launchers in the armrests, but as a gaming chair, it's hard to find any real fault with the Titan.
The Titan is a truly premium chair with the build quality, sophistication and comfort to appeal to not just gamers, but anyone looking for a high end ergonomic office chair with a robust reclining mechanism. In its price range ($400 – $500), we've only come across one other gaming chair we liked as much, and that's the Anda Seat Big and Tall.
Pros:
Exceptional build quality with 5 – 10 years lifespan
Velvety feeling, strong PU leather upholstery
Wide 4D armrests
Decent built in lumbar support and exceptional neck pillow
Backrest reclines 165 degrees with seat angle lock
Cons:
Backrest doesn't rock once at fully reclined angle
Maximum lumbar support depth may still not be enough for some
Seat cushion may still be a little firm for some people