Disclaimer: Sleekform sent us a review unit of the Sleekform Amsterdam for this review.
Kneeling chairs have been around since the late 1970s, though it seems only recently that they have made it into the mainstream conscious. Just a few years ago, none of my friends or colleagues had even heard of kneeling chairs. Fast forward to today, and it's a totally different story.
These days, kneeling chairs are generally divided into two camps:
Stationary, height adjustable kneeling chairs
Rocking, non height adjustable kneeling chairs
Rocking Kneeling Chairs At a Glance
In terms of rocking kneeling chairs, the two most well known brands and models are from Sleekform and Varier:
Chair Height (floor to top of seat): 22"
Chair Height (floor to top of seat): 22"
Chair Height (floor to top of seat): 20"
Chair Height (floor to top of seat): 22"
Chair Height (floor to top of seat): 22"
Chair Height (floor to top of seat): 20"
The Sleekform Amsterdam and Austin are almost identical save for the frame material (wood versus metal).
The Varier Balans comes with more premium materials and a shorter height.
In this review, I'll review in detail the Sleekform Amsterdam to give you a sense of how rocking kneeling chairs work in general, and whether you should consider one over stationary kneeling chairs.
Sleekform Amsterdam Kneeling Chair Review
The Sleekform Amsterdam is an interesting proposition in the saturated world of kneeling chairs for a variety of reasons, from its rocking mechanism, all steel design, to the rock bottom price tag of around $100 (at the time of writing).

To find out just what kind of value the Amsterdam can deliver at such a low price, I decided to spend an entire month using the chair as my primary sitter. The outcome surprised me.
The Rocking Mechanism
The Amsterdam is fascinating in that it melds the rocking chair design made popular by Varier Variable Balans with a modern metallic body.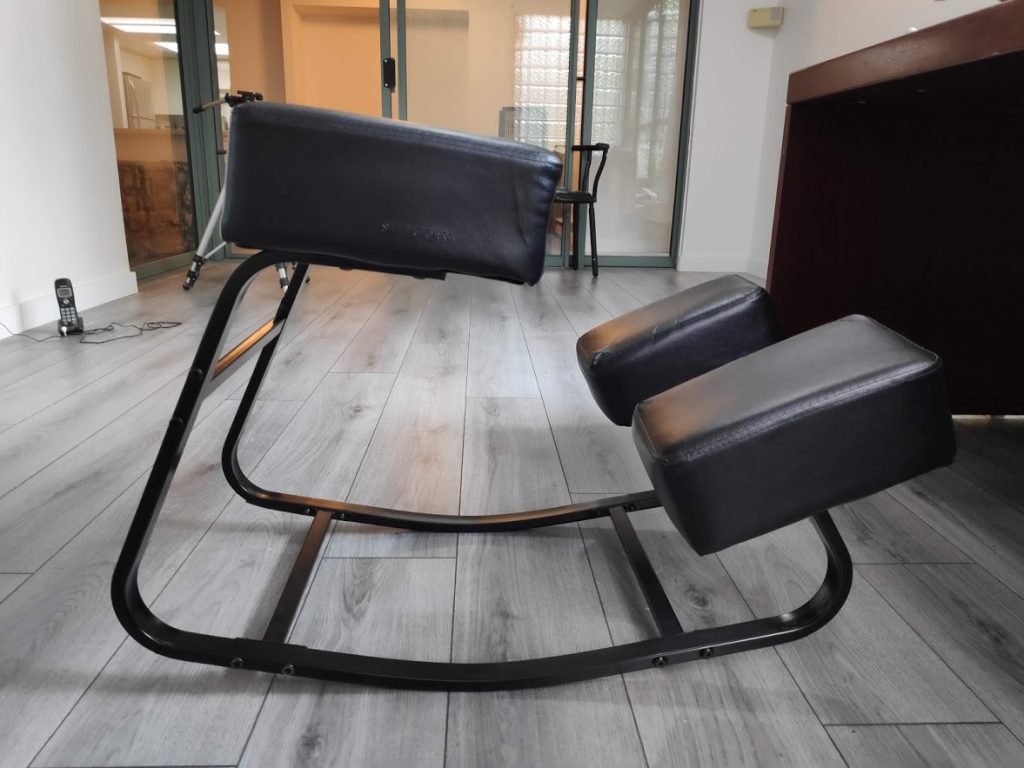 Thanks to the slight curvature at the two ends of the two primary beams (around 5 degrees each), the Amsterdam rocks as you lean back. Don't worry, it's gentle enough that there's little feeling you might fall over. Leaning forward or back alone will trigger the movements, though you can also rest one foot on the floor to manually rock it.

I really appreciate the strip of high density foam at the bottom of the two beams that comes in contact with the floor. It helps cushion the beams on hardwood or tile flooring, and makes this kneeling chair basically suitable on any kind of surface.

Padding and Comfort
Sleekform is known for its thick, generous cushions, and I've found this to be true on the Amsterdam. The seat and two shin pads are all made of 4" thick cushions wrapped in faux leather. It's supportive enough even for my larger friend that weighs around 230 pounds. The leather does get a little sticky when it's hot, however.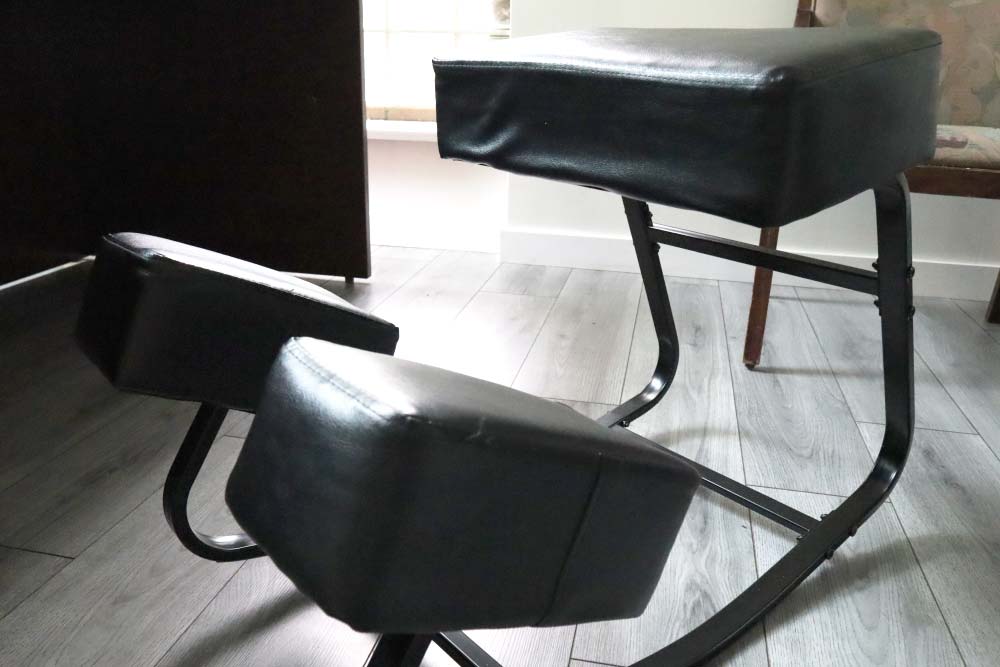 There are some negative reviews on Amazon with regards to the stitching and durability of the leather on the Amsterdam. It's obviously hard to tell after just 1 month how true those statements are. The good news is, we reached out to Sleekform, and they say they offer free cushion replacements within the first 6 months of your purchase.

Number of Possible Sitting Positions was a Huge Surprise
As someone who quickly gets tired of one sitting position, one of the things I really like about the Amsterdam is how easy it is to switch things up thanks to the non obtrusive design.

While I always start out with the standard posture of my two knees resting on the shin pads, it's never long before I'm doing acrobatics on the chair:

When my back starts to feel tired, I rest one or both feet on the shin pads for a bit.

When my legs need a little stretching, I rest one on the floor while using it to rock the chair.

When my bottom feels a little sore, I turn the kneeling chair around and rest my entire weight on the shin pads.

And this is my favorite position- flop my body over the kneeling chair from time to time to completely relax my neck and stretch out my back.

Let's Talk Ergonomics
From an ergonomic standpoint, there is a lot going on for the Amsterdam, especially at this price point.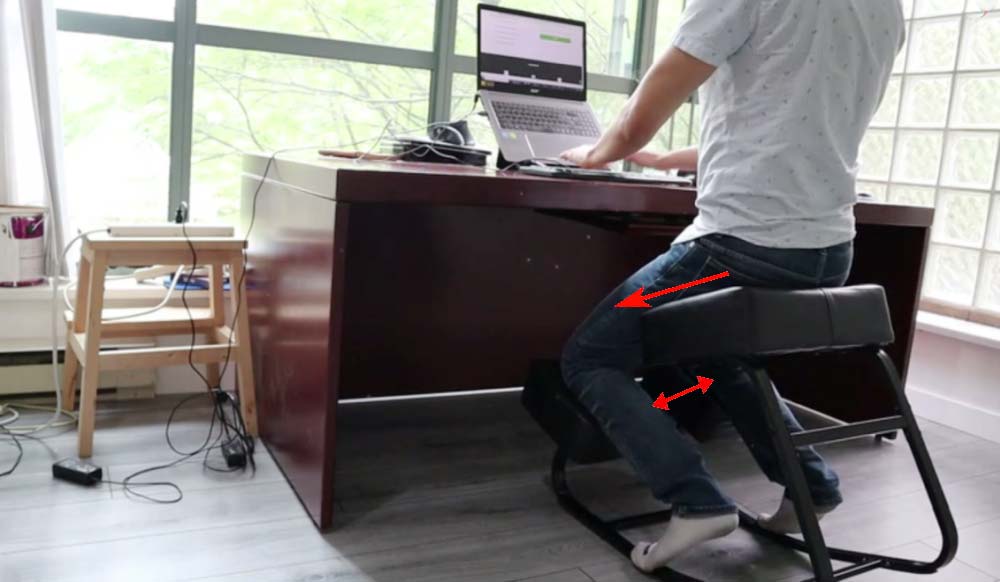 As a traditional kneeling chair, the Amsterdam follows the Balans Chair design of a forward sloping seat. Along with the two separated shin pads, this automatically opens up your hips and shifts your pelvis forward.

Translation: Such a posture can help reduce back pain by significantly reducing the pressure placed on your back and helping maintain a neutral spine much longer when sitting.

The rocking motion of the Amsterdam also turns it into a low cost active sitting chair. Compared to other active sitting chairs that can cost over $1,000, I can tell you the Amsterdam holds its own well. I've been rocking intermittently every few minutes on the Amsterdam, and enjoying every bit of it.

Lastly, the minimalist design of the Amsterdam makes it extremely easy to sit in a variety of creative positions. Even the most ideal sitting posture becomes counterproductive over a sustained period of time, so being able to mix things up is a big deal ergonomically.

Non Adjustable Height a Deal Breaker?
If there's one thing to be mindful of being purchasing the Amsterdam, it's the height of the chair.

Like most rocking kneeling chairs, the Sleekform Amsterdam's height is none adjustable. From the floor to the seat, you're looking at 22" of elevation.

What this means is for most people (above 5'2"), you'll most likely find your body perched too high when using it with your laptop on a standard desk (which is typically 29" in height). The ideal chair height is where your elbows are at a 90 degree angle with the desk, and the top of the screen is at eye level.

If you use a desktop with an adjustable height monitor, you will be just fine.

A simple remedy for the former category is to use a laptop stand or even cardboard box to prop up your laptop or monitor (if it's not height adjustable) to meet this configuration.

I can understand the rationale behind the height setting on the Amsterdam. For a non adjustable seat, it needs to be high enough off the ground to accommodate most people's legs. Anything shorter than 22", and you're looking at a very cramped and uncomfortable sitting experience, especially for men.
Regardless of the justification, just be aware that if you intend to use the Amsterdam with a non height adjustable desk, you may need some sort of desk riser to make the pairing as ergonomic as possible. 

For everywhere else around the house, the 22" height of the Amsterdam seat should pose no issues. In fact, it has encouraged me to work a lot more at my kitchen counter these days, which with a 36.5" height works really well with the chair and my body (5'8").

All Things Considered
Despite the limitations placed on the Amsterdam due to the fixed height, coming up with a final verdict wasn't difficult at all. At around $100, the Amsterdam kneeling chair is one of the best ergonomic chairs we have reviewed to date relative to its price point.

Literally everyone who has visited my house and sat on the Amsterdam wanted to take it home with them. It has become a conversational piece with visitors as they admired its versatility and ability to move as they sit. Yes you can't use it with a standard desk and laptop without some adjustments, but it works literally everywhere around the house to encourage good posture and movements as you sit. And for that the Amsterdam deserves all the credit in the world.