Over the last 2 years we've tested at least a couple dozen different gaming chairs here at Ergonomic Trends, and I've definitely come to trust some brands more than others. While cost is usually a good indicator of build quality, the same can't always be said for comfort and customer support.
In this post, I'll list the best gaming chairs brands in my opinion for 2022 based on the collective experience of all the staff here at Ergonomic Trends, plus countless feedback we've gotten from visitors to our website and YouTube Channel.
The Best Gaming Chair Brands in 2022
Watch Also: My Best Gaming Chairs List (Video)
Rating: A tier
Main Models: Titan, Omega, Titan XL, Titan Evo 2022
Warranty: 3 years
Noteworthy Features: 40 cool designs and various upholsteries to choose from, different sizes available, memory foam head pillow with cooling gel, full-metal 4D arms, multi-tilt mechanism, up to 400 lbs max capacity
Price Range: $400 to $550 for standard editions
So far, the best gaming chair I've tried is the Secretlab Titan 2020. Apart from a seat cushion that may be a little too stiff for some initially, it's really hard to find any faults with the chair. For me, it's truly comfortable from head to toe. Their warranty as well as their customer support are also really good.
As for the build quality, it is so good there is barely a wrinkle on the seat even after 2 years. The aluminum base is reinforced with ribs and gussets and the armrest switches and other major links are stainless steel so you know that the chair is as tanky as it gets. In fact, everything about the Secretlab Titan 2020, including its assembly, shows the company's attention to detail.
I'm currently sitting on the Secretlab 2022 Titan Evo, and in some ways, it's unfortunately a step back from the 2020 edition. At a glance, the two chairs look almost identical, though I noticed the seat cushion is thinner, and reclining the backrest is not as smooth nor silent compared to the older model.
The issue comes down to the overly tight fit between the backrest and seat. The seat cushion has also started to wrinkle a bit after a few weeks. The saving grace is the new neck pillow, which is a lot more adjustable due to the magnetic connection that lets you take it on and off easily depending on your sitting posture.
Aside from the strapless magnetic neck pillow, the Evo does offer some innovative features compared to the older model however. For example, the Titan Evo 2022's integrated lumbar support is now both height and depth adjustable. What's more, the arm pads can be removed once they're worn down, allowing users to easily change them.
Secretlab chairs come in a wide variety of cool designs, possibly the most I've seen being offered in a gaming chair. What I like about their chairs' designs, however, is that they don't look tacky and garish as some gaming chairs do. In fact, they look elegant enough to fit comfortably in a corporate setting.
Yes, Secretlab chairs are quite expensive. However, compared to other premium gaming chairs like Vertagear and Razer, you're definitely getting more for your money with Secretlab.
Rating: C+ to D tier
Main Models: Pro Series, Ace Series, Music
Warranty: 1 to 5 years
Noteworthy Features: Up to 170° recline, adjustable tilt tension with lock, 3D to 4D arms, sporty designs, up to 400 lbs max capacity
Price Range: $170 to $300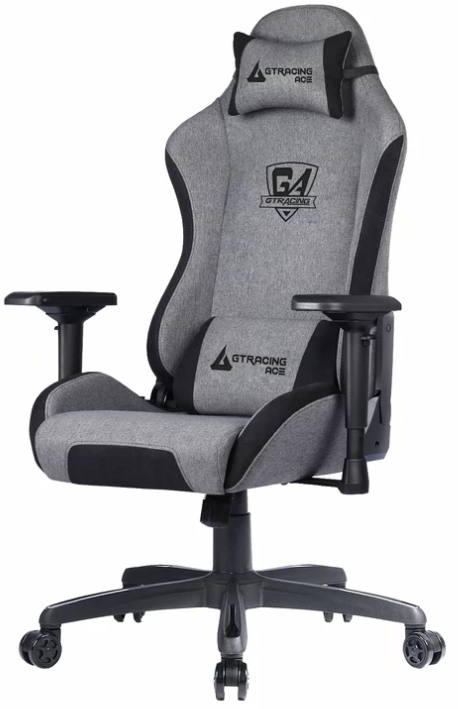 The GTRacing GT099 is perhaps the most popular budget gaming chair on the market. After owning it for more than a year, I can understand its appeal. There's an element of fun to the chair, almost like a toy. And it's priced as such too.
I love how far the backrest reclines, past horizontal if you include the tilt, and it's stylish and reasonably comfortable. The downside is the build quality. The chair started squeaking after just a few days, and the seat cushion is memory foam that won't be adequate for heavier people.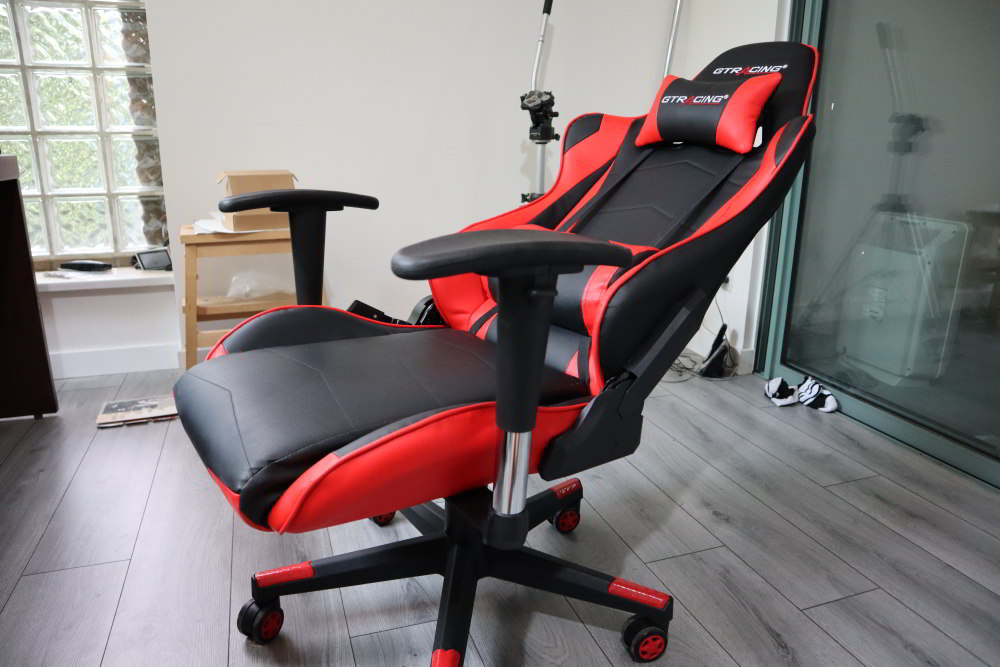 For people willing to spend a bit more, the GTracing Ace Series, especially the M1 model, is a respectable upgrade from the GT099 model. The cushion is made of higher quality cold cured foam, the arms are 4-way adjustable, and the base is aluminum. It also does not squeak, one of my biggest pet peeves in an office chair.
Rating: B tier
Warranty: 1 year
Noteworthy Features: 5"-thick seat cushion, pull-out footrest, wide 2D arms, up to 155° recline, rocking function with adjustable tension and lock, up to 400 lbs max capacity
Price Range: $145 to $199
The KCream black and red was one of the biggest surprises for me. I was expecting a Kia and instead got a Lexus. Relative to its $150 price at the time, it blew past my expectations in almost every respect. The seat cushion was 5" thick and very comfortable and the armrests were wide. Plus, it's roomier than most budget–priced gaming chairs and the build quality was at a whole different league compared to say GTRacing.
If the Black and Red model is any indication, KCream's chairs definitely outshine most other brands in its league.
Rating: B tier
Main Models: Racing Series, Conqueror, Pink Bunny, Ergonomic Series
Warranty: 3 years
Noteworthy Features: 4.3"- to 5.1"-thick cold cured seat foam, pull-out footrest, up to 170° recline, 2D arms, carbon fiber and PU leather upholstery, up to 350 lbs max capacity
Price Range: $200 to $600
As far as gaming chairs in the $200 range, the Autofull chair is one of the best both in quality and comfort. My colleague Michelle says that unlike some other chairs she's tested, she's actually able to sit in her Autofull Pink for an entire day. The chair's high quality foam and generous padding played an important part in this comfort. The chair was also well put together, with no annoying squeaking.
They're most spacious offering, the Ergonomic Series, has an even thicker seat cushion than the KCream. Meanwhile, their Conqueror boasts a retractable footrest and a 3D bionic lumbar pillow that's well-shaped and pronounced enough for most. True to its name, the Racing Series is the flashiest. I love the gradient, multicolor design of the black-pink version and the long sword on the backrest of the purple-cyan version looks really cool.
Rating: B- tier
Warranty: 2 years
Noteworthy Features: Different sizes available, various upholsteries to choose from including mesh, modular design, up to 135° recline, 1D to 4D arms, conventional to multi tilt, up to 400 lbs max capacity
Price Range: $290 to $630
DXRacer started off as a manufacturer of car seats for luxury sports cars before shifting to gaming chairs. With 20 years of experience under its belt, it's one of the pioneers in the gaming chair space with signs of innovation in some of their offerings such as the DXRacer AIR and Master series.
The AIR is the most breathable gaming chair I've ever sat in with its mesh backrest and seat. The chair was as sturdy as a tank. The outer parts are predominantly plastic while the structural components are metal. There are no annoying squeaks and rattling either. I'm glad to report that DXRacer is one of those brands that's very consistent with build quality.
If you want to get creative with your setup, you can add a cup holder, multi functional bracket, and footrest to the modular DXRacer Master.
The DXRacer King, one of their big and tall offerings, also had that sense of indestructibility to it. Its seat is the heaviest I've encountered. Three slabs of metal beam will make sure that you never have to worry about the chair suddenly giving out. However, while the similarly priced Secretlab has stainless steel armrest switches, the DXRacer King's is plastic.
Rating: B tier
Main Models: Jungle 2, T-Compact, Dark Demon, Kaiser 2, T-Pro 2, Pretty in Pink
Warranty: 2 to 6 years
Noteworthy Features: Various sizes and upholsteries to choose from including fabric, up to 160° recline, 2D to 4D arms, retractable footrest, multi-tilt with lock, up to 440 lbs max capacity
Price Range: $300 to $550
Similar to DXRacer, Andaseat used to manufacture racing car seats. However, it was only in 2013 that they shifted towards gaming chairs. They have a diverse collection of gaming chairs that caters to different tastes and body sizes.
Andaseat is a brand that squarely belongs in the B Tier. They are on par with DXRacer in most respects, but slightly cheaper.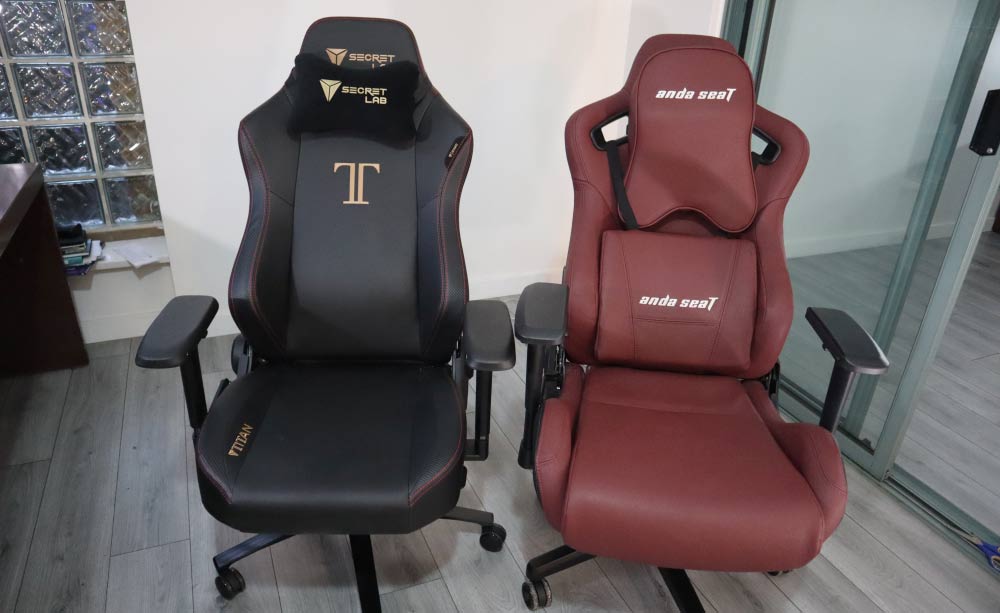 The Kasier II, for example, is one of my favorite big and tall gaming chairs. It was better cushioned than a bed, and the carbon fiber upholstery was literally tear proof. The build quality is similar to noblechairs and Secretlab in that they're built like a tank.
The even weight distribution makes for an amazingly stable sitting experience. It also doesn't take much effort to rock and recline, a problem that I faced with the noblechairs Hero even after tinkering with the tension control. That said, the fixed neck pillow might be a hit or miss depending on its compatibility with your build.
We also had the pleasure of giving the Ant Man version of their Jungle chair a trial run. I'm pleased to report that its build quality is just as good. However, it's lacking in the adjustability department with arms that only move up and down. The AKRacing Core SX is a meatier alternative if you're looking for a mid-sized chair in the same price range.
Too bad the company seems to have poor customer support, at least based on the feedback I've gotten from a few owners.
Rating: C tier
Main Models: Classic
Warranty: 1 year
Noteworthy Features: Sporty designs, 3.15"-thick seat cushion, up to 155° recline, knee tilt with tension control and lock, up to 300 lbs max capacity, retractable footrest, fixed arms
Price Range: $90 to $120
The Homall Classic is the cheapest gaming chair I've ever reviewed, at less than $100 USD at the time of purchase. However, in some respects, it beats out the GTRacing GT099. The chair's foam padding is thicker and more supportive. This is especially evident in the backrest. Homall's customer support also seems to be better.
When the tension knob is turned all the way, you get to recline effortlessly up to 155° and a further 20° if you rock back. There's also plenty of lower back support thanks to the protrusive lumbar pillow.
The Homall Relaxer edition has similar specs and features with the addition of a pullout footrest.
The main drawback of the Homall is the fixed armrests. In order to adjust their height, you need to basically adjust the seat height. This is a deal breaker for people that like to rest their forearms on the armrests when they work. Still, I'd put the Homall in the C Tier based on its quality relative to its rock bottom price.
Rating: C- tier
Main Models: Specter, Sidewinder, 100, 110, 400
Warranty: 2 years
Noteworthy Features: Various sizes and upholsteries to choose from including mesh, up to 155° recline with tension control and infinite lock, synchro tilt, fixed to 4D arms, adjustable seat depth, integrated headrest and lumbar support, weight-activated tilt control, extendable footrest, up to 400 lbs max weight capacity
Price Range: $190 to $350
Founded in 2017, Respawn is a pretty newcomer in the gaming chair industry. However, since it's backed by HNI, the second largest furniture maker in North America, it has access to years of experience in making aesthetically-pleasing and comfortable chairs.
Their Specter is a departure from traditional gaming chairs. Respawn prioritized comfort by getting rid of the wings and the side bolsters which give these types of chairs a sporty look. It also uses mesh which you'll be hard pressed to see when it comes to gaming chairs. A floating sensation while sitting is combined with unparalleled breathability to keep sweaty gamers cool even during summer.
Meanwhile, their Respawn 110 should be your go-to if you want to recline and put your feet up La-Z-Boy style. For the big and tall, there's the Respawn 400 with its wide and deep seat.
Respawn gaming chairs are competitively priced, flashy, and well-hyped thanks to partnerships with popular esports teams. However, for its price range, its build quality is disappointing. Unless you're going for their mesh Specter, we suggest going for a GTRacing or just saving a bit more for a very solid Secretlab.
Rating: B- tier
Main Models: Epic, Epic Compact, Icon, Hero
Warranty: 2 years
Noteworthy Features: Various sizes and upholsteries to choose from including fabric, cold cured foam, integrated lumbar support, 3D to 4D arms, up to 135° recline, lockable 11° to 13° synchro tilt with adjustable counterpressure, adjustable seat depth, up to 330 lbs max weight capacity
Price Range: $420 to $720
If there's one thing we can say about the noblechairs gaming chairs, it's that they're sturdy beasts. It's the one chair we've tested that can go toe to toe with the Secretlab when it comes to build quality. Both brands also have that luxurious feel and sophisticated visuals that don't look tacky as some gaming chairs do.
The German-engineered noblechairs gaming chairs come in PU, synthetic, and real leathers and fabric. If you like the ease of cleaning of fake and real leather but prefer the breathability of fabric upholstery, you'll be pleased that the noblechairs Hero has perforations around the seat and backrest to improve airflow.
Speaking of the Hero, this is noblechairs' most heavy-duty offering though it isn't as spacious as the Epic. What makes the Hero standout, however, is its integrated lumbar support. In the gaming chair world where lumbar support is usually provided in the form of an external lumbar pillow, this is a refreshing addition.
Being so similar to the Secretlab, we would have given the noblechairs a higher grade if only its warranty was better. Currently, their warranty is limited to 2 years while the similarly priced Secretlab offers 5 years.
Rating: C+ tier
Main Models: T1 Race, T2 Road Warrior, T3 Rush
Warranty: 2 years
Noteworthy Features: Up to 170° recline, 10° to 17° synchro tilt with adjustable counter pressure and lock, cold foam, 4D arms, up to 300 lbs max weight capacity
Price Range: $270 to $400
With more than 25 years experience under its belt, Corsair isn't new to the gaming scene. Their entry level offering is the T1 Race which is inspired by performance motorsports seats. Looks aside, there really isn't much going for it. You're better off going for the much cheaper Homall, KCream or GTRacing GT099 unless you need those 4D arms.
The larger T2 Road Warrior is where it starts to get interesting. The PU leather covering the backrest and seat is covered in a cool hexagonal pattern. Just like the noblechairs Hero, it also has tiny holes for improved breathability. The T3 Rush takes this breathability up another level with its fabric upholstery.
The build quality of the Corsair pales when compared to the likes of the Secretlab and Andaseat. For its price, it has more plastic parts than we'd like.
Rating: B tier
Main Models: Core Series, Masters Series, Office Series
Warranty: 5 years
Noteworthy Features: Comes in different sizes and upholstery material, Up to 180° recline, 3D to 4D arms, 3 to 18° tilt with lock, up to 400 lbs max weight capacity, 4.25"- to 5.3"-thick seat cushion, cold foam
Price Range: $400 to $870
AKRacing is yet another American gaming chair company with its roots in manufacturing automotive seats. It offers a slew of products that cater to people of different sizes and budgets. There's the Core Series for average size gamers on a budget, the Master series that is more premium and larger in dimension, and their Office series that adopts a more corporate design language to fit in an office.
In our testing, we found the quality of AKRacing chairs are definitely a step up from most gaming chairs. With my Core SX, even after 4 years, the only visible wear is in the armrests, where the surface has started to fade. Everything else is still going strong. It also doesn't squeak and rattle.
Just like the GTRacing, it reclines an incredible 180° and can further rock about 18°. It comes out ahead when it comes to the wider and softer 3D arms that move back and forth by a significant amount. Having said that, comfort wise, a lot of AKRacing chairs have stiff padding that isn't ideal for people yearning for a plush seating experience.
On the other hand, their Masters Series is AKRacing's premium lineup. The thicker cushions, more adjustable arms, and more robust tilting mechanism make it a better pick for both average and large users.
If your gaming setup doubles as your workspace, their Office Series works for both because of its subtle design. Of course, just like their other two series, the Office Series is available in different sizes and upholstery material. If you're interested in working in a reclined position or prefer a plush sitting experience, the Office Onyx is the way to go.
Rating: A+ tier
Warranty: 12 years
Noteworthy Features: Caters to different user builds, cooling foam technology, up to 300 lbs max weight capacity, fabric upholstery, flexible back structure, cooling seat technology, 2D to 4D arms, adjustable seat depth, eco-friendly, adjustable seat and tilt angle
Price Range: $775 to $1,600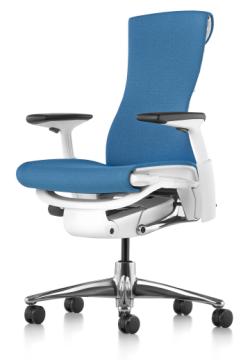 And finally, there's Herman Miller. It is a brand that's known worldwide for producing high-quality ergonomic office chairs. Herman Miller isn't really a gaming brand but, recently, they've been putting a sporty spin on their main models to attract more gamers.
So far, their Embody, Aeron, and Sayl have all been "gamified". Since the original chairs are already ergonomic, Herman Miller mostly tweaked the aesthetics and improved the breathability.
The gaming version of the Herman Miller Embody got an extra layer of foam for improved comfort during long gaming sessions. They also added copper-fused cooling foam technology to prevent heat buildup.
The gaming versions of Herman Miller chairs don't have snazzy stitching, eye-popping color schemes or flashing lights. The company went decidedly low-key instead. Depending on your taste, this can be a major plus.
In terms of ergonomics, the Herman Miller chairs, especially the Aeron, are already the cream of the crop. From an adjustable sacral-lumbar support and seat angle adjustment to a tilt limiter with tension control and fully adjustable arms, it has you covered in most of the postures you will assume while gaming.
It's not unusual to read about someone's Herman Miller chair lasting 20 to 30 years old. Sure, their chairs are as expensive as it gets but with the 12-year warranty, you know you're in good hands.
Conclusion
There you have it, my list of gaming chairs categorized into different tiers. Let me know what gaming chairs you've owned, and which tier you could place them in from A to D.