One of the most effective ways to make any keyboard ergonomic is by using a keyboard tray. It can angle the keyboard at a negative tilt that, for most people, is the most natural and comfortable position for typing.
What is an Ergonomic Keyboard Tray?
A keyboard tray is just what it sounds like – it's a device that holds your keyboard and allows you to maneuver it into the optimal position for typing. As a general rule, most of us are typing with our arms too far out in front of our bodies and with our wrists too high. An ergonomic keyboard tray is a quick and easy way to tweak your workstation configuration to allow you to type in a healthier posture.
Ergonomic Benefits
You can benefit in a number of ways by using an ergonomic keyboard tray. The purpose of any ergonomic design is to prevent repetitive strain, enhance comfort, reduce fatigue, and avoid musculoskeletal disorders. Typing can lead to a number of problems in these areas.
Tendinitis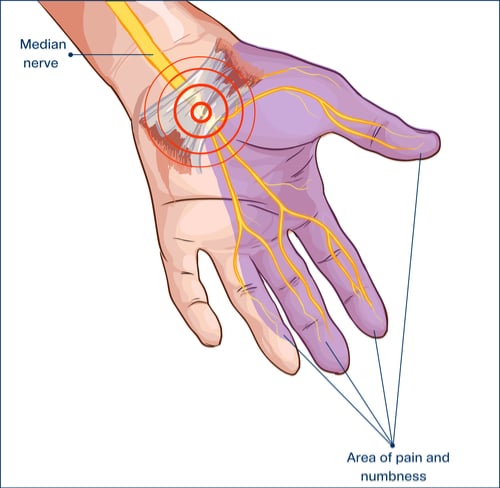 Tendinitis is the inflammation of a tendon, causing pain and inability to perform tasks. Typically, people who type a lot suffer from tendinitis in the wrists that can often be mistaken for carpal tunnel syndrome. Ergonomic design is one of the best ways to prevent tendinitis and other RSI injuries, or to alleviate it if you get it from repetitive strain at your workstation.
Carpal tunnel syndrome
Carpal tunnel syndrome happens when the median nerve gets compressed as it travels through the carpal tunnel of the wrist. The main symptoms are pain, tingling in the fingers and weakness.
Carpal tunnel syndrome is not that commonly caused by typing, contrary to popular belief. Tendinitis is more likely to be the culprit if you suffer from some of these symptoms and do a lot of typing. However, it does sometimes happen and ergonomic design including a keyboard tray is one of the best ways to prevent it.
Neck, back and shoulder pain
Neck and shoulder pain is an extremely common occupational hazard of sitting at a computer for extended periods. An ergonomic keyboard tray allows you to set your keyboard and mouse at the optimal height and angle for avoiding strain that leads to pain. Sitting in a healthy posture allows proper alignment of the spine, freer breathing and better circulation, enhancing your overall well-being.
How do you know if you need a keyboard tray?
It's always a good idea to have an expert in ergonomics assess your work area. However, this option isn't available to all of us, and fortunately there are some simple guidelines that can help us.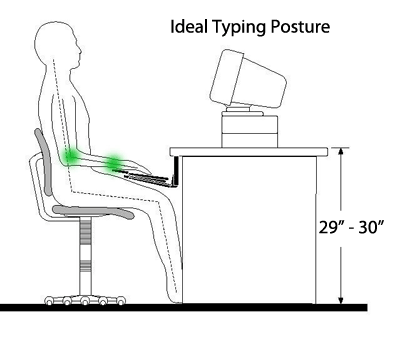 A keyboard tray is a good inexpensive fix if you find yourself working at a desk that is the wrong height for your own height – specifically your elbow height when seated. Adjust your chair so that your feet rest comfortably on the floor. With relaxed shoulders, allow your arms to rest at your sides and bend your elbows to about 90 – 100 degrees. Hold your wrists and fingers in a neutral position (wrists aren't flexed and fingers are straight.) Your keyboard should rest directly under your fingers in this position.
An adjustable ergonomic keyboard tray is also a simple way to make a workstation more ergonomic if it is used by a number of different people and doesn't have an adjustable desk.
Different types of keyboard tray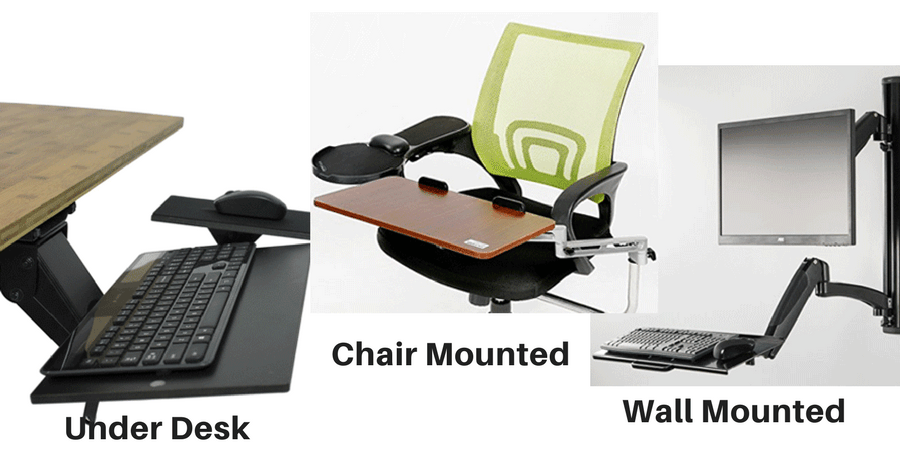 Under desk mounted
This is the most common type of ergonomic keyboard tray. The tray mounts to the underside of your desk, either using rails or an articulated arm. Other desk mounted trays clamp to the front of your desk.
Chair mounted
Chair mounted ergonomic keyboard trays attach to your office chair instead of your desk. Some are designed to attach to the arm or arms of the chair while others attach to the main pole of the chair.
From an ergonomic standpoint, chair mounted trays are not the best, and we were unable to recommend any of the commonly available ones for purchase. However, ergonomics is all about what works for each individual. In some circumstances (for example, if you have to type in a reclining position) a chair mounted keyboard tray may be exactly what you need.
Wall mounted
Some people prefer the flexibility of wall-mounted ergonomic keyboard trays. These models use articulated arms that allow you to maneuver the keyboard exactly where you need it. This can be a good solution if you have an unconventional desk shape, or if you use a treadmill or exercise bike while you type.
Choosing the right ergonomic keyboard tray for you
You need to take your height, your specific health concerns, and your office configuration into account when you're choosing the best keyboard tray for you. Here's what you should think about:
Will it attach to your desk? Keyboard trays are usually mounted on rails or an arm that you attach to the underside of your desk using screws. In order to choose a tray that will work, you need to know how much space you have on the underside of your desk. Desk trays can have rails as long as 22 inches, which is too deep for many desks, especially height-adjustable ones. If you're okay with the keyboard being permanently extended in front of the desk rather than sliding it under the desk when you're not using it, this may not be a problem for you.
Do you have a sit/stand desk? Many office workers who want to be less sedentary are opting for desks that allow them to alternate between sitting and standing. Not surprisingly, there are ergonomic keyboard trays that claim to accommodate this change in height. If you're buying a keyboard tray for a sit/stand desk, it should be able to change height by about 15 inches. Surprisingly, this measurement doesn't have much to do with the height of individuals, because the difference between elbow height in sitting and standing postures is remarkably consistent from person to person. Be careful when shopping for a sit/stand keyboard tray – many of them are only able to add 9 or 10 inches of height.
Is it sturdy enough? A good ergonomic desk tray should be sturdy and be strong enough to support your keyboard. Cheaper alternatives made of plastic are flimsy and, in addition to being prone to breakage, tend to bounce when you try to type.
Don't forget the mouse. If several people will be using the workstation, look for a keyboard tray that allows the mouse to be used on either the right or left side. Switching should be as easy as adjusting the height. Also, make sure that there is room to use the mouse comfortably. Too many ergonomic keyboard trays have only tiny squares for the mouse.
How easily adjustable is it? If you are the only person who will be using the keyboard tray, you probably won't mind if you need to use knobs to adjust the height. You may be able to save some money on these features. However, if the workstation is going to be used by a number of people, you need to be able to change the height just by moving the tray with your hands. Most ergonomic keyboard trays require knobs to adjust the angle, but this is less of an issue for most people.
How ergonomic is the design? Look for a keyboard that will really make your workstation function better from an ergonomic standpoint. The height adjustability has to be enough for the various people who will be using the keyboard, but the keyboard should be able to tilt a minimum of 15 degrees.
Here are some of our favorite keyboard trays. We've tried to cover a variety of scenarios and categories, so that you should be able to find an ergonomic tray that works for you.
This keyboard arm features sturdy steel construction and great maneuverability. With its ability to adjust the height of your keyboard by 13 inches, it may even work as a sit/stand desk.
Some people mount their keyboards above a treadmill or exercise bike. Some even buy wall-mounted arm for their monitor and dispense with a desk altogether!
Features
35 inches of extension
Mouse tray can be used on right or left
13 inches of height adjustment
Negative tilt for best ergonomic position during typing
The LX is a favorite with customers, who appreciate the flexibility this wall-mounted arm gives them. The tray is able to accommodate a negative tilt (away from the body) for proper ergonomic positioning of the wrists to avoid tendinitis and carpal tunnel syndrome. The mouse tray is a decent size and can be used either on the right or the left of the keyboard. Easy adjustability makes this keyboard tray a good choice if the workstation is used by more than one person.
There's really only one downside to the Ergotron LX: the tray itself is made of plastic, making it less solid and sturdy than the arm connecting it to the wall. Some people commented that it can be a bit bouncy for typing, though most buyers were not bothered by this issue.
Pros
Sturdy construction of arms
Adjustability of height, mouse position
Good sized mouse tray
This solidly built ergonomic keyboard tray features very few plastic parts. Mounted under the desk, this tray is a good way to compensate for a desk that's too tall for the typist. It tucks away under the desk when not in use.
Features
5.5 inches of height adjustability (1 inch above mounting surface; 4.5 inches below)
No tools needed for adjustment
Knob-adjusted height and tilt
Wooden construction
Comes with gel wrist rest and mouse pad
Mouse pad can be placed either to right or left of keyboard
Lifetime warranty on arm; 5 years warranty on tray
This ergonomic keyboard tray is popular with purchasers because it offers a good balance of quality and flexibility. The generous warranties are a testament to how solidly built this item is. The range of height adjustment is about 5 ½ inches, making it a suitable choice for a shared work space in most cases, allowing several people of different sizes to work in comfort, minimizing strain and injuries.
There are a few minor drawbacks to this keyboard tray, most of which come into play during installation. Installation is billed as "tools-free," but most people agree that you're better off drilling holes and using screws to attach this tray to your desk.
Also, some people may find that their knees collide with the mounting arm. If you buy this to accommodate people who are too short to use a particular desk, the one tall person using the desk may be inconvenienced.
Overall, though, this is a solid, reliable and highly adjustable option.
Pros
Tools-free adjustments
Slides under desk when not in use
Sturdy wooden construction
Solidly built, minimal wobbling during typing
Highly adjustable angles
Cons
Tools-free installation not ideal; best to drill holes and use screws
Moves a bit too freely from side to side
Easy to hit parts of the mounting with your knees
One of the biggest causes of repetitive strain injury is staying in the same position for a prolonged period of time. More and more people are turning to alternative desk arrangements that make it easy for them to change their position every now and then at work. Standing full-time may be too exhausting, but alternating between standing and seated postures can reduce strain, provide you with a bit of extra exercise, and help with your breathing and circulation. If you're planning to try a sit/stand desk, this keyboard tray from 3M may be just what you need.
Features
14 inches of height adjustability
Desk mounted
Knob-controlled tilt angle
Articulated mouse platform
Easy adjust arm
Lifetime warranty on arm; 5 years on platform
The 3M Sit/Stand Easy Adjust keyboard tray is a desk-mounted ergonomic adjustment that allows you to position your keyboard 4 inches below your desk, 10 inches above it, or anywhere in between. To adjust the height, you simply tilt the keyboard sideways to unlock, raise or lower the tray, and move it back to the horizontal position to lock again. The front-to-back tilt is not affected by this maneuver, but is instead controlled by a knob. You can easily get the 15 degree negative tilt that ergonomics experts recommend to avoid injury and enhance comfort.
This keyboard tray provides a stable surface for typing, and will not bounce around as you work, even if you have a fairly heavy touch.
There are a few things about this product that you should be aware of before buying. It is sturdy and heavy, which means that it will require a solidly built desk for installation. Some people report that the height adjustment is so easy that you can sometimes change the height by accident, simply by putting too much pressure on one side of the keyboard tray.
Also, note that this will only give you 14 inches of lift if you're using it at the lowest setting during sitting. If your desk is already the right height for typing, you'll need a sit/stand keyboard tray that offers more lift.
Ergonomics is a matter of finding the right solution for your specific body and circumstances. If this keyboard tray works for your height and desk configuration, you will be very happy with your purchase.
Pros
Lever-free height adjustment
Stable during typing
Solid, built to last
Cons
Rather senstive – it can be moved accidentally
Requires a solid, heavy desk for mounting
Only 10 inches height adjustment above desk
Uncaged's keyboard tray is completely portable, and is a nice compliment to any standing desk that leaves your arms and wrists dangling when you type. it features two separate pads, one for the keyboard and the other for the mouse, that can be independently angled to archive the most comfortable position.
Features
All aluminium, sturdy construction
Separate keyboard and mouse trays
18″ wide panel that can be raised up 18″ tall
Made of 100% recycled materials
A standing desk is great for your body, though it does little to improve your typing angle, which can lead to wrist and arm pain over time. The Uncaged WorkEZ Tray is an easy fix to that problem. The tray is completely portable, and can be tilted to achieve that negative tilt that's so much natural as you type, at the same time keeping the mouse level.
The keyboard tray is deep enough that I can rest part of my wrist on it as well as I type, which relaxes the arm as well. The only caveat is that since the tray is not physically attached to the desk, it moves at times. Overall however the typing experience is still a lot more comfortable than without the tray.
Pros
Completely portable and untethered. 4lbs weight.
Separate keyboard and mouse pads that can be independently adjusted
Mouse pad can be attached to either right or left side of keyboard tray
30 day no questions asked return policy
Cons
Tray moves sometimes while typing, depending on surface
Stiff joints make them hard to adjust to different angles
We hope that you now have a better understanding of ergonomic keyboard trays, and how they can be used to improve your health and well-being at work. With a little research and attention to detail, you can create a happier, healthier workplace for you and your employees.
Related Reviews