Looking to bring movements to your body as you stand and work? One of the very best ways to do so is by using a balance board.
With the rise of standing desks these days comes research that standing for prolonged periods can be just as bad as standing, and can lead to lower limb swelling and muscle fatigue. A good balance board can help counteract these negative effects, by bringing frequent movements to your legs and enhancing blood circulation.
In this post we'll go over the different types of balance boards, which ones are most suitable for the office, plus their benefits and awesome exercise routines you can perform on them as you work.
See Also: Best Balance Boards for your Standing Desk
What Are the Main Types of Balance Boards?
In order to maximize the benefits of balance boards, it's important to get one that fits your needs and environment. Here are the most common types of balance boards out on the market today:
Rocker Balance Boards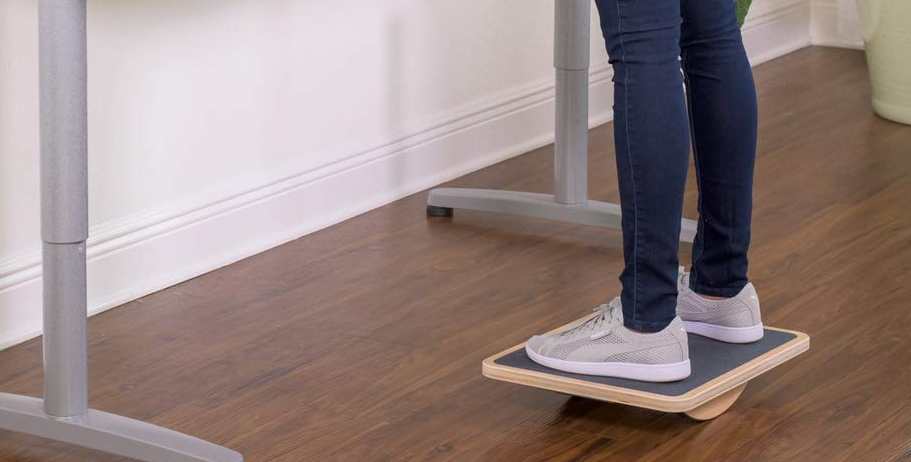 Shape: Flat and rectangular
Base: Stationary, semi-circle base
Difficulty: Easy
Out of the various types of balance boards, the rocker is the easiest to use. Due to its semi-circle stationary base, it has a limited range of motion. Depending on how you position the board, it can only rock from front to back or side to side.

Its ease of use makes the rocker balance board a good choice for beginners, people with balance issues, the elderly, and those undergoing physical therapy. For office workers, this can improve their sedentary lifestyle without taking away their focus.

The StrongTek Professional Rocker Board is a crowd favorite when it comes to this types of balance board.

Wobble Balance Boards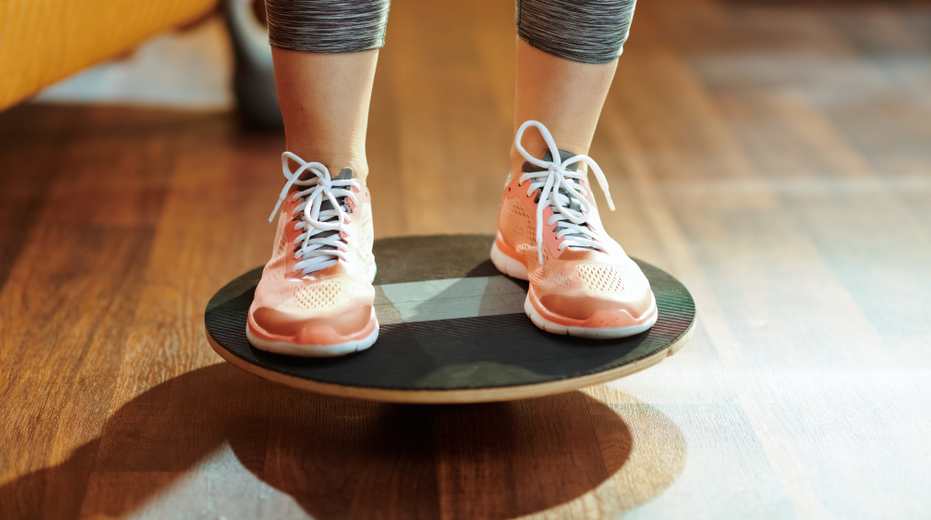 Shape: Flat and circular
Base: Stationary and dome-shaped
Difficulty: Moderate
A wobble board has a bowl-shaped base at the center which allows for 360-degree range of motion. The smaller the dome is, the harder it will be to maintain balance.

When using the wobble board, the goal is to stand on it and tilt it in any direction without letting the edge touch the ground.

For beginners, we suggest starting with a wobble board with a large base. As you get better at maintaining your stability, you can gradually transition to one with a smaller dome. Whether or not you can use this with your standing desk depends on how good your sense of balance is.
Wobble boards are slightly more difficult to stand on than rocker boards, though offer a higher range of motion and exercise possibilities.
The Yes4All Wooden Wobble Balance Board is a popular example of this type of balance board.

Spring Balance Boards
Shape: Double board, either spherical or rectangular
Base: Stationary, spring-loaded
Difficulty: Moderate to Difficult
Just as its name suggests, spring boards are comprised of two flat boards with 4 individual compression springs in between. This is a fairly new design, and only came on the market in 2013, with the StrongBoard Balance holding the patent.

To use a spring board, you need to keep your balance as the springs push the board back. Redistributing your weight across the board will move the board in different directions, working out different core muscles. Aside from targeting the core and improving balance, it also helps with agility and posture.

Spring balance boards are arguably better at providing an intensive workout than rocker or wobble boards, as they lift the user higher off the ground and as such provide a wider range of vertical movements.

Roller Balance Boards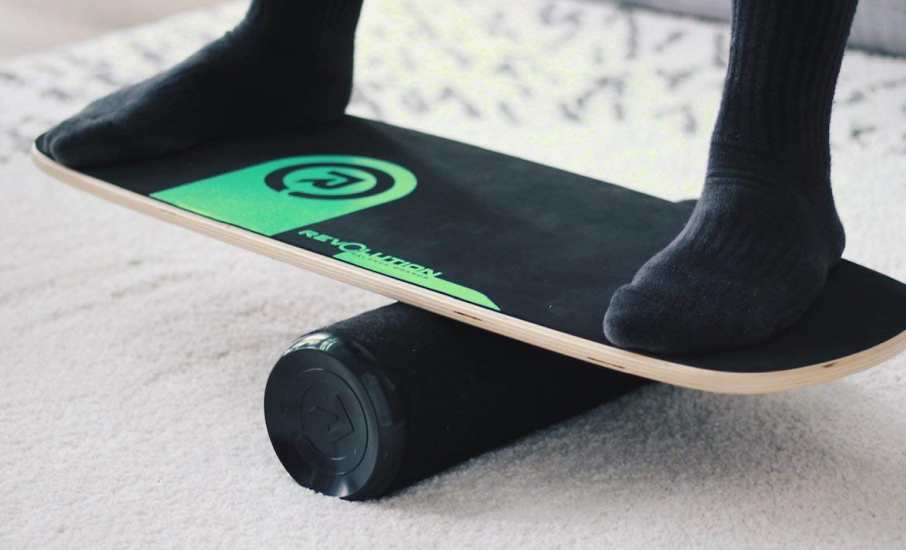 Shape: Flat and rectangular
Base: Rolling, cylindrical base
Difficulty: Challenging
Once you've mastered the wobble and rocker balance boards, you can step up your game by using a roller board. Also known as a rocker-roller board, this is a flat, rectangular board placed on a cylindrical rolling base. Hence, you get two levels of instability with the wheeling motion and left-right tilting motion.

Its design makes it very hard to use in the beginning and will require all your attention. Since this can take away from your focus, it can affect your productivity if used in the office.

Since the movements required to use the roller board are similar to the ones used in surfing, water skiing, snowboarding or skateboarding, sports professionals usually use this to train especially during the off-season.

If you're up for the challenge, the Revolution 101 Balance Board Trainer is an excellent choice.

Half Balance Balls
Shape: Inflated half ball with a flat bottom surface
Base: Spherical, movable
Difficulty: Moderate to Challenging
Finally, there is the half balance ball, a popular accessory in many gyms. At home, you can choose to stand on either the spherical or flat side as you work, engaging your core and lower limbs.
The downside of half balance balls is the larger size and weight compared to the other options above. This makes them an unsightly option for office use. Also, due to the height of these balls- usually rising to around 10″ – a standing desk is a must in order to use them while you work.
If you can overcome the above obstacles, half balance balls offer perhaps the widest range of exercise possibilities. Many of them come with resistance bands that enable you to work out your arms and torso as well. One of my favorite stationary exercise to do on the half balance ball are squats.
The UrbanFit Half Balance Ball is an excellent choice if you decide to give one a shot.

Benefits of Balance Boards
Supplementing your standing desk with a quality balance board has been proven to have many beneficial health effects.

Using a balance board is considered a low-impact, weight-bearing exercise. This type of workout can increase bone mass, prevent osteoporosis and improve everyday functional movements like bending, reaching, and turning.
A 2017 study found that balance training can improve memory and spatial cognition. This makes using a balance board a good alternative for people who can't do aerobic training due to work, health, or time restrictions. Aerobic training is a type of exercise that has been proven to boost cognition.
Sitting for extended periods of time as you work can cause muscle degeneration. By using a balance board, you're giving your lumbopelvic region a workout. This stabilizes the muscles and strengthens the core muscles so your body can carry its own weight when you move. Aside from the core muscles, it also works out the back, shoulder, glute, and leg muscles.
A balance board takes the standing part of your sit-stand work regime to a whole new level. Aside from making it more fun, the addition of the micro movements required to stay upright gives you a mini workout throughout the day. This means that when the weekend comes, your body won't get shocked by the sudden high-intensity workout as you try to catch up on your weekly exercise.
The great thing about low-impact activities like using a balance board is that they're suitable for people of all ages and fitness levels.
According to a 2018 study, compared to sitting and standing, using a balance board while working increases energy expenditure and oxygen. Heart rate also increased with standing and balance board usage. Fatigue increased over time for standing while it leveled off after 30 minutes for sitting and balance board. Productivity was the same for all three working conditions.
Supplementing your standing desk with a balance board can increase your movements without affecting your productivity.
With the balance board keeping you moving and increasing your alertness, you can prevent sleepiness in the office.
Balance board training increases spatial awareness, coordination, language development, concentration, and strengthens the ankle joint to prevent injuries.
How to Use your Balance Board with a Standing Desk
Balance boards help take the benefits of standing desks to a whole new level, by actively engaging your lower limbs and core as you stand. However, for new comers, there is still a learning curve when using them with a standing desk to work:
Choose the right type of balance board for your skill level. For beginners, a rocker or wobble board is recommended. Progress steadily and slowly before moving on to a harder board variant for increased muscles engagement.
Keep your toes and heels level with your balance board by opting for flat-soled shoes.
Distribute your weight evenly to keep the board as stable as possible. Lean slightly on your heels and toes as needed.
Align your neck, torso, and hips vertically and use this as your center of mass.
Do not attempt to use a balance board for longer than 20 minutes at a time. If your desk is height-adjustable, adjust its height and use the balance board as a foot rest while sitting down.
Give yourself ample space in a well-lit room to work with your balance board. If needed, change the layout of your office so you won't hurt yourself if you stumble or fall.
Take slow, purposeful movements to keep the board steady as much as possible. Don't panic and resist the urge to flail your arms wildly.
Looking at your feet can cause you to wobble more. Instead, concentrate on a point far away from you.
Do not use a balance board on a slippery floor. Carpeted floors work best.
Balance Board Exercises
One of the great things about balance boards are the variety of exercises you can do on it while remaining relatively stationary. This lets you work and exercise at the same time.
Board Tilt
The board tilt is a simple but challenging exercise for beginners who want to strengthen and stabilize their ankles. It works best with a wobble board or half balance ball.

Starting from a neutral position, slowly tilt the balance board forward, letting the edge touch the floor. Then, slowly tilt it backward, once again letting the edge touch the floor. Going slowly with controlled movements do this for 30 seconds. You can do this side to side as well, depending on your type of board.

You can use your secure standing desk for support if you're still not confident enough that you can do this exercise without losing balance.

Round the Clock
The goal of this exercise is to keep the board steady as you make a full rotation. It challenges your balance and strengthens your core and lower leg muscles as you try to control the movement. It works best with a wobble board or half balance ball.

Starting from a neutral position, slowly tilt the board forward so that the edge meets the floor. Then, with the edge still touching the floor, rotate the board clockwise. Shift your weight as you go until you complete the rotation. Repeat in a counterclockwise rotation for one rep.

You can take this exercise up a notch by doing it one leg at a time:
Balance Board Squat
The balance board squat is one of the best exercises you can do at your standing desk. It helps burn fat, tone and strengthen your quadriceps, hamstrings, and calves.

With your knees slightly bent, position your feet a little wider than your hip-width distance on your balance board. Slowly squat down so that your thighs are parallel with the floor. Hold this position for as long as you can before gradually rising. The following day, challenge yourself by doing the squat for a longer period of time.

Here's how to do a squat on a half balance ball:
Here are more balance board exercises to take advantage of as you work.