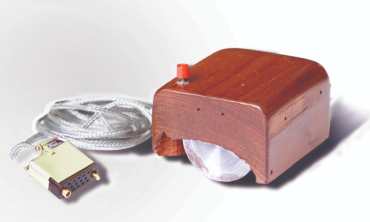 The invention of the first computer mouse can be attributed to American engineer Douglas Engelbart. First publicly demonstrated in 1968, it had wheels that connected with the surface and two potentiometers that interpreted the movement of the wheels.

Since its invention, the computer mouse has continued to evolve in many different ways like mechanism, connection option, and ergonomics.
In this post, we'll look at the all the different types of computer mice out there, and the pros and cons of each one.
Mechanical Mouse
The mechanical or ball mouse is a refined version of Engelbart's original mouse which had external wheels. Instead of wheels, mechanical mice have a metal or rubber ball that can spin in any direction. Two rollers keep track of the ball's movements and convert the data into electric signals for the display cursor.

The good thing about the ball mouse is that it's cheap and it works on glossy surfaces. But, it does require regular cleaning to operate smoothly.
Optical and Laser Mice
If you're using a mouse today, chances are that it's either optical or laser mouse. Instead of a ball, optical mice detect the user's movements using the reflected light of light-emitting diodes (LEDs). Laser mice, of course, use laser light.

Since optical and laser mice do not have a lot of moving parts that can be broken, they are more reliable than a mechanical mouse. Plus, not only are they more accurate and sensitive, they don't require regular cleaning as well.

The only downfall of optical mice is that they don't work on surfaces that are shiny. For example, a glass surface makes the mouse see its own reflection, tricking the software into thinking that it's not moving. Laser mice do not have this limitation.
Wireless Mouse
As its name suggests, these are any mouse that have no wires.
There are two types of wireless mouse out on the market today:

RF Mouse: This type of wireless mouse uses radio frequency to send signals to the receiving computer or device. A dongle inserted into the device's USB slot is usually needed to actualize the set up.
Bluetooth Mouse: This type of wireless mouse takes advantage of the Bluetooth protocol that most modern computers have. Because of this, Bluetooth mice usually don't need a dongle. Using the 2.4 GHz radio frequency (RF) range, it has a range of about 33 feet (10 meters).
The biggest drawback of RF wireless mouse is the need for a dongle (which I've lost many already), while for bluetooth, it's the higher latency and delay when pairing up with your computer.
Vertical Mouse
Think shark's fin – that's what a vertical mouse looks like. As its name suggests, this mouse stands upright with the primary buttons located at the sides.

For people who suffer from wrist pain or even CTS from using a regular horizontal mouse, a vertical mouse is worth trying out. Its design enables the user to assume a more neutral wrist position when operating it. This reduces the chances of injury to the wrist. The best vertical mice for wrist pain feature a high degree of slope to minimize twisting of the wrist to operate them.
Trackball Mouse
A trackball mouse consist of a large ball housed inside a stationary unit. You rotate the ball using your fingers, thumb, or palm to control the cursor on the screen.

There are two types of trackball mice: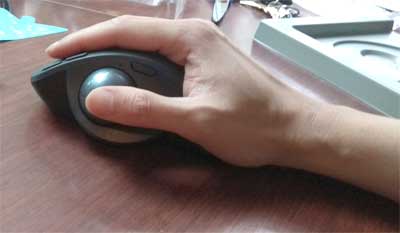 Finger-Operated Trackball: With its symmetrical design, this can be used by either hand.
Thumb-Operated Trackball: Asymmetric by nature, it's hard to find this type of trackball mouse in a left-handed configuration.
The trackball mouse can be a good choice for anyone with CTS and other RSI, as it minimizes common wrist movements such as the "windshield" action that often leads to wrist pain (especially the thumb operated version). It's a good alternative as well for the elderly who have difficulty keeping a traditional mouse still while double-clicking.

A trackball mouse is also great in tight or uneven surfaces (such as on a couch).

Of course, it has some pitfalls too. It is not as precise as the standard mouse in tasks like drag and drop and selection. It is not suitable for fast-paced gaming either.

Here's a quick demo of a finger-operated trackball:
Pen Mouse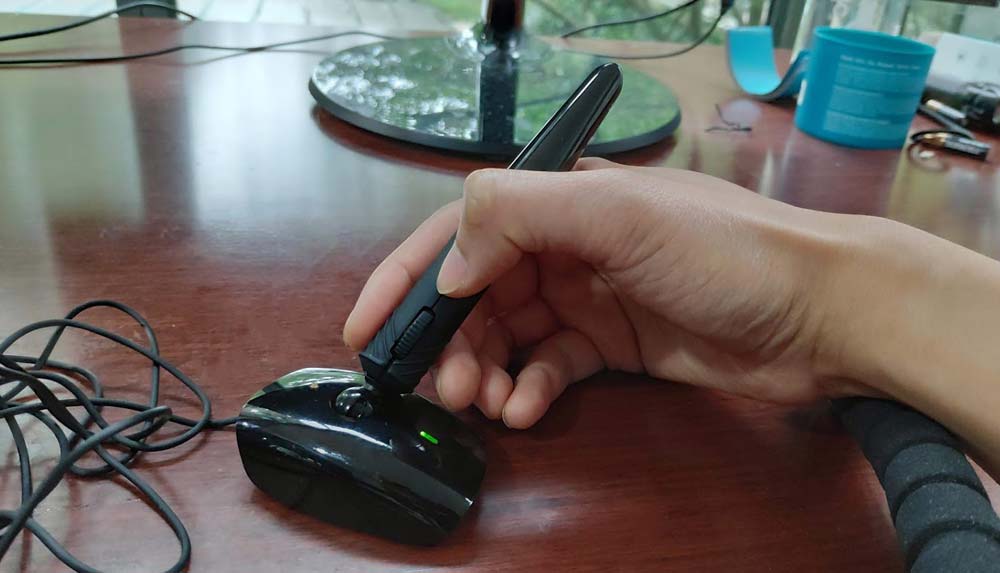 A pen mouse is simply a mouse housed in a pen form factor. As such, you hold it as you would a pen.
Don't confuse a pen mouse with a stylus: The former doesn't work on a touchscreen nor offers any pressure sensitivity.

As with a vertical mouse, a pen mouse can be a viable alternative to a regular mouse for people suffering from CTS or other wrist problems. Plus, since you hold it like a pen, you can use it in different holding positions to prevent fatigue.

In terms of usability, a pen mouse offers decent point and left-click accuracy, and works fine for drag and drop operations. The issue with the pen mouse is usually the small buttons and awkward button placements, making accidental right click quite common. It's also not a replacement for a stylus for drawing in terms of accuracy.

See this post for a detailed analysis on the two types of pen mice, and which one you should get.
Stylus Mouse
A stylus is very similar to the pen mouse in that they're both held using a writing position. The stylus however is used directly on a touch screen device or a pressure sensitive pad.

Older types of the stylus have a rubber tip and do not require any source of power. Newer ones, however, are battery-operated and have a fine tip that's both pressure and tilt sensitive. As such, it can be used for digital drawing and painting. A popular stylus with drawing tablet on the market is the XP-Pen StarG640.

Using a stylus can protect your touch screen from smears and scratches as well. Plus, it has a high level of accuracy and precision for drawing and other detailed graphic work.
Joystick Mouse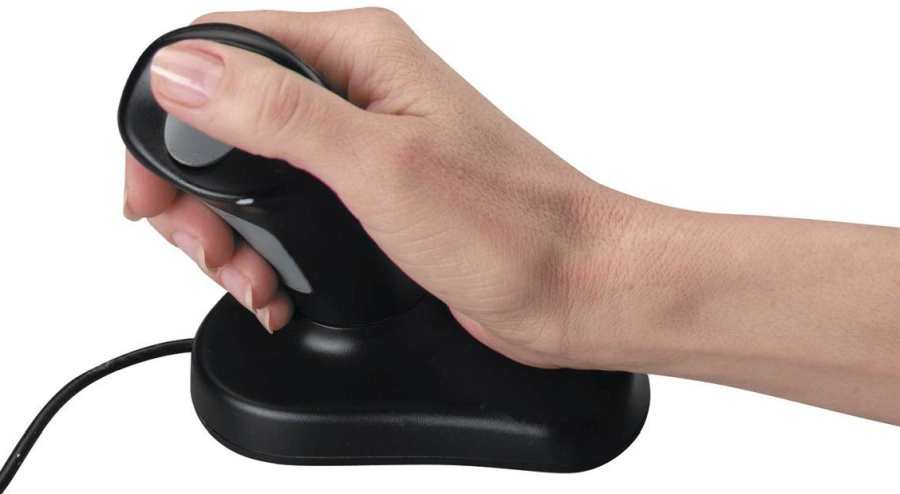 Imagine being able to control your cursor like you're playing a game. A joystick mouse has a similar form to the control device you see in gaming consoles. You use the thumb for clicking and your palm for maneuvering a stick.

People with cerebral palsy and other similar conditions find the joystick mouse much easier to grasp than a regular mouse. Plus, it lets the user assume the textbook handshake position. Some people with severe CTS and other musculoskeletal disorders have found joystick mice indispensable.

The main issue with this mouse form is precision. Left-handed versions are rare as well.
Finger Mouse
A finger mouse is an optical or trackball mouse that you wear on your finger. They can be wired via USB connection or wireless via Bluetooth.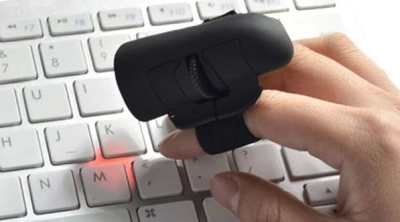 Optical Finger Mouse – Usually worn on the index finger using an adjustable strap, the idea behind this type of mouse is to easily switch between typing and mousing. It usually comes with three buttons – left key, right key and scroll button – and can be used on non-glossy surfaces.
Trackball Finger Mouse – To use this mouse, slip it on your index finger and hold it in a handshake position. Use your thumb to move the trackball, scroll, and click the left and right buttons. Since it is a mini trackball mouse, it doesn't require any surface to work and can even be used mid-air.
The biggest advantage of finger mice is that they do not require a surface to operate. This makes it perfect for use while standing, such as during presentations.
Ergonomically, the trackball finger mouse exerts very little strain on the wrists. This makes it an excellent alternative for people with arthritis or CTS.

Though both types of finger mice work well for average applications, they perform poorly when it comes to gaming and image-editing tasks. They take a lot of getting used to as well.
Roller Bar Mouse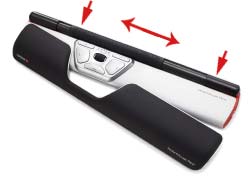 Sometimes referred to as the track bar, the roller bar mouse is placed directly in front of your keyboard. It comes with a small bar which you can move sideways, forward, and backward to control your cursor. You can tap on it to click or use the designated buttons. It also usually comes with a built-in palm rest.

There are several benefits to using this type of mouse.
Prevents stretching to reach the mouse, which can strain the neck, back, and shoulders
A good alternative for people with arthritis and others who find it difficult to grasp a traditional mouse
Can be used by both hands to minimize fatigue
Helps with thumb pain.
Of course, since it is quite different from the usual horizontal mouse, it takes some getting used to. Watch this video to see how it looks like:
Gaming Mouse
A gaming mouse is basically a regular mouse on steroids. It has added functionalities like programmable buttons, faster response times, improved sensitivity, and adjustable weight that make gaming and high-intensity programming go much smoother. They also look sporty, often coming with a cool design and some lights.

Gaming mice, however, are more expensive than traditional mice.
Trackpoint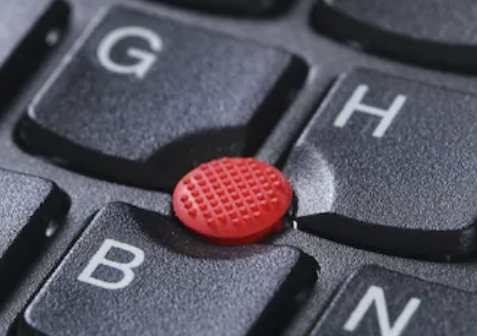 Also known as a pointing stick, the TrackPoint is a small rubberized button that can be found on a laptop keyboard. You can push it with your index finger without having to change your typing position. The more pressure you put, the faster the cursor will move.

Though the TrackPoint is great for regular work, it is not suitable for activities like gaming and Photoshop that require accuracy or speed.

A touchpad is convenient since it's already built-in on the laptop. But, it can be difficult to use for beginners and accidental touches will move your cursor location.
Final Words
There is no one-size-fits-all when it comes to computer mice. Fortunately, there are a lot of mouse types that you can pick from in terms of mechanism, connection, ergonomics, and purpose. The important thing is to carefully find out what each one offers and lacks to find the right mouse that fits your needs.