The main purpose of any lumbar support in an office chair is to help support your back and maintain the natural curvature of your spine as you sit. Without the proper support, our bodies tend to compensate by leaning forward or slouching, leading to poor posture and back pain over time. As such, good lumbar support is one of the most important things to look for when picking out an ergonomic office chair.
This article is part of our "Choosing an Ergonomic Office Chairs" Series:
Types of Lumbar Support for Office Chairs (and What to Choose)
There are many types of lumbar support in an office chair, from fixed, adjustable, to dynamic and external. In general, keep in mind the following guidelines when choosing the lumbar support in your chair:

A lumbar depth between 0.6" to 2" will work well for the general population (source).
Females tend to have increased curvature in their lower back (lordosis), and would benefit from a more pronounced lumbar support. (source)
People with higher BMI (Body Mass Index) generally will prefer a taller lumbar support targeting higher up in their back. (source).
See Also: How High Up should you Position the Lumbar Support on an Office Chair?
The following are the 4 most common types of lumbar support for office chairs on the market and their strengths and weaknesses:

Fixed Lumbar Support
Fixed lumbar refers to lumbar support that's fixed into the backrest and cannot be repositioned or modified in any way. They are typically found on lower end or leather office chairs.

Ergonomic Rating: Basic

Analysis: Fixed lumbar is usually more ergonomic than no dedicated lumbar support at all in office chairs. However, since the curvature of each person's spine is as unique as his/her fingerprints, it could be counterproductive if the lumbar was positioned incorrectly or protruding too little or too much for the individual.
Adjustable Lumbar Support
As the name suggests, adjustable lumbar support allows manual adjustment of the lumbar area to better fit the curvature and depth of an individual's spinal curvature. There are many levels of adjustable lumbar support found in office chairs today: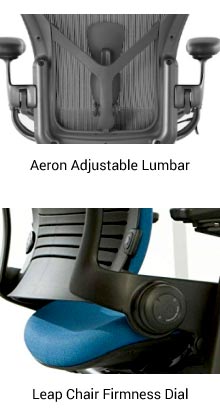 1) Height Adjustable: The user is able to adjust the height or location of the lumbar support to target the precise area of the back.

2) Depth Adjustable: The user is able to control how much the lumbar support protrudes outwards.

3) Firmness Adjustable: Typically done via a knob, the user is able to control how firm or soft the lumbar support is.

Ergonomic Rating: Good to Excellent

Analysis: The best type of adjustable lumbar support combines two or all three of the above features. The Duramont chair is a decent choice that satisfies 1 and 2 above, while the Steelcase Leap adds firmness control.

Dynamic Lumbar Support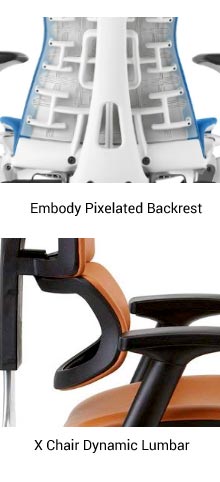 This type of lumbar support automatically adjusts its depth and firmness based on your posture to provide constant support at all times. Dynamic lumbar support can be found on some high end chairs such as the Herman Miller Embody and X Chair.

Ergonomic Rating: Excellent

Analysis: Dynamic lumbar support can be highly beneficial when properly implemented, as it automatically adapts to constant changes in your back as you sit. On some chairs such as the Herman Miller Embody, the entire backrest reacts to postural changes, while on others such as the X Chair, a 3 piece backrest adjusts to different parts of your back separately.
External Lumbar Support
Finally, there is external lumbar support in the form of a cushion. Many gaming chairs these days include an external lumbar and head pillow as an inexpensive alternative to built in lumbar. There are also dedicated lumbar pillows that can be purchased on their own to use with any office chair.
Ergonomic Rating: Basic to Excellent

Analysis: Many external lumbar pillows that come with gaming chairs are merely cheap pillows and too soft to properly support your back. On the other hand, dedicated lumbar support pillows can be highly ergonomic, coming in different sizes and shapes to match your body type. For example, for people with lower back pain, it is found an external pillow with a cut out around the posterior pelvic tissues objectively helped increase comfort.