Last Updated: Dec 8th, 2021
For ultra wide people with wide hips, there are very few things in life more uncomfortable than sitting in a narrow office chair for hours on end. Like your last trip to Europe flying coach, it gives a whole new meaning to the expression "sardine in a can".
With standard office chairs catering to the average adult frame, for wilder people whose waist lines are above the norm (40″ for males and 38.7″ for females), finding a spacious office chair can be challenging. Very challenging.
In this guide, we look at some of the widest office chairs available on the market right now that are also ergonomic to boot. Sitting comfortably and with the proper support shouldn't be something afforded to only normal sized people.
Widest Office Chairs at a Glance
If you're looking for the widest and deepest seat out there, the BestMassage Big and Tall is your man (or woman). This monster of a chair has a gigantic seat with 27.4″ W by 24.4″ L dimensions.
The most common feedback about the BestMassage is that it's built like a tank. One buyer who weighs almost 500 pounds was impressed that it could handle his weight without any fuss.
Back Tilt and Tilt Tension: Featuring both a 125° tilt and tilt tension control, this helps relax your back as you sit. To unlock the tilt, just pull the height adjustment rod away from the chair. To lock in an upright position, just push the rod back. To adjust the tension, just tighten or loosen the knob under the seat pan.
Ultra Spacious Seat: The BestMassage Chair has the most spacious seat you'll find in the market at 27.4" W and 24.4" D. This is good news for people with really wide hips that need as much lateral space as possible in their seat.
Adjustable Lumbar Support: You can move the lumbar support up and down to put it right where you need it.
Cool Mesh Back: The BestMassage has a broad mesh back that encourages airflow, keeping you fresh even after a day's work.
Adjustable Arms: The armrests can be narrower or wider should you want to make more room. You can also not connect them during assembly if you want an armless chair.
The main complaint about the BestMassage is that the padding is a little too thin for some. This is easily remedied by getting an extra large external seat cushion.
Just as its name implies, the BestMassage Big and Tall is a sturdy ergonomic office chair that won't squeak complaints even when seating a wide and heavy tush.
Sale
Wide and heavyweight users looking for a well-rounded office chair that's spacious, comfy, and space-saving won't be disappointed with the Boliss Big and Tall.
For people still having nightmares about putting together their last cabinet from Ikea, first off, the Boliss chair is the easiest we've found to put together. Clear instructions coupled with all the tools you'll need for assembly means you will be up and running in about 20 minutes.
Flip-Up Armrests: The padded arms can be moved out of the way whenever you want to scoot closer to your desk or make more room for hobbies like playing the guitar. One satisfied customer also liked this feature since he can tuck the chair under his desk when not in use.
Decent Tilt Function with Lock: The Boliss doesn't recline unfortunately, though it does tilt and rock about 30° so you're not locked into a single sitting angle. When you want to relax your back, just unlock the lever to activate the tilt mechanism.
Ventilated Mesh Back: This mesh-backed chair keeps your back well-ventilated as you work long hours.
Strong: The Boliss is strong enough to handle 500 pounds of weight thanks to its metal base.
Waterfall-Edged Seat: Many buyers love the thick moulded seat foam which has a gently sloping front edge seat that encourages blood flow to the lower extremities. This prevents your legs from going numb during prolonged periods of sitting.
The weak point of this chair is its low level of adjustability. A buyer mentioned that though the curved back provides some low back support, an adjustable lumbar support would still be better. An easy workaround is to get an external lumbar pillow.
Overall, the Boliss is a safe bet for a reasonably-priced, sturdy, and comfy office chair if you have a short but wide build.
Sale
Flash Furniture has been producing a line of office chairs for the ultra wide and tall for many years now. One of their most durable models is the Hercules Series, Let's just say this is a beast of a chair.
The most common feedback about the Big and Tall is that it's built like a tank. One buyer who weighs 460 pounds was impressed that this sturdy chair didn't creak one bit even when he changed positions.

Padded Flip-Up Armrests: A common bottleneck with office chairs for very wide people are the armrests getting in the way. The Flash Furniture Hercules features flip up arms that can easily be dismissed
Adjustable Lumbar Support: Change the depth of the lumbar support into the backseat to get various levels of back support.
Back Tilt and Tilt Tension: Featuring both tilt and tilt tension control, this helps relax your back as you sit To unlock the tilt, just pull the height adjustment rod away from the chair. To lock in an upright position, just push the rod back.
Easy to Assemble: Unlike some of the other wide chairs that we've checked, the Big and Tall can be easily assembled by just one person. The back snaps into place before you bolt it in. This means that you don't have to hold it up during assembly.
Cool Mesh Back: The Hercules Mesh has a broad mesh back that encourages airflow, keeping you fresh even after a day's work. As for the cover for the super thick cushion, you can choose between fabric and PU leather.

The Big and Tall is the heaviest chair in our lineup at 62 pounds. With lowest seat height setting being 20", it's geared more towards wide people that are also taller. If you're on the shorter end of the spectrum but still want to buy this unit, we suggest getting a footrest.

Just as its name implies, the Hercules Big and Tall is a sturdy ergonomic office chair that won't squeak complaints even when seating a wide and heavy tush.
No products found.
If you're looking for the widest, tallest, and deepest seat out there, the OFM ESS Big and Tall Leather Executive Chair is your man (or woman). This monster of a chair has a gigantic seat with dimensions 25″ w by 22.5″ L. For the really horizontally inclined or wide hipped people, there is nothing else like it in the market.

As a testament to its durability, one user who is 300 lbs and have worn out 6 chairs before the Essentials chair said this is the only one that is standing the test of time.
Tilt and Recline Lock: You can lock the chair in either an upright or recline position using the front knob under the seat. Release the tilt by leaning forward in the chair while pulling out the lever. To lock it in an upright position, just lean forward again and push the lever in.
Padded Fixed Armrests: Though the armrests aren't adjustable, they feel very stable and are well-padded to prevent sore elbows.
Excellent Customer Service: The company's customer support monitors the reviews they get. One buyer who posted a review about receiving a broken part received an email from the company within a few hours.This goes to show that they are committed to customer satisfaction.
Ultra Wide, Tall and Deep: At 23.5" at its highest seat setting, the OFM ESS is the best chair for very tall buyers. Plus, it's the deepest seat on our list, so your long thighs won't go numb from lack of support. Of course, let's not forget its seat width which spans a whopping 25".
Bonded Leather: The upholstery is well-stitched. The supple bonded leather makes it look classy and refined too. Just make sure to apply lots of leather conditioner every 3 months to make it last longer.

The caveat to the OFM ESS is its lack of lumbar support. Some people have found this overtime to lead to back ache. What you can do is buy a separate lumbar support pillow.

If you don't mind shelling out a few bucks for the lumbar support, the OFM ESS Chair is the best office chair for people who are both wide and tall.

AKRacing Max
Seat Width: 23.25"
Seat Depth: 20.5"
Height Adjustments: 19.4" – 22.25"
Maximum Capacity: 390 lbs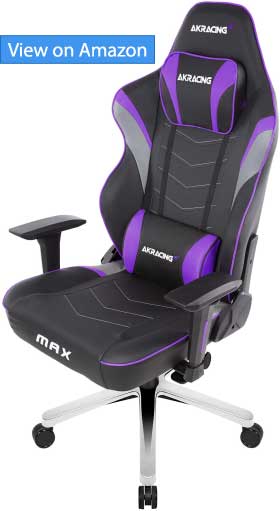 Last but not least, if you're looking for both a wide seat and high backrest in a chair, the AKRacing Max fits that bill perfectly. even if you don't really consider yourself a gamer.
The AKRacing Max is relatively subtle when it comes to design, instead focusing on practical features that cater to large -and really wide people.
At 23.25", the seat on the Akracing Max is among the widest we've seen in a gaming chair. One owner who is close to 380 lbs with very wide hips says he doesn't feel squeezed at all sitting in the chair thanks to the wide and flat seat pan. A first for him in a gaming chair.

Jumbo Sized Seat and Backrest: Comes with one of the largest seat and backrest in a gaming chair we've come across for ultra wide people.
Advanced tilt mechanism: The chair's backrest both tilts and rocks, and is lockable at any angle. This makes it easy to customize and find the perfect sitting angle for you.
5″ thick cold cured foam: Inside the AKRacing Max's seat is 5″ thick of cold cured foam. The thickness ensures a softer sitting experience, while the expensive cured foam ensures the seat won't depress over time.
4D Armrests: Robust armrests that move in all planes, include being width adjustable to cater to big users with really wide shoulders.

To sum it up, the AKracing Max is one of the best gaming chairs out there purpose built for really wide gamers.
Checklist for a Wide Office Chair
As a wide or large person, there are 3 main areas to check off when buying an office chair. Being aware of these important factors maximizes your chance of finding a chair that suits your body on the first try.
Large Seat Pan Width
The proper seat width will let you enter and exit your chair easily. Not having enough seat width between the armrests means that your movement will be limited and your blood circulation will be constricted.

According to the BIFMA Ergonomic Guidelines, a seat width of 19.2" will adequately accommodate most people. For really wide people however, a seat pan width of 22″ or larger is more realistic. In general OSHA suggests that the seat width should be the width of the thighs at a minimum. If your hips are wider than your thighs, use that measurement instead.
To know the appropriate seat width for your body, seat straight with your thighs slightly apart. Then, measure the lateral distance across your thighs. Add 2 to 3 inches to allow for clothing and movement.
In terms of armrests, though some larger people prefer chairs with no armrests, from an ergonomic standpoint, they are important in providing constant support for your arms, plus leverage when existing the chair. A unit with armrests that can be adjusted sideways is ideal.

Larger Seat Depth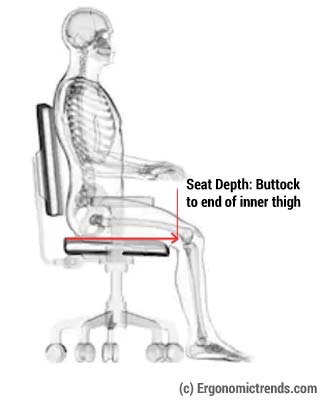 The seat depth is the horizontal distance from your buttocks to the back of your knees.
A proper seat depth ensures that you can sit in the chair comfortably without putting pressure on the back of your knees. It will also offer ample buttocks and thigh support without restricting blood flow.
For most people, a seat pan depth of 15 to 17 inches is enough, based on OSHA's guidelines. Once again however, for wide people, we recommend you add at least a couple of inches to those numbers.
The ideal seat depth should leave a gap of 2 to 3 fingers between the front edge of the seat and the back of the knees.
Inadequate seat depth leaves part of your inner knees unsupported as you sit. On the other hand, a seat depth that is too deep prevents your back from getting adequate backrest support. Both have precarious effects in the long run.

Higher Weight Capacity
Standard office chairs can usually only handle up to 250 pounds of weight. As an wide person, you will most likely need a chair that can handle more than that. So, the chairs that we've recommended below all have a weight capacity of 400 to 500 pounds.
An office chair with a high weight limit indicates that the chair has been designed with the durability suitable for a person that is larger and wider than normal.

Allowing for extra weight bearing is also important. For example, if you weigh exactly 400 pounds, a chair with a weight capacity of 450 pounds would be a better pick.
Calculating Proper Seat Pan Width and Depth
From an ergonomic standpoint, sitting in a seat that's too narrow is just begging for trouble down the road. Restriction in your blood flow and ability to make micro movements only hastens all the ill effects of sitting, from heart disease, compromised posture, to back pain.
Seat Pan Width
To calculate the required seat width for your body, OSHA suggests looking at the width of the thighs:
Measure the distance across your thighs just before they drop off the seat's edge. Then add 1-2 inches for wiggle room. If your hips are wider than your thighs in this position, measure the former's width instead.
Seat Pan Depth
To calculate the proper seat depth for your body, sit in your existing chair with your back against the backrest:
Measure the distance between the end of your buttock to the end your inner thighs. Subtract 1-2″ to derive that best seat depth so that when you're seated leaves a 1″ gap between the end of your thighs and the seat's edge.