Surprisingly, this is one of the most common questions we get here on Ergonomic Trends- " what is an ergonomic office chair?" When you think about it, this is not just a legitimate question, but one that is extremely hard to answer, at least succinctly.
Just what is an ergonomic chair?
"An Ergonomic Chair is one that not only follows best practices in terms of proven ergonomic design, but is highly adjustable to cater to different people and sitting positions.

The key to an ergonomic chair, at least a good one, is that it is highly adjustable. Even if only one person will be sitting on it, one's sitting posture varies throughout the day, and a good ergonomic chair needs to properly support the body in all of these positions.
Anatomy of an Ergonomic Chair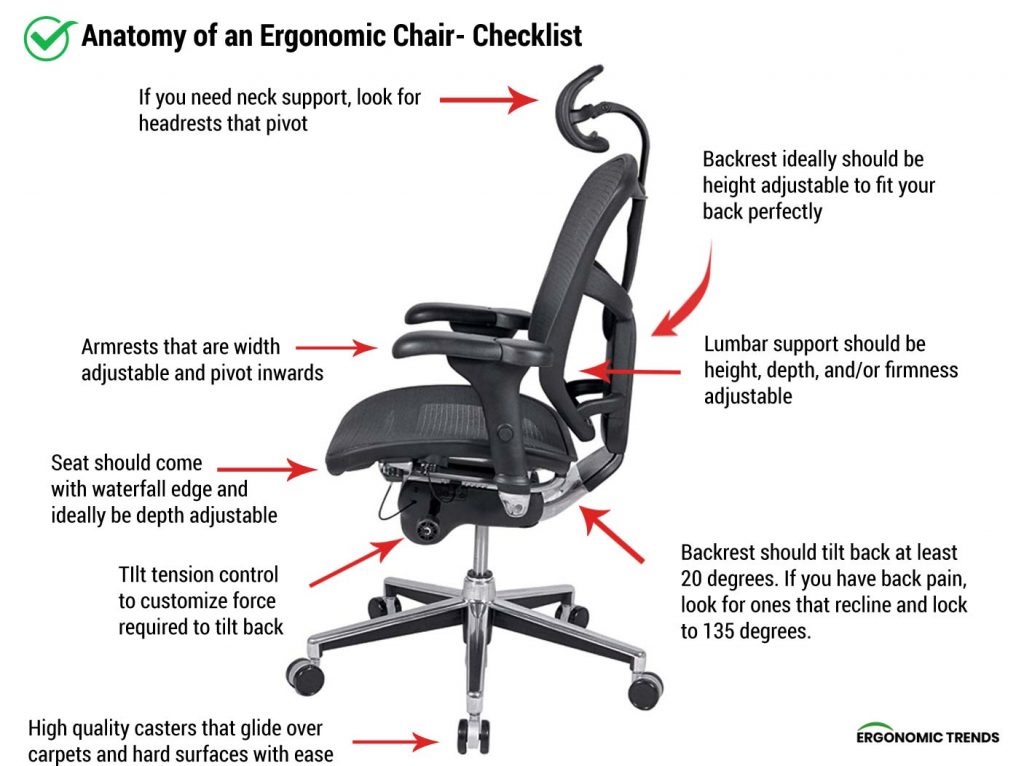 In this guide let me walk you through all of the most important elements that make up a worthy ergonomic chair, plus specific advice based on your body size, workstation, and any conditions such as back or neck pain.
1. Adjustable Seat Height
A basic feature in all ergonomic chairs, the height of the seat should be easily adjustable. The ideal seat height is where your two feet are firmly touching the floor when you sit while your knees assume a 90 degree bent angle. If you're working on a computer, there are other considerations to take into account as well.

To easily calculate whether an ergonomic office chair's seat height will fit you, simply measure the length from the top of your knees to the sole of your feet.
Alternatively, stand in front of the chair and adjust its height so the top of the seat is just below your knee cap:

2. Adjustable Arms Support
Together with the hands, our arms comprise of around 10% of our total body weight. As such, robust arms support in a chair is vital for offsetting that load from our shoulders and neck in the seated position.

At a minimum, armrests on the chair should be height adjustable. You should be able to raise them to the height of your desk (usually 29") so your arms are parallel to the desk when you're computing. If you are tight on space, armrests that can be lowered enough to tuck the chair away under the desk are also an asset.

A good ergonomic office chair should have armrests that also pivot. This means they can be angled inwards (up to 30 degrees) and out. Pivoting armrests are important to support your forearms when your hands are close to each other relative to your elbows, such as texting on your phone or typing on a compact keyboard.

Armrests that are width adjustable are also important. It means they can be moved closer or farther away from your body to support your elbows and arms regardless of how wide spread they are. People with very narrow or broad shoulders will benefit especially from width adjustable armrests.

3. Seat Depth Adjustment
Also referred to as "seat sliding", seat depth adjustment is important for ensuring there is always a 1-2 inch gap between the edge of the seat and the end of your thighs regardless of your body size or sitting position. It helps prevent the seat from cutting off circulation to your legs (if the depth is too deep), or applying excessive pressure to your knees (if the depth is too shallow).

Many higher end ergonomic office chairs come with seat depth adjustment. If not, make sure the fixed depth is suitable for your body size.
To calculate the ideal seat depth for your body, simply sit on any chair, and measure the distance between the end of your tailbone and your inner thighs. Then subtract 1″ to 2″ to get the perfect seat depth. A seat with this depth ensures that when you sit down, there is a 1-2″ gap between the seat's edge and your inner thighs:
4. Backrest Angle Adjustment
Unlike a bench or kitchen chair with a fixed upright backrest, all ergonomic chairs come with some sort of backrest angle adjustment to open up the hips and reduce pressure on your back as you sit.

The backrest angle of a chair can be changed via either tilting or reclining. Many people confuse the two mechanisms. The most robust ergonomic chairs supports both, though tilting is the more standard, and also more important of the two ergonomically speaking.

Tilting Mechanism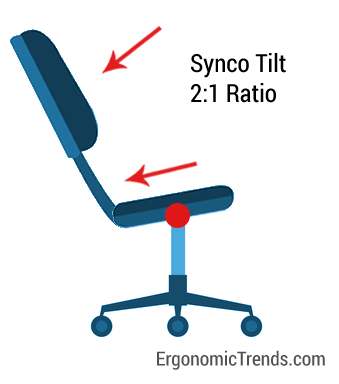 With tilting, the backrest angle changes via the swivel and tilt mechanism located directly beneath the seat of the chair. As such, both the seat and the backrest changes angles in unison as you lean back.

There are many types of tilting mechanisms in an ergonomic chair. Synchro tilting where the backrest and seat reclines at a 2:1 ratio is a good option to go with to allow your lower body and gaze to remain relatively horizontal as you lean back.

Tilting is essential for bringing mico movements to your back throughout the day, plus to absorb the pressure build up that a fixed backrest brings A good tilting mechanism should support tilt locking, so the angle of the backrest can be fixed while still allowing some "flex". I usually set my chair's title angle to 100 – 110 degrees.

Reclining Mechanism
Unlike tilting where the mechanism is built underneath the chair, reclining happens strictly in the backrest itself, independent of the seat. As such, the angle possible is a lot greater. Some reclining office chairs even recline almost to horizontal to allow you to take quick naps in your office chair.

A reclining office chair is useful over one that merely tilts in the following cases:

If you like to assume a near horizontal posture watching movies, reading, or taking a quick nap.
If you suffer from back pain, where it is found a backrest angle of 135 degrees exerts the least amount of stress on the back. Most tilting mechanisms do not support angling to such a large degree, as the front of the seat would be uncomfortably too far off the ground at that angle.
As mentioned, many ergonomic office chairs that support both tilting and reclining if you feel you need both. For most people, a robust tilting mechanism is adequate from an ergonomic standpoint.

5. Backrest Height Adjustment
A good ergonomic chair should have a backrest that is height adjustable, especially if it's a mid or low back chair.

Height adjustable backrests improves the chance that the backrest will fit the curvature of your spine properly. Move it to the exact height where your back is most supported. Note that this is different from adjustable lumbar support, which only caters to the lumbar area and not the rest of your back.

6. Adjustable Lumbar Support
The lumbar area on our body refers to our lower back, which also happens to be a very common source of pain in today's modern workplace. This is why lumbar support is a critical component of any ergonomic chair.

When it comes to lumbar support, there are three types:

Fixed Lumbar support: The lumbar support is fixed on the backrest.
Adjustable Lumbar support: The lumbar support can be adjusted height, depth, or firmness wise.
Dynamic Lumbar support: The lumbar support automatically adapts to your sitting posture and weight.
While it's tempting to just assume adjustable or dynamic lumbar support are always superior, this isn't always the case. The material, dimensions, and amount of flex all play important roles in how comfortable it will be, and different people have different preferences.

If you're shopping for an ergonomic chair online, read user testimonials to find a general consensus on the comfort of the lumbar support. If you're shopping in a department store, being able to actually test out the lumbar support is best.
7. Neck Support in a Chair
Neck support is important in an ergonomic chair if you end to work in a leaned back position, or suffer from neck pain. For other people, a headrest on a chair can restrict movement in the upper body, such as the ability to drop the head backwards and stretch out from time to time.
If you've determined you need a headrest, look for one that pivots inwards and out, plus can be adjusted for height. This maximizes the chances of the headrest conforming to the shape of your neck and head and various sitting postures.
8. Seat Design and Material
Considering that the seat on a chair bears most of your body weight, it should be supportive without being overly firm, soft enough but not sag.
In terms of shape, look for a seat with a waterfall edge. Such a design relieves pressure on the back of the thighs while promoting blood circulation to your lower limbs.
When it comes to the material on an ergonomic chair, there is no consensus on what's most comfortable.
Mesh is flexible, breathable, and easy to clean. It's ideal if you live in a hot region, though lacks the softness of fabric or leather. Some of the best mesh chairs such as the Herman Miller Aeron use advanced mesh materials with dynamic tension zones that cater to different parts of your body.
Leather comes in many types, from bonded, faux to genuine. Each type has its pros and cons. Ultimately genuine leather is best as it's more breathable, durable (if maintained properly), and hypoallergenic, though the cost is much higher.
Finally, there are fabric seats to consider, which can be a good medium between mesh and leather.
Ergonomic Office Chair at a Glance
A hallmark of an ergonomic chair is that it's highly adjustable to be comfortable and supportive in a wide range of positions. To summarize:
Look for armrests that pivot and can be brought closer or farther away from you.
A backrest that is height adjustable improves the chances of proper support for your entire back.
Understand the difference between backrest tilt and recline, and make sure the chair offers at least robust tilting.
A robust lumbar support is vital to support your lower back and prevent back pain.
Look for a seat that is depth adjustable and comes with a waterfall edge to relieve pressure in the back of your thighs.
If you require a headrest, make sure it's height adjustable and can pivot.
Choose the best casters that's optimized for the surface you will be using them on.