Work-life balance is a term used to describe how individuals negotiate their time between work and other aspects of their lives such as leisure, personal care, and social relations. Since the covid-19 pandemic, the importance of work-life balance cannot be overstated, with some employees now even placing it on par with their salary in terms of priorities.
In this post we dive into 25 of the most illuminating statistics on work life balance in the workplace today.
Work Life Balance Statistics at a Glance
72% of employees consider work-life balance to be very important when
looking for a new job.

[15]

60% of Americans say they have poor work-life balance mostly due to a lack of boundary between work and home life.

[6]

On average, employees take 26% of their work back home to complete, eating into their personal time.

[8]

60% of employees say bad bosses can have the most negative impact on work-life balance.

[20]

73% of WFH employees say they enjoy better work life balance compared to when they worked onsite. The top reason cited was more time to spend with family.

[19]

Nonetheless, 70% of professionals who transitioned to remote work due to covid-19 say they now work on weekends.

[22]

People who worked 55 hours or more per week have a 1.3 times higher risk of stroke compared to those who work the standard 40 hour week.

[11]

Women with male partners that work 50+ hours a week were found to be less satisfied with their relationship than those whose partners worked less.

[7]

25% of employees say their job is the number one stressor in their lives.

[23]

Employees that endure medium to high stress cost companies 26% more in medical costs compared to those with lower stress levels.

[24]

The average worker is only productive for two hours and 53 minutes in a working day.

[21]

40% of US workers now prefer a 4-day work week, which has been found to reduce stress, improve work life balance and actually increase productivity based on a large Iceland trial.

[25]

.
1. The Health Impact of Poor Work-life Balance
Poor work-life balance has real consequences on those that endure it, including a much higher risk of certain diseases.
One study shows that people who work 55 hours or more per week have a 1.3 times higher risk of stroke than those who work 40 hours. Heightened stress combined with longer physical inactivity were cited as the two main reasons for this. [11]
People who often work long hours are also 1.66 times more likely to suffer from depression, and 1.74 times for anxiety. [12] This is fairly predictable if you consider that work-life conflicts usually resolve in favor of work, with your personal and social life being sacrificed.
When asked what aspects of their life have suffered the most due to poor work-life balance, almost half reported that their family relationships (48%) and relationships with friends (47%). [13]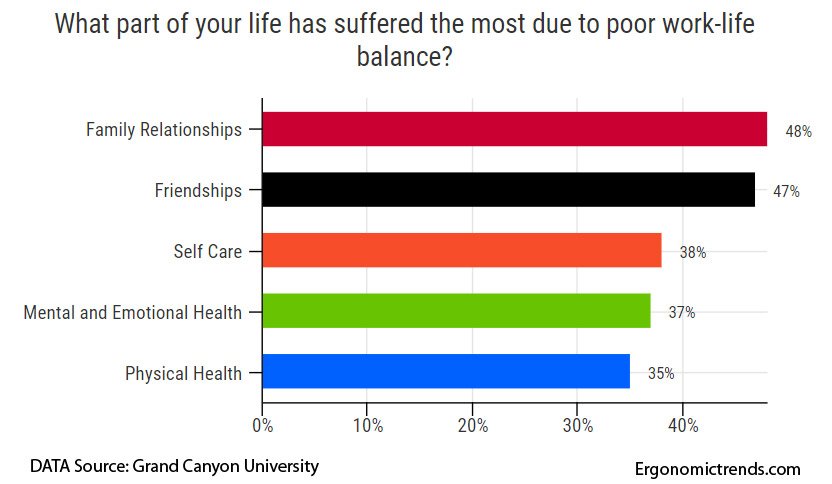 2. The average worker is only productive for two hours and 53 minutes in a working day.
An illuminating study coming out of the UK shows that on average, employees are only actually productive for 2 hours and 53 minutes daily. The rest of the time is spent reading news web sites, checking social media, and gossip with coworkers, among other distractions. [21]
Findings such as the above have fueled calls for the "4 Day Work Week", which proponents say simultaneously reduces stress and burnout, boosts work-life balance and improves employee productivity.
A UK study found that two thirds of businesses that implemented a 4 day work week saw an improvement in staff productivity. [2]
In Iceland a large 4 day work week trial that involved preschools, offices, social service providers, and hospitals was a resounding success. It showed that productivity either remained the same or improved, while stress and burnout levels went way down. The success of the program has led to shorter working hours across all sectors in Iceland since.
According to statistics, 40% of US workers prefer a 4-day work week. [25]
3. 11% of US employees work more than 50 hours per week.
11% of US employees are working over 50 hours every week. This is the threshold that numerous studies have shown starts to yield serious health and interpersonal issues. [1]
Out of all the OECD countries, Turkey has by far the highest proportion of workers putting in long hours at 32.6% of the population. Though the Turkish labour law establishes a 45-hour workweek, it is not uncommon to assign non-corporate employees longer work hours. Most Turkish companies only offer an inadequate 2 weeks vacation time each year, which don't even apply to part-timers.
By contrast, barely any employees are pulling in 50+ hours weekly in the Russian Federation (0.1%), Switzerland (0.4%), and Netherlands (0.4%).
Percentage of Employees Working 50 Hours+ Per Week Around the World:
| | |
| --- | --- |
| Best 5 Countries | Worst 5 Countries |
| 1. Russian Federation (0.1%) | 1. Turkey (32.6%) |
| 2. Switzerland (0.4%) | 2. Mexico (28.7%) |
| 3. Netherlands (0.4%) | 3. Colombia (26.6%) |
| 4. Lithuania (0.5%) | 4. Korea (25.2%) |
| 5. Sweden (1.1%) | 5. South Africa (18.1%) |
4. Employees say "Bad Bosses" are the biggest reason for Poor Work-Life Balance
According to Workfront's Worklife Unbalance Report, the biggest obstacle to a good work-life balance may be the people in charge. [20]
When asked which factors hurt work-life balance the most, employees say bad bosses that are overbearing, demanding or mean is the top factor (60%), followed by frequent overtimes (39%):
This data shows the uneasy fact that oftentimes, it's not the policies that contribute to poor work-life balance, but personal at the top.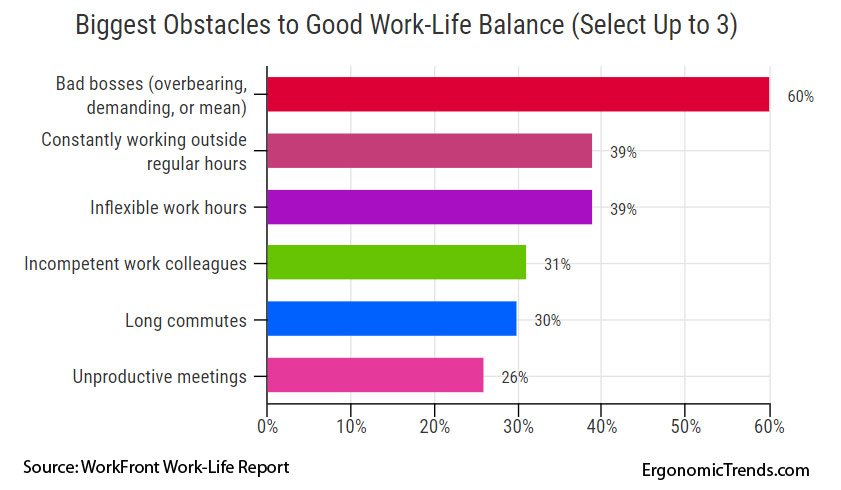 5. On average, employees take 26% of their work back home to complete
In an analysis of 185 million working hours, RescueTime reported that employees are only able to complete 74% of their tasks during their time at work. This means more than a quarter of the work has to be done on their own personal time. [8]
A combination of unproductive meetings and digital distractions are to blame, according to experts:
21% of our device time at work is spent on browsing distracting sites

[8]

Youtube is the #1 blocked site at work

[8]

40% of knowledge workers can never get more than 30 minutes of focused time in one sitting

[8]

28% of our time is spent reading and answering emails

[9]

63% of remote workers say the time spent on meetings have gone up since the pandemic

[4]

Nearly half of all professionals say they suffer from "Zoom fatigue"

[4]
6. Employees now value Work-Life Balance more than Health Benefits
A survey by Gartner shows that US employees in general now value good work-life balance more than the health benefits offered by their employer. [5] This should be a wake up call for companies that believe a good healthcare package alone is enough to retain their workers.
Working parents in particular place utmost importance on work-life balance, even over salary. A survey by Flexjobs reveal what employers need to consider when attracting and retaining employees who have children [26]:
As a working parent, what are the "most important" considerations for you in a new job?
Work Flexibility: 84%
Work-Life Balance: 80%
Salary: 75%
Health Insurance: 42%
Company Reputation: 39%
7. The Netherlands has the best work-life balance among the OECD countries.
The Dutch are the true masters of work-life balance, boasting an impressive 9.5 rating out of 10 in the OECD Better Life Index.
US workers have the 12th worst work-life balance out of all the OECD countries, scoring 6.0. The UK is only slightly better at 6.4.
On the other end of the spectrum is Colombia with a rating of 0.9, the lowest out of all the rated countries. [1]
| | |
| --- | --- |
| Best Work-Life Balance (Better Life Index Score) | Worst Work-Life Balance |
| 1. Netherlands (9.5) | 1. Colombia (0.9) |
| 2. Italy (9.4) | 2. Mexico (1.1) |
| 3. Denmark (9.0) | 3. Turkey (3.1) |
| 4. Spain (8.8) | 4. Korea (4.1) |
| 5. France (8.7) | 5. Japan (4.6) |
8. US workers average just 14.4 hours Daily on Personal Care and Leisure
Personal care and leisure refers to all the time spent outside working, including sleeping, eating, and relaxing. US workers on average spend 14.4 hours on these activities , or 60% of the available time in a day.
Compared to other OECD countries, this puts the US far behind, ranking 30 out of 40 countries. The US is also the only OECD country without a national paid parental leave policy,
Italy is the global leader in this respect, allocating 69% of their daily time on personal care and leisure (16.5 hours). Furthermore, only 4% of Italians work long hours, vs 11% in the US. [1]
9. 69% of workers said employers should offer flexible schedules.
The government and employers can help their employees achieve a good work-life balance. Professionals want: [14]
Flexible schedules – 69%
Remote working – 55%
Unlimited paid time off – 27%
Restricted email responses – 27%
Meeting-free periods – 24%
Ironically, despite proof that happy employees are up to 20% more productive than their unhappy counterparts, 47% of workers have never been asked by their employers what can make their work-life balance better. Only 12% are regularly asked. [17][18]
10. 73% of remote workers said they have better work-life balance
Almost 3 out of every 4 remote workers said that working from home enables them to better balance their personal and professional lives. They're more productive thanks to:
Fewer interruptions – 68%
More focused time – 63%
Quieter work environment – 68%
More comfortable workplace – 66%
Avoiding office politics – 55%
Since working from home, remote workers also reported:
Spending more time their family/children (46%)
Spending more time with partners (42%), or pet(s) (37%).

[19]
References: