The Workpro Quantum 9000 is a mid range office chair that's often compared to the more famous Herman Miller Aeron, not least due to their similar appearance. But are we looking merely at a cheap knockoff of the Aeron, or is the Quantum 9000 a worthy ergonomic office chair in its own right?

To find out the answer, I decided to purchase the Quantum 9000 and put it to the test for 30 days. Because unlike many sites, that's what we do- actually buy and test out whenever possible the products we review on Ergonomic Trends. So $350 dollars short and 30 days later, here are my findings on the Quantum 9000 Chair.
Specs and Dimensions at a Glance
First off, let's take a look at the important specs of the Workpro Quantum 9000 at a glance.

Note that these numbers may differ from those stated on the manufacturer's site; these are my measurements directly:
| | |
| --- | --- |
| Seat Width | 20.4" |
| Seat Depth (Adjustable) | 19" – 21" |
| Seat Height Range | 18" – 21.5" |
| Backrest Height (Adjustable) | 37" – 40" (measured from top of backrest) |
| Backrest Tilt | Backrest tilts around 30 degrees backwards. Tilt angle lockable. No rocking when locked. |
| Tilt Tension Control | Yes |
| Armrests (3D) | Pivots inwards 25 degrees and outwards 5 degrees. |
| Weight and Capacity | 60 lbs/ 250 lbs capacity |
Quick Video Review
Superb Build Quality
The first thing I noticed while putting the chair together is just how heavy all of the components are. The mesh seat and bottom tilt plate (which come preassembled) must weigh at least 30 pounds alone.

All of the critical links on the Quantum 9000 use metal parts for durability, such as the armrest base and link between the seat and backrest. The cylinder of course consists of one solid piece of metal.

One of the telltale signs of a budget office chair is the abundance of plastic parts. The Quantum 9000 certainly isn't one of them. Assuming the mesh holds up, this is a chair that will easily last 5 years in my estimation.

Due to all the metal parts, the Quantum, especially as a mesh chair, is incredibly heavy, at 60 pounds. Compare that to the Herman Miller Aeron B, which weighs 55 pounds, and my favorite budget office chair, the Duramont, which weighs just 45 pounds.

More Than Meets the Eye in Adjustability
It's easy to mistaken the Workpro Quantum 9000 as a basic mesh office chair from its inconspicuous exterior. Unlike the Aeron chair with long protruding knobs and switches everywhere, there are only 3 tiny switches plus a knob on the Quantum 9000.

Quantum 9000 is deceivingly adjustable, and that's a really good thing for sustained comfort:

Adjustable Seat Depth: The seat depth on the Quantum 9000 is adjustable. This bests the Herman Miller Aeron whose seat depth is fixed. Push back the 2nd right hand side switch to enable the seat to slide between 19" – 21" inches, then push forward the switch to lock the position. The maximum seat depth setting is especially helpful for taller people above 6' with longer thighs.
3D Armrests that pivot: The armrests on the Quantum 9000 are padded with firm cushions to prevent elbow and forearm soreness. The armrests also pivot (about 25 degrees inwards and 5 degrees outwards) to support your arms at different angles.
Height Adjustable Backrest: This is one of my favorite features on this chair. It doesn't come with adjustable lumbar support like the Aeron chair, but more than makes it for it with a backrest that is height adjustable. As a mid back chair, this lets it cater to both short and tall people to provide ample back coverage. As a 5'8" person, I set the backrest to its highest setting to properly cover the area of my back that I feel needs support. I love it.
Fairly robust tilt mechanism: The backrest on the Quantum 9000 Chair tilts around 30 degrees from upright by default. There is a tension knob to the right that lets you modify the force required to tilt back the chair. Furthermore, a switch on the left lets you lock in the tilt angle so it doesn't bounce back. Sadly once it's locked, the backrest can no longer freely tilt, though there is still a little give of around 5 degrees when you lean back at the locked position to allow some movement.
Loving the Mesh So Far
All of the adjustable features in the world don't mean much if the chair simply isn't very comfortable to sit on. And for that the material of the seat and backrest is paramount.

After 4 weeks sitting on the Quantum 9000, I can say the all mesh material is surprisingly comfortable. It's not quite on par with the Aeron chair's mesh, but then again, you're talking about a chair that costs 70% cheaper than the later. The Aeron chair with its 8 different levels of tension zones adds an almost fabric feel to the mesh material.

Unlike many other mesh chairs that are too firm, the material on the Quantum 9000 is best described as medium in firmness, offering just enough support without feeling like you're sinking. And it's very durable.

Breathability is also excellent (and much needed at this time of the year), though I was surprised that the edge of the seat where my bare thighs come in contact still gets sticky after a while. You can't fight mother nature.
What Could be Improved
After spending so much time on a chair, we have completely settled in together, and there are only two things I would change about it. Not bad for someone who is highly critical when it comes to an ergonomic office chair.

Firstly, I wished the backrest could still rock back and forth when the angle of the backrest is locked. On the Quantum 9000, full rocking (30 degrees range) is only possible when the tilt angle is not locked, meaning it's at its default upright position. Once locked to a certain angle, there is only a 5 degree give when you push back. This is still miles ahead of backrests that become completely stationary at a locked angle.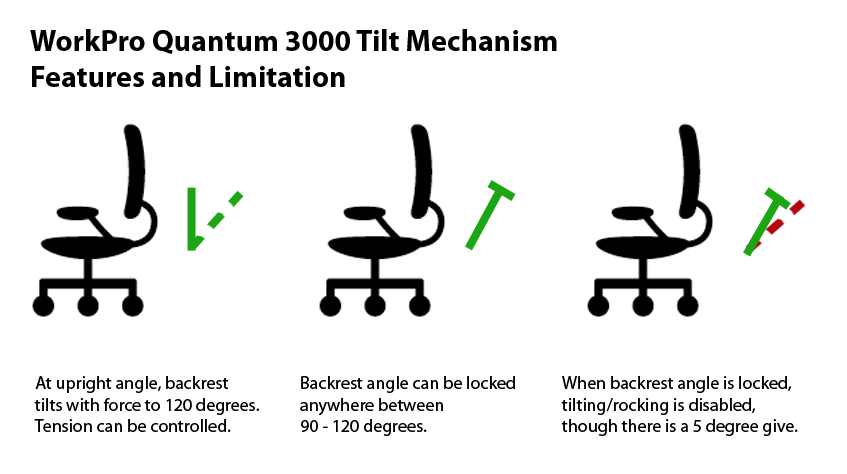 In Quantum 9000's defense, very few chairs at the mid range price level support rocking when the tilt angle is locked. One of them is the nobleChairs Hero.

Secondly, the armrest pivoting mechanism on the Quantum 9000 is a little too sensitive for me. It's very easy to accidentally hit one of the armrests and change the angle.
Reviews from Other Customers
On Amazon, unsurprisingly, the Quantum 9000 receives a near perfect 4.5/5 stars at the time of writing. It pretty much reflects my sentiments with the chair.

The Good
Only chair other than Aeron to provide "significant comfort and support" for one owner with back pain.
Ergonomic waterfall edge that "doesn't cut off circulation in my legs".
A 6 ft, 192 pounds owner summarizes this chair as "Not the cheapest, but best so far" out of many chairs he's owned.
The Bad
For one user that is 6'4", his complaint is that the chair doesn't go up enough for him.
The armrests swivel too easily for some owners.
Customer support seems to be lacking.
My Final Verdict
This isn't a Quantum 9000 vs Aeron Chair battle. If so, the Aeron would come up on top.
The Workpro Quantum 9000 however really surprised me, and pleasantly. Who knew an unassuming mesh office chair that costs in the neighborhood of only $300 could have the build quality and adjustable features of chairs that easily cost 2-3 times as much.

Instead of recapping all of the features (and shortcomings) of the Quantum 9000 again, I'll just say this- I've been sitting on this chair for the last 30 days, and have no intention of swapping it out after this review. At this price point, the Quantum 9000 is dare I say one of the most well built, comfortable mid back mesh chair I've come across.
Related Reviews