Dining is supposed to be a time of enjoyment, but for people with back pain, it can be a very unappetizing experience. Thankfully, modern dining room chairs have come a long way from their wooden and rigid counterparts. These days, ergonomic dining room chairs that better support your back and body as you eat are available.
In this post we'll look at 9 of the most stylish and supportive dining and kitchen chairs for people with bad backs.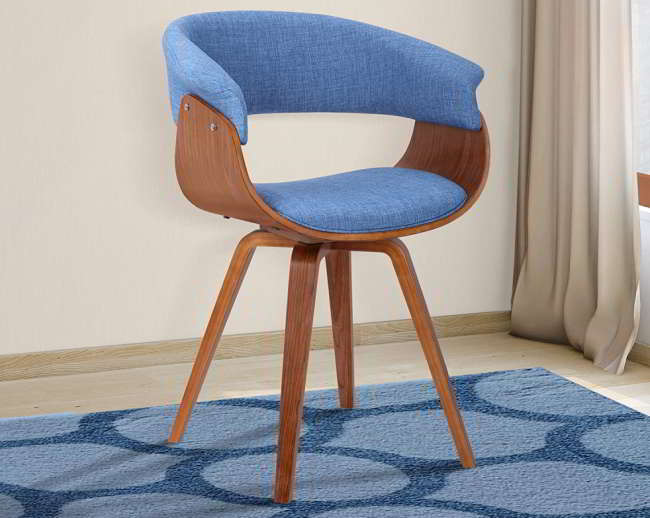 The Armen Living Summer Dining Chair has a lightweight, streamlined design with just features to offer superb comfort without being too bulky. It combines mid-century modern with contemporary design to add minimalist and geometric aesthetics with a natural appeal to your dining room.
The design of the chair ensures adequate support for your back, arms and hips while keeping the assembly process simple. Even with minimal features, the medium high backrest with good cushioning ensures excellent support for your back due to the ergonomic angle and cut out of the backrest. In fact, one study concluded that lumbar support with a cut-out for the posterior pelvic tissues offered the best relief for people with lower back pain.
To complement the curved back, the Summer chair has a wide bucket seat with medium firm cushioning. With an inside seat width of 21", there's plenty of space for your heavy-set family members.
The wooden seat shell and legs of the Summer is a medium dark walnut paired with blue, charcoal, or green fabric upholstery. You can also go for a black brushed wood finish with either gray or charcoal if it works better with your interior decor..
If you own pets, the seat fabric could trap a bit of pet or human hair. However, this is not a problem that can't be solved with a good old lint roller. The fabric ensures the chairs are durable, so this is a minor compromise to make.
If you're looking for lightweight chairs that are easy to assemble and versatile enough to go with any decor, this is the chair for you.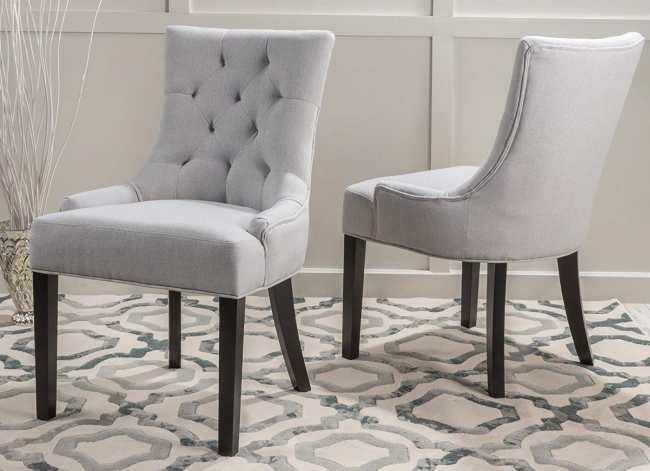 If you're searching for great dining room chairs with perfect spinal support and a chic, stylish design, these Christopher Knight Fabric Dining Chairs are ideal for you. Their simple design means they can be easily assembled by almost anyone.

The seats are designed with an ergonomic curved design offering optimal back support with the right amount of cushioning. The height of the backrest is around 22 inches so the chair offers support for your whole back, and can be a godsend for people with upper back and neck pain. The fabric upholstered seat material and birch wood leg construction makes for a durable design.
The chairs also come in two different colors. If your taste is more neutral and minimalist, the light grey chairs are perfect, whereas the teal-colored ones work well for people who like a pop of color in their dining room.

While at 46 lbs, the seats are slightly heavier than other designs, the heavier weight also ensures greater stability and robustness. The heavier weight is also due to the sturdy wooden legs and generous cushioning of the seat. I've found that with any chair, I'd rather compromise a bit of weight for quality materials and a strong design.

These fabric dining chairs from Christopher Knight come in a classic design and color that offers great back and shoulder support whilst being durable.
Furniwell's Mid-Century Kitchen Chairs were designed for people who appreciate a minimalist, yet functional design. It has all the back support you need, while still being lightweight enough to lift and move around.
These chairs feature the ultimate ergonomic design, with the signature S-curve for ideal lumbar support. The high backrest makes sure your mid-back is supported well thanks to the S-curve which perfectly follows the natural curve of your spine. For people with back pain, such a design does a better job of relieving spinal pressure compared to a flat backrest.

The soft PU leather material offers ultimate softness and comfort, while the cushioning is just sufficient. You want just enough cushion to be comfortable but not too much that you sink in. This lightweight, simple design means the chairs are versatile and can be used as kitchen or office chairs.

The chairs also come in three different colors: black, dark grey and bright yellow. If you like a more sleek, modern look, the neutral black and grey colors are great. If you're someone who's experimental with a bold color palette, the bright yellow ones will add an eye-catching touch.

Much like the Poly and Bark Barclay dining chairs, the Furniwell Mid-Century kitchen chairs features a streamlined design that guarantees optimal comfort while being compact and simple. The design's versatility means you can use them outside the dining room as well.

The Hallie Dining Chairs from Christopher Knight Home feature a classic tufted design with great cushioning in the seat and backrest. The upper seat area is off-white while the wooden legs are black, making it a stylish color combination that complement most dining tables.

The upper backrest area is at a good height of 22 inches, high enough to provide support for the high back for most people. The curved design of the backrest follows the natural shape of your spine, putting minimal pressure on the vertebrae. There's also a comfortable amount of cushioning on both the seat and backrest.

The color and design of the chairs are compatible with the color scheme of most dining rooms in households. The off-white color complements common colors and materials of dining tables. For example, they can go with either black wooden tables or metallic glass tables, both of which turn out to be modern and elegant combinations.

These chairs are a bit bulkier than the other minimalist designs from Furniwell or Poly and Bark. However, this added weight means the chairs will be sturdier and offer greater stability. The bulkiness also gives it a more high-end appearance, because minimal designs can sometimes look more like office chairs than dining room chairs.

Overall, Christpher Knight's Hallie Dining Chairs are for people who prefer a high-end, sturdy design instead of lightweight chairs. The classic design adds a hint of style and elegance to any dining room.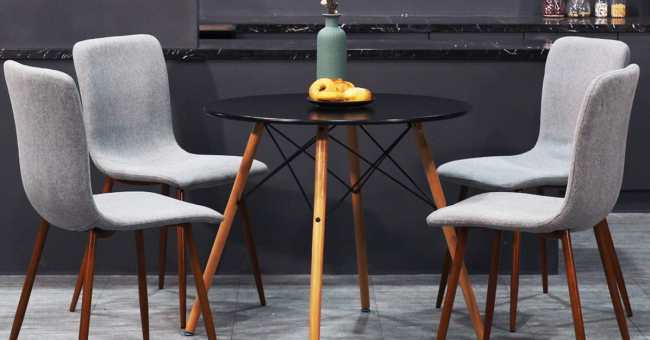 These dining room chairs from Coavas have a sleek yet simple design, making them ideal for people who value functionality over style. Offering just the right thickness of cushioning, the backrest also has a curvy design that's easy on your back and shoulders.

My favorite thing about simple chair designs is that they are so easy to assemble. The Coavas dining chairs are no different. The assembly process consists of just one step, which is screwing the metal leg base onto the seat. You can pretty much assemble all four chairs in 5 minutes which is quite impressive!

While these chairs look simple and light in weight, don't be fooled by appearances. They can support up to 250 lbs of seated weight, thanks to their stable metal legs. The lightweightness adds to their versatility in their use, making them easy to move around the house. You can use these as kitchen dining chairs or as chairs for your office or study.

You'll find these dining chairs offered in several colors such as light grey (shown), light pink, beige and bright turquoise. Whatever color palette suits you, you can find a chair that's just right for your decor.

These chic and ergonomically designed dining chairs from Coavas is a great fit for any dining room. These chairs are the ultimate dining room addition for any minimalist!
LSSBOUGHT's Tufted Dining Chairs are made for people who value both style and comfort. The cushioned backrest and seat offer a comfortable experience and encourages you to maintain a healthy, upright posture.
If you're someone who has a bad habit of slouching or hunching their backs when seated, these chairs are great for you. The high back delivers sturdy support for your whole back and shoulders. The cushioning is just sufficient to allow comfort without sinking into the chair. The angle of the backrest is just past 90 degrees, which is better for spinal support.
The chairs come in either gray or tan fabric upholstery. These colors are perfect for earthier color palettes or minimalist, modern designs.
The seat and backrest are made from fabric with solid wood legs that gives it a maximum weight capacity of 275 lbs.
To protect the fabric against spills and stains, Scotchgard is your best friend. Just make sure to cover the wooden legs before spraying the fabric with water repellant to avoid discoloration.
To conclude, these high back dining chairs from LSSBOUGHT are ideal for those searching for style, comfort, and functionality. The firm backrest offers enough comfort while helping you keep a straight posture.
These sleek, compact dining chair from Edloe Finch feature a cushioned seat with an elm wood and a concave backrest to cradle your back. The velvet cushioning also feels incredible to the touch.
Edloe Finch's Velvet Dining Chairs caters to people who want the luxurious feel of thickly cushioned high back dining chairs without the bulk. They are easy to assemble and transport, plus small enough to go with a dining table of any size. In fact, it takes under 10 minutes to assemble the chair together. All you need to do is screw the backrest and seat to the metal frame.

The chair structure consists of a mid-level backrest and seat supported by 4 elegant brass legs. The cushioned seat is upholstered with velvet and high density foam inside to offer a truly comfortable sitting experience.

Overall, these great dining chairs from Edloe Finch is ideal for those looking for lightweight velvet chairs with excellent ergonomics. The highly contoured seat and concaved back rest together should really bring relief to your back pain as you dine.
Looking for an ergonomic swivel dining room chair? The Rivet Rachel Dining Swivel Chair is one of the most comfortable ones out there. With a curved backrest, swivel design and lightweight construction, these chairs are both ergonomic and make turning in the chair a breeze.
Each chair features a "s" shaped curved backrest that provides ideal lumbar support for back pain. It follows the classic S-curve, which is the ideal ergonomic design for a chair offering support for your spine. The cushioning is comfortable, but minimal, preventing you from sinking in. Once assembled, the overall height is 33 inches, offering sufficient support for most of your back.
The design is quite unique and quirky, different to what we've seen so far. It consists of the seat shell that rests on tripod-shaped chair legs, which is an optimal design for stability. Thanks to this simple construction, the chair only weighs 14 lbs. So, you can conveniently move them around to where you need it, whether it's your study, dining room or living room.
The chairs are offered in two colors, in charcoal grey and an earthy light brown.  The seat is upholstered in synthetic leather, making it slightly easier to clean than the fabric ones on this list. 
Overall, the Rivet Rachel Dining Chair is an awesome chair for anyone looking for lightweight chairs with swiveling. They are one of the lightest and the most ergonomic chairs we've reviewed so far.
And last on this list, we have the UrbanMod Modern Dining Chairs with their ultra-light construction and quirky bird's nest seat design. These are not only strong, but also add a unique, artistic element to your home interior.

The simple construction is composed of one seat shell, made from non-toxic high-quality plastic. The seat shell is resting on a sturdy metal frame and legs. The backrest has a heavy slanted angle with a slight curve for keeping a comfortable posture, even if you suffer from back pain. Thanks to its simplicity, the chair's weight comes to 23 lbs with a maximum weight capacity of 330 lbs.

The rigid, strong plastic gives the chairs a smooth, glossy finish that is also extremely easy to clean and maintain. The unique design cut in the plastic is eye-catching and spruces up any minimalist, modern interior design. What's even better is that the chairs come in a diverse range of colors which includes, black, orange, red, white, grey and light blue.

While it doesn't feature any cushioning, this does make it very lightweight and the backrest design is still quite ergonomic. So, if you're someone who doesn't mind sacrificing a bit of cushioning for simplicity, these chairs are made for you.

In conclusion, UrbanMod's Modern Dining Chairs are one of the lightest chairs but has one of the highest maximum weight capacities. Thanks to the creative, aesthetic bird's nest pattern, you can add a hint of modern style into your dining room with little effort.