Updated rankings for 2021!
If you have a desk job and sometimes deal with neck pain, lower back problems or sciatic pain, a day at the office can feel like torture. You've tried an ergonomic office chair or even a standing desk already, but you still feel things are going in a downwards spiral. If that describes you, a ergonomic kneeling chair may just be what the doctor ordered. They are especially designed to maintain a natural curve in your lower back to remove pressure and put your entire back at ease.
In this comprehensive guide, we've reviewed and compiled the best kneeling chairs that will help alleviate back pain, strengthen your core, and enhance the overall ergonomics of your sitting. When coupled with a standard office chair, by alternating your sitting routine between the two, many people can expect a dramatic improvement in their body postures, and as a result, reduction in body pains associated with sitting in the same position for too long.
The Best Ergonomic Kneeling Chairs for 2021
The Dragonn Kneeling Chair (see full review here) hits all the right notes in terms of ergonomics and design to make it a safe bet for most people who want a comfortable, adjustable kneeling chair. It's not perfect, but at this price range it's the best we've come across.
Lets start with the generous 4 inch cushions on the Dragonn that beats most competitors' offerings. One of the biggest complaints users have with kneeling chairs in general is the lack of long term comfort, especially in the bottom or knee areas, after prolonged sitting. Well, the cushions on the Dragonn kneeling chair are perhaps the best we've ever tested. They are as thick and supportive as those found on the Sleekform chair above, but upholstered in faux leather that are more resistant to tearing.
Depending on your height or task at hand, being able to adjust the kneeling chair's height is an important consideration. The Dragonn Chair doesn't disappoint there either, with a base that can be raised from 21 up to 28 inches to achieve the most suitable angle to keep your back perfectly straight and your core engaged as you work. I'm 5'8″, and find the lowest setting works the best with my desk that is 29″ tall. At the tallest setting, the chair can be used with a standing desk. See the below video to see what I mean:
The Dragonn ergonomic kneeling chair's steel frame is sturdy and built to handle an upper weight limit of 250 pounds. The 4 well built casters allows you to move around in the chair relatively easily, with two of the wheels lockable to prevent unwanted movement. We did find that the casters tend to be stiff and lock up sometimes, however; for the ultimate in mobility, the Sleek Form Chair is still the one to beat.
All in all, the Dragonn ergonomic kneeling chair is one of the most functional chairs we've reviewed to ensure good posture and reduce back pain while you sit.
Pros:
Strong metal construction that supports up to 250 pounds
Extra thick 4 inch mesh cushion for ultra comfort and cooling
4 wheel casters that are lockable to prevent unwanted movement
Adjustable base height to cater to different people- chair raises from 21 inch to 28 inch
Angled seat is sound ergonomic design
Cons:
Casters are sometimes stiff and lock up.
The MediChair is a great kneeling chair on its own right. The standout feature? Extremely easy height adjustment using a lever similar to that on a regular office chair.
All height-adjustable kneeling chairs we've seen on the market use an annoying knob that slowly extends or contracts the height of the main beam. On the Dragonn kneeling chair above for example, it takes literally 30 turns to go from the lowest to tallest setting. This makes it a real nusiance if you need to adjust the chair's height frequently, whether it's for use on different surfaces or with different people.
The MediChair is the only chair we've encountered that uses a lever to easily change the height. It can go from a low 21.2″ to 25.1″.
The seat on the MediChair also resembles more closely to that on an office chair, at least in terms of dimensions.. It's relatively large compared to other kneeling chairs', and as such, may help ease the transition for people new to kneeling chairs.
The two areas that the MediChair falls short compared to the Dragonn chair are the thickness of the padding and range of height. You'll find about 3.5″ of padding in both the seat and knee pads in the former. The maximum height is also shorter, raising the chair up to 25.1″ compared to 28″ on the Dragonn.
All things considered, the MediChair is a more than viable option for people looking for a kneeling chair with easy height changes and a large seat that eases the transition to this new form of sitting.
Pros:
Quick and easy height adjustments
Bigger seat than on competing chairs'
Budget friendly
Cons:
Padding not as thick as on the Dragonn's
Rather limited height range
3. Varier Variable Balans– Best Rocking Kneeling Chair/ by Peter Opsvik
When it comes to kneeling chairs, function usually triumphs style, though with the Varier Variable Balans, you get both for an ergonomic kneeling chair that's perfect for your home and for a variety of non office uses. The Varier has become very popular as a meditation stool, an ergonomic chair for children and teenagers, and an elegant yet functional art piece next to the coffee table. In a nutshell, it's the opposite of all your typical kneeling chairs.
This chair is based on the original Norwegian designs from 1979, and still a classic. The Varier Variable Balans is made of natural ash and polyester fabric. (The fabric comes from 100% recycled plastics, so there's also an environmental incentive to choosing this model.) Although it can of course be used in any office setting, it's a popular choice for living rooms and home offices because of its beautiful modern Scandinavian look.
One of the biggest differences between the Varier and other ergonomic kneeling chairs is the configuration of the knee rests, plus the fact that it rocks to bring micro movements as you sit.
Most kneeling chairs have one large knee rest, while this model has two smaller ones. The advantage of the two piece knee design is that it automatically forces your hips to be open when you're seated, engaging your abdominal and lower back muscles without any body adjustments. That's why it's especially ideal for kids.
The Varier Variable also rocks slightly as you sit. This dynamic or active sitting can further help prevent some of the back pain and other problems that arise from sitting still for too long.
https://youtu.be/uHkZ-ihU7AE
Having said that, you may be surprised by the lack of adjustment options – there's no way to raise or lower the seat – but this chair works for a surprising range of body types even without the ability to customize the height and angles. It's rated for weights up to 240 pounds. You do have the option of buying a backrest, which is sold separately. Although you're not really supposed to lean backwards on a kneeling chair, a backrest lets you take a break now and then without getting up.
Overall, this is one of those simple but effective designs that was destined to become a classic. If your budget allows, the Varier Variable Balans is the most stylish rocking kneeling chair that will fit into any room or decor without missing a beat.
Pros:
Great Scandinavian style
Comes in a few different colors
Natural ash base
Fabric made of 100% recycled plastics
Rocking design brings micro movements as you sit
Cons:
Expensive
Knee rest design limits versatility
Not height adjustable, works best with standard height desks (30″)
If you have your eyes set on a rocking Balans Chair like the Varier, but aren't quite ready to pay a premium for the high end style and wood material, you're in luck. The Sleekform Austin takes most of the benefits of the Balans kneeling chair design and puts it into a highly functional yet economical package.
Instead of natural ash, the Sleekform Amsterdam opts for cheaper grade birthwood instead for its frame. Multiple cross beams are added that can support a body weight of up to 265 lbs.
Like the Varier Balans, the Austin chair employs a two piece knee rest that automatically separates your knees as you sit. This promotes a more open hip, though limits your knee positions.
True to the original Balans design, the Austin rocks as you sit. The frame is slightly curved at the back, bringing some movements as you lean back. I tend to fidget a lot after a while of sitting, and have found the rocking motion great for helping me stay seated. Sitting sometimes with one leg on the floor is also a lot more comfortable thanks to the ability to lean back on the chair.
Let's talk about the cushions now, which all Sleekform chairs are well known for. They are around 4 inches thick, besting every other kneeling chair we've reviewed. And while they do feel quite firm and dense, it's much better than thin cushions that crater after a few months of use.
If there's one issue with the Austin kneeling chair, it's that it isn't height adjustable (like the Varier Balans). The height of the seat is fixed at 22″, which is on the high side. For use with a standard desk and laptop, you should use a laptop riser to elevate your laptop to meet your eyes and prevent neck strain. It's also not quite as durable as the Varier Balans due to the type of wooden frame used.
Pros:
Rocking design brings micro movements while sitting
Thick 4″ cushions that won't crater after a few months
Easy assembly
Attractive wooden design
Awesome customer service
Cons:
Not as durable as the Varier Balans
Non height adjustable seat (22″ of the floor).
It's not hard to see why this is one of the best-selling ergonomic kneeling chairs on the market, considering its unbelievable price point (check latest price). But this chair has a lot more to offer than just a low price.
The Flash Furniture Mobile Wooden Ergonomic Kneeling Chair has enough functionality to work in a professional office setting. The 2 ½ inch thick padding isn't the thickest we've done, but plush enough to be comfortable for a couple of hours This chair also features dual casters for great mobility.
A kneeling chair certainly isn't just solely for work. They're also a great option for watching TV, gaming, or just sitting and playing around on your phone or tablet. With its natural wood frame, this model may blend into your home décor better than a lot of ergonomic office furniture.
The WL-SB-210-GG is rated at 200 pounds and the height is fairly easy to adjust by turning a ring on the central support post. This chair works well for both tall and short people.
This chair does have a few downsides, however. Although some buyers report that it's easy enough to assemble, many people find that the instructions for assembly are confusing and hard to follow. Also, you get what you pay for in terms of materials. The fabric and stitching are a bit flimsy and may give out before long. Some consumers have said that the wooden frame eventually cracks and they have to replace the chair sooner than if they had gone for a more expensive model in the first place.
But at this price, you're taking a very small risk. If you want to get a sense of how an ergonomic kneeling chair will work for you, this is one of the most affordable ways to do it.
Pros:
Ultra Affordable
Wooden frame looks good in either office or non-office setting
Thick padding
Adjustable height
Dual casters
Cons:
Cheap fabric and stitching
Some report wood cracking
Bad instructions for assembly
Ergonomic Kneeling Chairs- Brief History
Kneeling chairs are nothing new. They've been around since about 1979 when Norwegian designers like Hans Christian Mengshoel and Peter Opsvik first introduced them to the market. Since then, there have been all kinds of variations on the theme. Some look a bit like standard office task chairs, complete with casters, adjustable height, and the mesh-and-metal look that's so popular in ergonomic office furniture. Other models use natural wood, textured fabrics and sleek Scandinavian design. Some of the best ergonomic kneeling chairs combine great function with a beautiful modern aesthetic to give you the best of both worlds.
What are Balans Chairs?
A Balans chair is generally considered to be a kneeling chair that positions your thighs at a 110-120 degrees angle when seated, instead of the traditional 90 degrees:
The seat on a Balans Chair is usually slightly sloped forwards to further open up the hip. Also referred to as "balanced seating", such a sitting posture reduces spinal compression, as well as takes the pressure off of your lungs and stomach. This is why many people unconsciously tilt their chair forward when sitting, especially people with back or orcoccyx pain, as it takes the pressure off of the back.
Most Balans chairs utilize a padded cushion to make sure that there isn't too much pressure being applied to the shins or knee, which would cause its very own discomfort.
Things to Consider when purchasing an Ergonomic Kneeling Chair
The more reviews you read, the more you start to realize how different people's likes and dislikes can be. How do you even begin to find the right chair for you?
Kneeling chairs are designed to encourage you to sit up straight, but they don't guarantee that you will. If you sit on a kneeling chair and lean more forward than back, you will probably end up with good sitting posture. If you lean back and slouch, you're not getting any benefit from the chair. Look for a chair that makes it easy to sit upright and slightly forward.
For best results, try to find a kneeling chair with an forward angled seat. According to a study by Dr. A. C. Mandal, a forward sloping seat helps tip the pelvis forward, opening up the angle between torso and thigh, and as such automatically aligns the spine properly as you sit.
Generally speaking, very tall people will have a harder time finding an ergonomic kneeling chair that fits. With a standard desk height, there's only so much room for your legs, and you may end up with an uncomfortable amount of knee bending in order to fit.
Some people assume that if you have knee problems, you can't use a kneeling chair. This isn't necessarily the case. Ergonomic kneeling chairs take some of the pressure off of your back, but they shouldn't put the weight on your knees. Instead, some of the weight is borne by your shins, though most is still carried by your buttocks as in a regular chair.
Main Advantages of Kneeling Chairs
Pitfalls of Kneeling Chairs
Reduced back, neck or sciatic pain for many people
Open hip position and better posture
Can be alternated with a regular chair
Active, dynamic sitting helps build core strength and reduce pain
Easier to do tasks that involve reaching forward
Many people find a kneeling chair more comfortable when working with a computer
Leg movement restricted
Pressure on shins can cause pain
Can restrict circulation to legs with prolonged use
Getting up and sitting down can be difficult
The benefits of kneeling chairs far outweigh their cons as long as you incorporate them as part of a varied sitting and standing routine, instead of the only chair you rely on throughout the day for extended hours.
What Features to Look For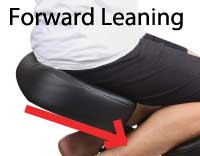 Look for a seat with at least 20 degrees of incline. This helps tip your pelvis forward and align your spine properly, all the while making it harder for you to lean back and slouch.
Some kneeling chairs come with a back rest, though in general I'd advise against them. The whole purpose of a kneeling chair is to encourage you to sit upright, engage your core and distribute your body weight more evenly between your spine, bottom, and knees. With a backrest, that balance is disturbed.. If you need to lean back to rest, alternate with to a regular office chair to do so.
Also, sure you understand the weight and height restrictions before you buy a kneeling chair. Err on the side of caution, and if you're especially large, short or tall, be prepared to pay a bit more for what you need.
And finally, if you're pairing your kneeling chair with your desk for work, make sure the height of the chair
If more than one person is going to be using the chair, try to find one with adjustable height. Some chairs are theoretically adjustable but you need tools in order to change the height.
What are the Major Types of Kneeling Chairs on the Market?
Now that you have a good idea what to look for in a kneeling chair, here are the most common types you will encounter on the market:
x-frame Kneeling Stool
The standard kneeling stool, this type of kneeling chair employs an x-frame for structural stability. This variety is generally utilitarian and many come equipped with wheels for enhanced mobility. Simple, easily adjustable, and usually less expensive than other varieties, the kneeling stool is cheap and cheerful. Many of them are height adjustable.
Rocking Balans Kneeling Stools
The Balans rocking kneeling chair features a forward slopping seat and curved frame that allows gentle rocking, especially as you lean back. Proponents of this design say it helps further reduce back pain while introducing constant movements as you sit. A favorite of parents, children in particular love the rocking motion. Rocking Kneeling stools are usually made of wood and aren't height adjustable.
Kneeler Chair with Back Support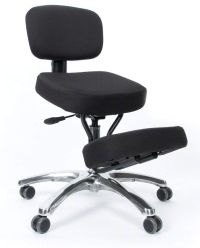 Some kneeling chairs come with a backrest, either as an optional accessory, or built in. This is helpful for people who intend to spend many hours at a time in their kneeling chairs, to take short breaks between maintaining the default upright position.
Unless you have a medical condition, we recommend against opting for a kneeling chair with back support, as it defeats the purpose of getting one in the first place. Instead, simply alternate between different types of chairs, such as an office chair when you need temporary back support. This is also the best practice to relieve undue stress placed on your shins from sitting in a kneeling chair for too long.
Single Knee Pad Chairs
When it comes to knee support, most kneeling chairs these days opt for a one piece, thickly padded cushion to support your knees, The advantage of such a design is that it allows for varied thigh angles as you sit, from closed to open. For people who like to constantly adjust their sitting posture, a single padded kneeling chair works well.
Double Knee Pad Chairs
Double-padded Balans chairs are essentially rockers with separate pads for each knee. Such a design forces your thighs to open up, keeping everything from your hips, thighs, and legs to be positioned at an optimal angle and with minimal effort. The downside however is the lack of variety in how you can sit in terms of thigh angles. Many people put one feet up on the knee pad from time to time to change things up.
Sit Stand Kneeling Chairs
Combining a standing leaning chair with a kneeling chair, a sit stand kneeling chair allows for the entire range of postures when seated- standing, kneeling, and sitting. When used properly- that is, you actually switch between different sitting modes often- it arguably provides the most health benefits out of all of the models listed here, by encouraging a variety of postures. A commercial example of the sit stand kneeling chair is the 5100 Stance.
Saddle Kneeling Chairs
The saddle Balans variant is essentially a Balans chair with a saddle-shaped seat pad. The curved seat design is one of the newest ergonomic additions to the original Balans concept, and may improve posture in the lumbopelvic and cervical region for users. This could lead to reduced back and neck pain. A divided saddle seat are also said to be better for men for their ability to reduce perineal pressure.
Are Kneeling Stools Hard to Assemble?
In general kneeling chairs are easier to put together than a traditional office chair, with less parts involved. It should take you less than 30 minutes to fully assemble a kneeling chair.
Take a look at the following instructional video for the Sleekform Kneeling Chair M2 to get an idea of what's involved in putting one together:
Give Your Kneeling Chair Time
When you first start using an ergonomic kneeling chair, don't expect to be able to sit on it all day. Keep your main chair and just use the kneeling chair for 20 minutes or so at a time. You may find that this is the best way to use your chair in the long term. I tend to find myself going back and forth between my chairs to get the best results. Staying in any one position for a long time is never as good as moving around a bit – even if it's just changing chairs!
For a lot of people, the benefits of using a kneeling chair outweigh the added strain on their shins. If you're suffering with a lot of neck or back pain, an ergonomic kneeling chair may end up being your best option as as main desk chair.
Trying One Out
In the end, the only way to know if a chair will work for you is to try it. That may sound like a tall order when you're shopping online, but it's possible. Retailers know that some things need to be tried out, and they will usually let you return items for a certain period. Look for companies with good return policies and excellent customer service.
We hope that this buyer's guide has given you a better idea of where to start. With a little research and persistence, you should be able to find the best ergonomic kneeling chair for you!