Updated: Dec 14th, 2021
Genuine leather office chairs are a great addition to any office. Not only do they instantly elevate the status of any office, real leather's softness and longevity is simply unmatched by faux or bonded leather.
In this post, we review the 8 best genuine – as in real – leather office chairs currently on the market. No matter if your focus is on aesthetics, ergonomics, price, or a little bit of everything, there is a genuine leather chair that's suitable for you.
| | |
| --- | --- |
| Seat Height: | 17.75″ to 20.75″ |
| Seat width and Depth: | 21″ x 19″ |
| Weight Capacity: | 395 lbs |
The Forbes Leather Chair with its simple yet timeless design plus relatively low cost makes it a safe choice for most office settings or people new to real leather office chairs. It also boasts the highest weight capacity out of all the chairs on this list, further adding to its robustness.
Its 395 lbs weight capacity is complemented by a wide seat and a high back. This gives it an imposing look while being comfortable enough for users of different body types. We love the synchro-tilt mechanism which is a feature often found in high-end chairs. With this the seat and back tilts together at a 1:2 ratio to allow you to keep your feet flat on the floor when you lean back on your chair.

Outstanding Features:
Real Brazilian leather construction except for the leatherette outer back
Padded leather armrest
Comes in 5 colors
Synchro-tilt recline with lock and adjustable tension
Waterfall seat edge
1-year limited warranty
What other owners say:
It's a good-looking and well-built chair. I love the matte finish of the leather too.
The padding is a little too firm for me but still comfortable enough for hours of use.
| | |
| --- | --- |
| Seat Height: | 19″ to 21.75″ |
| Seat width and Depth: | 22.5″ x 20″ |
| Weight Capacity: | 395 lbs |
One glance at the Gates Genuine Leather chair, and there's no mistaking it for anything other than a high powered executive office chair. The highly contoured lines, chrome accents and fine Brazilian leather together has one owner calling the chair "truly stunning".
The Gates Leather chair features the widest seat out of all the chairs on this list, at 22.5″. Combined with a high 395 lbs weight capacity, and this makes the chair comfortable even for large bodies CEOs.
While the lumbar support on the Gates chair isn't adjustable, it's contoured to support the natural curvature of your spine. High density foam is used throughout to provide firm but supportive padding, including the armrests.
One complaint of the Gates Leather Chair is the height of the seat- even at its lowest setting, it rises 19″ off the ground, which for shorter users will leave their feet dangling. A footrest would be recommended if that's you.
Outstanding Features:
Genuine leather seat with leatherette outer back
Padded leather armrest
5 color options
Synchro-tilt recline with 4-position lock and adjustable tension
Sloping seat edge
1-year limited warranty
Excellent customer service
What other owners say:
This chair gets an A+ from me for comfort. The padding is soft and the curved back feels great.
It's expensive but worth the price. Assembly is straight-forward but the chair is quite heavy so it took me 45 minutes to finish.
| | |
| --- | --- |
| Seat Height: | 17.5″ to 21″ |
| Seat width and Depth: | 19.5″ x (22.5″ to 25″) |
| Weight Capacity: | 340 lbs |
Executive office chairs usually focus more on style than ergonomics. Not the X Chair X4, which combines the design of a true ergonomic office chair with the luxury and opulence of a real leather executive chair.
The X4 Chair offers the widest array of ergonomic adjustments that we've found on genuine leather office chairs. The neck rest raises and pivots, the armrests are 4D, and the lumbar and backrest are all highly adjustable. In fact, the lumbar support moves with your body to provide continuous support regardless of your sitting posture.
Though the X4 is the most expensive chair on this list, if you tend to feel the ill effects of a long day sitting in your neck and back, this is the best executive chair to get.

Outstanding Features:
SciFloat Infinite Recline with variable tilt lock and adjustable tension
4D arms
Height, angle, and pivot-adjustable headrest
Dynamic Variable Lumbar Support
Adjustable backrest height and seat depth
5-year warranty for parts and materials, additional 10 years for non-moving metal parts
Excellent customer support
What other owners say:
It took some trial and error to get the adjustments right but once I did, my backache got noticeably better. It's so comfortable that I even ordered another one for my home office.
The arms are too sensitive and don't lock into place. A slight bump makes it change position.
To see the different ergonomic adjustments that the X4 offers, check out this video. Video
| | |
| --- | --- |
| Seat Height: | 18.9″ to 23.23″ |
| Seat width and Depth: | 20.28″ x (16.14″ to 18.11″) |
| Weight Capacity: | 250 lbs |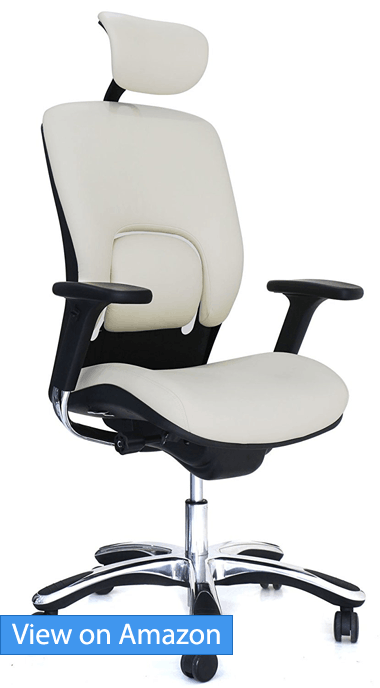 A close second to the X4 Chair above in terms of customization is the GM Seating Ergolux. Looking beyond the luxurious real calf leather upholstery is a highly ergonomic office chair that people with neck and back pain will want to consider, just like with the X4 Chair.
The Ergolux is inconspicuously adjustable. Both the seat depth and backrest height can be changed to conform better to your body size and height. Along with a dedicated headrest that angles, and this is an executive chair that provides full back coverage.
The lumbar support on the Ergolux is also worth mentioning. It's fixed though does provide some flex to move with your lower back as you sit. Some users complain that it is too prominent, though if you have back pain, in general, this is preferred over more subtle designs that don't help maintain the natural curvature of your back as well as the Ergolux.

Outstanding Features:
Genuine top grain leather upholstery
3D armrests
Adjustable headrest height and angle
Adjustable seat depth and backrest height
Synchro-tilt mechanism with adjustable tension
5-year limited warranty
Excellent customer support
What other owners say:
The lumbar support is quite aggressive, though I find this actually helpful for my back.
The arms easily slide out of place. The lumbar support is also just right for me but it's too aggressive for my wife.
| | |
| --- | --- |
| Seat Height: | 18.7" to 22.44" |
| Seat width and Depth: | 19" W x 19.68" D |
| Recommended Capacity: | < 290 lbs |
Gaming chairs often endure punishing usage on a daily basis much more so than regular office chairs, leading to wear and tear a lot faster. This is where getting a genuine leather chair such as the Secretlab Titan NAPA Edition makes especially good sense. Real leather is a lot more resistant to ripping or puncturing.
The NAPA edition is available on all three Secretlab models (Omega, Titan, and Titan XL). This is the most premium real leather upholstery the company offers, which consist of full grain calf leather that is absolutely luxurious to the touch. It also is much more durable and breathable than any synthetic leather material.
The Secretlab Titan is one of the most durable gaming chairs we've ever tested. Mine is going strong after 2 years of all day use with no visible wear at all. The upholstery has held up beautifully, and there are no annoying squeaks when I rock the backrest.
One thing to bear in mind is that the Titan is a large chair with padding that is also on the firmer side. If you're below 5'8″, I recommend looking at the Omega edition instead.
Outstanding Features:
Extremely luxurious real leather upholstery
Wide 4D armrests
Depth adjustable Lumbar support
Built like a tank
Adjustable and lockable rocking mechanism
2-year manufacturer's warranty
What other owners say:
It's extremely well-built so I have no worries of falling even when I'm rocking or reclining. With the wide back and seat, it also doesn't feel cramped even for a big man like me.
The armrests on my Titan are incredible. They are the widest and most adjustable ones I've come across.
| | |
| --- | --- |
| Seat Height: | 19.5-22″ |
| Weight Capacity: | 250 lbs |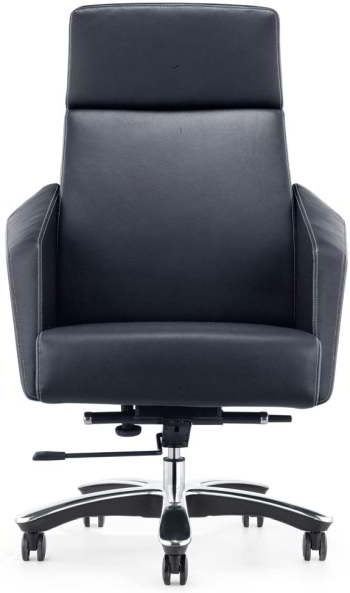 Looking for a commander's chair to go in your corner office as you conduct your business? The Lauren genuine leather chair is one of the most imposing office chairs you'll find. If feeling like and portraying yourself as the boss is one of your goals, this chair will definitely do that.
The Lauren chair is upholstered in fine genuine Brazilian leather, creating an extremely supple sitting experience. Real leather also has the added benefit of being extremely durable and breathable, making the Lauren chair an investment that should last over 10 years with proper care.
Another highlight of the Lauren Executive is actually the robust backrest. Unlike many executive chairs that come with a non adjustable backrest, on the Lauren, it can actually tilt and recline up to 120 degrees to relieve back tension. The synchro tilt mechanism sits on top of an elegant aluminum base.

Outstanding Features:
Extremely well built
Built-in padded headrest
Backrest tilts and reclines up to 120 degrees with syncro tilt
Plush padding paired with soft genuine leather
1-year limited warranty
What other owners say:
My husband and I love the industrial design. It's expensive but it's built like a tank and looks like t's taken straight from the deck of a spaceship.
This is a large imposing chair that fits my body perfectly (6'1″ 287 lbs).
| | |
| --- | --- |
| Seat Height: | 17″ to 21″ |
| Seat width and Depth: | 21″ x 18″ |
| Weight Capacity: | 250 lbs |
Last but not least, if you're looking to impress your clients and board members during meetings, a set of high quality real leather conference room chairs is a step in the right direction. The Hon office chair is one of the few conference room chairs out there with decent ergonomics and luxurious leather exterior to impress.
In terms of comfort, Hon designed this office chair with a curved back, height-adjustable armrests, and a waterfall seat edge. There's also the lockable synchro-tilt feature which is helpful when your clients want to tilt back without feeling like he/she is going to fall over.
We like how low the seat on this Hon's chair can go. At 17″, it caters well to shorter people and female staff well.
The black genuine leather and polished chrome steel combination of the Hon Conference room chair adds an aura of professionalism to any meeting room.

Outstanding Features:
Synchro-tilt with lock and adjustable tension
Low seat height to cater to shorter people as well
Height-adjustable armrests
Waterfall edge seat
5-year limited warranty
What other owners say:
This chair looks sleek and sophisticated. I bought some for our conference room and my client's main office.
For it's price, I was expecting more ergonomic adjustments. It does feel comfortable but I wish it was more adjustable.
Types of Leather and their Pros and Cons
There are several types of leather that are used in office chairs, each one with its own pros and cons. To be a well-informed buyer, you need to educate yourself on the differences of each one.
Bonded Leather
To make bonded or recycled leather, leftover hide and its shavings and dust are milled and spray glued onto a hard fiber surface. It is then dyed, coated with polyurethane to give it a nice shine, and embossed to make it look like real leather.

Bonded leather is sometimes misleadingly labeled by manufacturers as "leather" due to the 10% to 20% real animal hide content in them.
Pros of Bonded Leather:
Budget-Friendly – This is the cheapest type of leather.
Easy to Clean – The plastic surface of bonded leather makes it easy to clean.
Customizable Appearance – It can be printed in just about every color, pattern, or design.
Stain-Resistant – Recycled leather doesn't easily stain due to its polyurethane coating.
Cons of Bonded Leather:
Short Lifespan – Due to its non-elasticity, bonded leather starts to peel and crack after just a few months to a couple of years of use.
Thin and Stiff – This type of leather doesn't have the natural softness and thickness of genuine leather.
Off-Gasses – Since plasticizers are used to manufacture bond leather, it sometimes has a chemical smell.
Not Breathable – It can be uncomfortable to use during warm seasons since it doesn't breathe unlike authentic animal hide.
Non-Hypoallergenic – For people with sensitive skin, coming into contact with the polyurethane coating can lead to allergies.
Doesn't Develop Patina – Bonded leather does not become lustrous as it ages.
---
Faux Leather
Also known as PU leather, vegan leather, pleather, and leatherette, faux leather does not contain any animal hide components. Instead, it uses synthetic materials like polyurethane (PU), polyvinyl chloride (PVC) and polyester microfiber to recreate the appearance and texture of genuine leather.

Among the different types of faux leather, PU leather is the softest, most eco-friendly, and closest to real leather.

Faux leather is made by coating a cotton or polyester fabric with a flexible polymer. To make it look like real animal hide, the polymer-coated fabric is treated. Watch this video to see how this is done.

Pros of Faux Leather:
Affordable and Realistic – Among the three types of leather, faux leather is the middleground in terms of price. Despite being affordable, it's so realistic that it even wrinkles when stitched.
Free of Animal Cruelty – It's called vegan leather since it doesn't contain any animal hide.
Durable – Though faux leather is soft and supple, it is resistant to cracking and peeling. It also doesn't fade or stain easily. With proper care, it can last at least two years.
Low-Maintenance – All it takes is a quick wipe of a damp rug to clean PU leather.
Excellent Fashion Freedom – Just like bonded leather, faux leather can be dyed and printed in every color, pattern, and texture imaginable.
More Manageable – Compared to genuine animal hide, this type of leather is easier to cut and sew.
Eco-Friendly – Faux leather uses less natural resources and produces less waste than bonded leather.
Cons of Faux Leather:
Non-Breathable – The coating used to make PU leather makes it non-porous so it doesn't breathe like true leather.
Non-Hypoallergenic – If you have a sensitive nose or skin, you'll want to skip faux leather office chairs. The synthetic coating can irritate your skin and sometimes exudes a slight chemical smell.
Doesn't Age Well – Only true leather develops a patina over time.
---
Genuine Leather
Genuine leather is made from the hides of animals like cows, deer, horses, and sheep. To prevent the rawhide from rotting, it is tanned.

The water from the skin collagen is removed and replaced with a tanning agent, either chromium salts or plant-based tannins like oak and spruce bark. Depending on the tanning agent used, the resulting leather can have differing results.

Authentic leather offers the best in terms of aesthetics, durability, and feel. Of course, all these come at a cost since genuine animal hide is the most expensive out of the three types of leather.

Pros of Genuine Leather:
Ages Well – Authentic leather becomes softer and rich in appearance as it ages. Depending on the tanning process used, how quickly or how well it develops patina can vary.
Hypoallergenic – Real animal hide is not just hypoallergenic, it's also resistant to allergens. This makes it the best choice for people with sensitive skin and allergies.
Biodegradable – True leather is made from the by-products of the meat industry. It's organic and, once it decomposes, becomes food for plants.
Aesthetically Pleasing – Genuine leather office chairs look very classy and luxurious.
Extremely Durable and Strong – As long as you give your genuine leather office chair the care that it deserves, it can outlive bonded and faux leather ones several times over. It's also very strong and won't tear or puncture easily.
Breathable – Authentic leather is naturally porous so it's suitable for people who tend to sweat a lot.
Cons of Genuine Leather:
Not Eco-Friendly – Most leather office chairs are made using chrome-tanned leather. Unfortunately, chromium salts are harmful to the environment.
Not Animal-Friendly – Because it's made from animal hide, some people associate it with animal cruelty.
Expensive – Out of the three types of leather, genuine leather is, by far, the most expensive.
Prone to Staining – Because it doesn't have a synthetic coating, real leather is naturally absorbent, leading to easy staining.
High-Maintenance – To prevent cracks and stains and keep it looking beautiful, genuine leather requires special care.
How Do I Know if it's Genuine Leather?
There are several meaningful signs to look out for to know if the product you're considering is made with genuine leather.

Authentic animal hide is significantly more expensive than bonded and faux leather. If the price is surprisingly low, chances are it's a fake.
Check the back of the material. Faux leather has a woven fabric backing.
Genuine leather has inconsistently placed pores. Imitations have consistently patterned pores.
Real leather has a natural musty smell. If the product reeks of a plastic or chemical scent, then it's a fake.
How Can I Properly Take Care of Real Leather?
Genuine leather chair maintenance is tedious but rewarding.
The first thing you have to remember is to never use abrasive cleaners and cleaning materials that have alkalis, ammonia, and caustic ingredients. We recommend using mild, neutral-pH non-detergent liquid soaps or leather cleaners instead.
General Cleaning
With the brush attachment on, use your vacuum cleaner to catch the stray dirt and dust on your leather office chair.
Mix some mild soap and distilled water to make a cleaning solution.
To make sure that it won't discolor the leather, do a spot test on an inconspicuous area first.
If it passes the test, dampen a microfiber cloth with the cleaning solution.
Wipe your leather office chair gently from top to bottom.
Wash your microfiber cloth using clean distilled water.
Wipe the chair again with the clean cloth to rinse.
If you're going to use a leather cleaner, just follow the manufacturer's instruction. Always remember to do a spot test before using any product on your genuine leather office chair.
Spills and Stains
Water-based spills like juice and milk should be wiped with a moist white cloth then air-dried. Do not use air dryers to avoid drying the leather.
Oil-based stains like lotion and body oil should simply be blotted with a dry white cloth. It will naturally dissipate as time goes on.
Conditioning
Apply some leather conditioner on your genuine leather office chair every 6 months to keep it soft and prevent it from cracking. For those who live in a hot, dry climate, conditioning should be done more often.
Apply a small amount of the conditioner on a soft white cloth. Then, gently rub it on the leather of your office chair, starting from the top to the bottom.