If you work at your desk with your laptop most of the time, a laptop stand isn't just a luxury, it's a must to prevent neck and shoulder pain from developing. And when it comes to laptop stands, not all are created equally:
In this buyer's guide, we reviewed all the different types of stands out there to come up with the 6 best ones specifically for your desk at your regular or home office. The priority here is the best ergonomics and adjustability over portability.
Sale
For the desk at home or at the office, the Nulaxy Dual Rise came out on top in our testing as the most stable and ergonomic of the bunch.

Firstly, the Nulaxy Dual Rise is ridiculously well-made and stable. It's made from aluminum so it's light yet durable. You'll need some serious elbow grease to manipulate the hinges since they're very tight. Once you adjust it to the desired height and angle, there's zero movement even with a heavy 17″ laptop on top , ensuring a completely stable and wobble free platform.

As a dual rise stand, the level of height that the Nulaxy Dual Rise offers is also superior. The bottom set of legs can add up to 6″ of vertical height, while the top platform once angled further elevates the laptop screen. When I tested my 15″ laptop on it, I was able to elevate the screen all the way to 21″ measured from the desk to the top line of the screen.
And finally, due to the hollow center design, the Nulaxy stand lets you slide your external keyboard underneath. This lets you save both desk space and also bring the laptop screen closer to you if you like.
A husband and wife mentioned that these things made all the difference in eliminating the neck pain they used to get from looking down at their laptop screens.
One warning: We noticed that the product description says that it can handle up to 44 lbs of weight. This is misleading since the real number is more like 13 lbs depending on the configuration of the various legs. Still, for your reference, 17" laptops typically weigh about 6.6 lbs.
The Nulaxy isn't the most portable stand out there, but as a permanent laptop stand at your desk it works, and works damn well.
Pros:
Highly adjustable height and angle
Can slide external keyboard underneath
Lightweight
Extremely sturdy and stable
Cons:
Not meant to be carried around or frequently adjusted
Watch our video review of the Nulaxy Dual Rise here.
If you're on a tight budget but still want the same level of adjustability as the Nulaxy Dual Rise, the Frieet Laptop Stand is your best bet. It has the same design and uses the same type of material so you get almost all the benefits at a lower price.
Just like the Nulaxy Dual Rise, the Frieet has a dual rise construction which means that the height, angle, and distance from the user can be adjusted. They also have the same aluminum construction that makes both models lightweight and durable.
Aside from the price, the biggest difference between the two stands is the design and tightness of the hinges. You cannot manually tighten the hinges on the Nulaxy Dual Rise stand, while on the Frieet, they can be manually adjusted with an included tool. Having said that, the hinges on the Nulaxy are extremely tight out of the box and seem to stay that way (based on our experience and others'). The hinges on the Frieet on the other hand can – and require – periodic tune up to maintain the desired tension.
If you're ok with having to periodically tighten the hinges, the Frieet is more than a viable alternative to the more expensive Nulaxy laptop stand for your desk.
Pros:
Very affordable for a dual rise stand
Easier to adjust than the Nulaxy
Height, angle, and distance adjustable
Quickly dissipates laptop heat
Lightweight
Cons:
Requires tightening every now and then
Not as heavy-duty as the Nulaxy Dual Rise
Sale
If you only need a single level of height adjustment for the desk (ie: you're the only person using it), the Nulaxy C3 is a hassle free, minimalist dual rise laptop stand that is one of the best out there.
With the C3 stand, there are no hinges to fiddle with. Instead, it has a fixed height of 6" and a 15° forward tilt angle, making it the easiest laptop stand to use out of the box. This forward tilt and its open design will also help in cooling your laptop.
The C3 comes in 3 pieces which you can assemble and disassemble in just a minute without using any tools. It's easy to set up and take apart to bring with you on your travels. Of course, being a dual rise laptop stand, you can tuck underneath an external keyboard and bring your laptop closer to you.
The C3's strength is also its weakness. It's not height and angle-adjustable, so it's only suitable for average joes and janes. It's compatibility is also limited compared to our first two picks. With an 8.8 lbs weight capacity, it's more suitable for smaller and lighter laptops (10" to 15").
All things considered, if you're an average height user who's on the market for a sleek-looking, portable, and easy to use laptop stand, the C3 is a must-try.
Pros:
Lightweight and can be easily disassembled for portability
Sleek, minimalist design
Suitable for average height users
Improves laptop ventilation
Cons:
Low weight capacity
Only one level of height and angle adjustment
The Yofew laptop stand is perfect for the cluttered kitchen counter, table, or small desk with its single column design that also swivels to give everyone around the table easy access to the laptop's screen.
The YoFew is a dual rise laptop with a twist. Instead of the usual rectangular base with two connectors, it has a long column that swivels. This means that, aside from being height adjustable (5.94" to 7.83") and angling (0° to 45°), you can also rotate it 360°. If you don't like the hassle of wrestling with the hinges, you'll love the user-friendly side button for tweaking the height to eye level.
Another big plus for this type of design is that it takes up less desk space compared to dual rise stands with two columns. A work-from-home buyer said that this saved him a lot of desk space since he doesn't have enough room for a bigger desk. In terms of aesthetics, it's a favorite Mac fans due to the same space gray color and minimalist design the laptop stand carries.
It's space-saving design has one drawback, however. That is, it wobbles a bit than the above designs if you wish to type directly on it. The base itself is steady. It's the top part that can get shaky especially at its maximim height.
If you're going to use an external keyboard, the wobbling isn't really an issue. Considering the YoFew brings to the table some unique advantages, this is a laptop stand we recommend in tight spaces and those that value aesthetics.
Pros:
Innovative design that frees up more desk space
Easy to adjust its height to desired level
Rotatable and angle-adjustable
Easy assembly
Cons:
Top part can get shaky when typing at maximum height
Stopper might not be enough for thicker laptops
No products found.
For the most portable laptop stand to take with you to the coffee shop or a meeting, the Nexstand gets our vote.
When folded, the Nexstand takes up very little space at 1.5" x 1.5" x 14". It's also very light at just 8 ounces . As one reviewer put it, the Nexstand is very helpful for people on the go since every bit of an ounce and inch matters when you're moving around. It even comes with a stretchy nylon case to make transport easier.
Of course, aside from portability, durability is also a must. Nexstand solves this with a sturdy reinforced nylon and metal fittings that can hold up to 20 lbs of weight. It can hold laptops 11.6" and larger. We like that the Nexstand can accommodate both thin and thick laptops by having pivoting arc clips in two sizes.
The problem with the Nexstand is that there's no way to move your external keyboard underneath to bring the screen closer to you if you wish. Depending on your desk or table material, it also has a tendency to slide around since it doesn't have rubber footing. A quick fix is to stick a bit of rubber grip tape under each foot.
If you don't mind sacrificing some adjustability for an easy to carry laptop stand, the Nexstand is the way to go. It's suitable even for tall users. One satisfied buyer said that it's perfect right out of the box for someone 6'3" like him.
Pros:
Lightweight and folds for easy transport
Relatively strong and sturdy
Plenty of height settings
Can handle up to 20 lbs
Cons:
Takes up more space once paired with external keyboard
Has a tendency to skid on the table
The Besign Laptop Bed Tray may be intended to use on the bed, though thanks to its large and stable surface, we also found it great as a makeshift standing desk on taller surfaces such as your kitchen counter.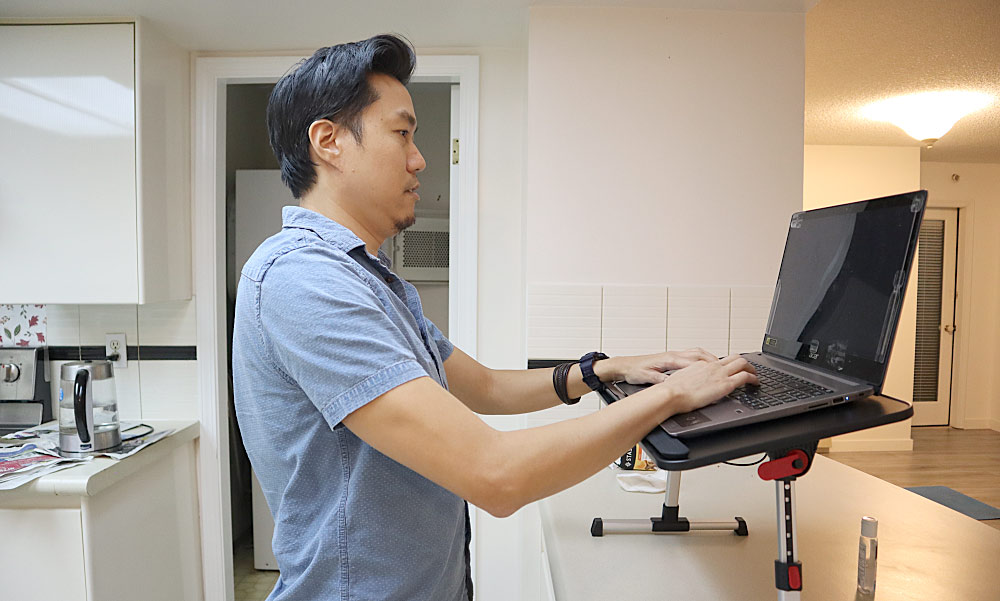 It comes in two sizes, both of which leaves you enough room for a mouse. There are two ways to adjust it: elevate your laptop by 9.4" to 12.6" in 5 different settings and adjust the tilt from 0° to 36° by pressing the two side buttons. The retractable legs have wide non-skid feet that keep the Besign sturdy and stable.
The Besign is made using medium density fibreboard, aluminum, and plastic – all lightweight materials so you can easily move it around the house. At the same time, it's strong enough to handle up to 17" laptops. It also has a maximum weight capacity of 77 lbs. These characteristics make it a fantastic temporary standing desk. A reviewer said that the Besign has been really helpful since he doesn't have enough space for a standing desk in his small room. So, what he does is place the Besign on his kitchen table to minimize slouching while working.
If there's one thing we could change, it's the baffle on the left side. The right side baffle for the mouse is made of soft silicone so it's a comfortable wrist rest. But, the left baffle for the laptop is made of rounded wood so it can get uncomfortable over time. It also wobbles a bit at the highest setting.
Having said that, the Besign is still the best laptop stand that can double as a temporary standing desk on taller desks and surfaces. It checks out from roominess and stability to ease of use and adjustability.
Pros:
Large stable surface
5 height settings and user-friendly angle-adjustment
Retractable legs with rubber feet
Light and easy to carry around the house
Cons:
Laptop baffle is too hard