The best office chairs in the $500 range should offer you most of the features that high-end chairs such as Herman Miller brag about, with a few hundred dollars to spare in your pocket. We're taking everything from adjustable seat depth, height adjustable backrest, to high tech elastomer materials that conform to the shape of your body automatically.
In this guide, we compiled a list of the top 6 ergonomic office chairs under $500 (and around) that gives you the best in durability, style and most importantly, functional ergonomics without breaking the bank.
Note: Prices subject to change. Check final price before purchasing.

Our Top Picks
Best Task Chair Under $500
We start with the HON Ignition Task Chair which we think deserves the title of best task chair under $500. The chair comes with an amazing array of ergonomic features usually reserved for chairs in the $700 range.
Firstly, the height of the backrest on the Hon Ignition is adjustable. As a mid back chair, this helps you dial in the backrest to fit the curvature of your back precisely, regardless of whether you're short or tall. 6 preset heights is built into the backrest.
Secondly, The Hon Ignition task chair seat is also depth adjustable. This one-two punch ensure both your lower and upper body are properly aligned as you sit.
Specially designed for comfort in the workplace, this chair comes with a novel synchro-tilt mechanism. This system allows the back to recline while keeping the seat cushion level to the floor, thereby ensuring the user's back is always properly aligned and the feet can be kept flat on the floor. Just as importantly, the tilt angle can be locked, creating a backrest that is rockable to ease tension in your back.
And finally, I'm a fan of the armrests on the Hon Ignition. It conforms to BIFMA's ergonomic guidelines of being adjustable in 3 planes- height, length, and width, the later meaning you can bring the armrests closer or father away from you depending on your shoulder width.
Check out the below informative video that shows the major features of the Hon Ignition task chair:
The biggest issue with the Hon Ignition seems to be quality control in their packaging. More than a few people have had the chair arrive with one or two components broken. Fortunately Amazon's 30 day and Hon's limited lifetime warranty should take care of that.
Pros:
Highly adjustable backrest with synchro and lockable tilt.
Backrest is height adjustable to 6 positions.
Depth adjustable seat.
3D armrests that are width and length adjustable.
Cons:
Some quality control issues with packages arriving with broken components.
Best Office Chair with elastomer back rest under $500
No products found.
The Bowery Office chair resembles the Herman Miller Sayl in many ways, though at a fraction of the cost and with comparable ergonomics. It features an elastomer backrest as well as multiple levels of adjustability to conform to any body type, giving you the perfect mix of comfort and support at well under $500.

The key feature with the Bowery chair is the elastomer backrest. It is made of high-quality rubber that moves and shapes itself to the contours of your back while being firm enough to provide support. This ensures that the backrest is in constant contact with your back, relieving pressure from the muscles and providing support to the spinal column. Moreover, you get the same breathability that makes mesh chairs so popular while having better support and comfort. Such innovative designs are generally found on high-end chairs like Herman Miller's Sayl at almost twice the price, which makes the Bowery an amazing value for money.

Bowery continues to innovate in other aspects of the chair's design, offering adjustability in all the key areas that matter. The seat can slide back and forth in five different positions, reclining and locking at four different positions and featuring armrests that can be adjusted to 6 different height positions.

Lastly, with a 2-year warranty and available in 4 different colors, it's hard to find any flaws in the Bowery Fully Adjustable chair. The lack of a headrest is noticeable though which would have really completed the package. That said, the five out of five-star rating on Amazon shows that customers are extremely satisfied with the chair's innovative design and amazing comfort.

Pros:
Cutting edge, modern design similar to the Herman Miller Sayl Chair
Elastomer backrest that conforms to your back
Adjustable sliding seat with 5 seat depth options.
Lightweight, at around 35 pounds.
Best High back Mesh Office Chair under $500
The Samofu Office Mesh Chair is one of the highest rated mesh office chairs in the sub $500 range on Amazon, and for good reasons. The chair features amazing ergonomics and breathability in an affordable package under and around $500.

Getting praise from almost all users and reviewers is Samofu's three-tiered back design. The back is partitioned effectively to support lower back, upper back and head of the user to provide maximum comfort and minimize strain.
The chair's lumbar back support hugs the user's lower back and waist area in a firm but comfortable manner, enhancing the natural curve of the spine. Similarly, the high back supports the shoulders, cervical spine and head.
The best testimonial for this design is the majority of users who explicitly mention that the chair helped alleviate lumbar spine pain, upper back pain and cervical tension.
Complementing the dynamic lumbar support on the Samofu's backrest is a breathable mesh upholstery and multiple levels of adjustability. The entire backrest can move up and down, and the backrest offers multiple levels of recline up to 135 degrees.
The chair also has an extremely adaptive headrest that can move up and down plus pivot inwards up to 45 degrees.
Pros:
Three-tiered backrest to support the entire back.
135 degrees backrest recline to ease back pain.
Mesh construction for good ventilation
Robust headrest that can pivot inward
Entire backrest moves up and down
Best Fabric Seat Chair Under $500
No products found.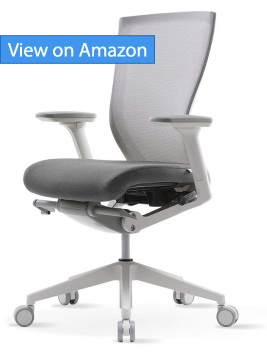 If you are in the market for an ergonomic office chair featuring a fabric seat for more softness over mesh, the SIDIZ T50 is your best choice. Much like the HON's product, the chair has amazing adjustability in an attractive package and a wide range of fabric colors to meld in beautifully with your office decor.

A hallmark feature of SIDIZ T50 is the adjustable lumbar support. The lumbar support can be moved up and down as well as in and out, allowing you to adjust the placement and level of support to your exact requirements.

Going hand in hand with the lumbar support is the S-curved back this chair offers. This allows the user's spine to rest in its natural curved position while distributing the weight evenly across the back for optimal support. This tends to help in reducing the back pain and cervical posture problems in the long run.

In terms of the armrests, this chair ups the ante over the HON's with 3-way adjustable armrests. In addition to the normal up and down movement, the armrests also move back and forth and swivel left and right. This gives you a wide range of adjustability to find the best position for your arms as you go through your day, shifting from sitting and relaxing to typing and using a mouse.

The chair also ticks all the right boxes with adjustable seat depth, reclining back with 5 locking angles, and pneumatic height adjustability features that are lauded by several users. The mesh back also provides excellent ventilation. Moreover, the fabric seat is available in a choice of 5 attractive colors.

However, reviewers note that the chair has the occasional quality control with parts not fitting correctly and bolts breaking during assembly. However, these should be well covered under Amazon's 30-day return window as well as the chair's impressive 3-year warranty.

Pros:
S-Curve back and robust lumbar support.
Fabric Seat that is more comfortable than mesh.
Adjustable seat depth.
Multiple color options.
Mesh back for great ventilation.
Cons:
Some quality control issues reported by users during assembly.
Best Leather Office Chair Around $500
While mesh chairs look great in a modern office setting, you just can't beat the timeless class of a leather office chair. And with the Gates Genuine Leather High Back Executive Chair, you can enjoy the class high-back leather style without compromising on ergonomics and comfort.

The prime feature of this chair is the high-back design. The chair features a bucket-seat style design with a bolstered back and seat that you can sink into while providing essential support to your upper back and shoulders with its high back and broad headrest. This additional support can help relieve pressure from the muscles in the shoulders and neck, which can be a gamechanger for people suffering from upper-back and cervical pain.

The other prominent feature of the chair is the stylish design. The chair is made with high quality, genuine Brazilian leather that's a lot more durable and supple than PU leather The padded arms and back are also covered in leatherette, giving you a very handsome final product that looks at home in any office.

The chair features the same synchro-tilt mechanism that we loved in the HONs which ensures your feet stay level even while reclining to ensure correct posture naturally. Combined with the highly pronounced waterfall seat edge, it's no wonder most owners of the praised its exceptional "comfort".

The stylish design, high-back design and amazing ergonomics make the Forbes High Back chair a truly special chair. The desirable features and overwhelmingly positive reviews helped this chair make the cut for our exclusive list of chairs here.
Pros:
High back design for shoulder and neck support.
High-quality genuine leather and classic design.
Synchro-tilt recline and glide for seamless support.
Cons:
At the higher end of the budget.
A little high for users 5'7″ or below.
Best Gaming Chair under $500
Secretlab's range of gaming chairs is hard to beat when it comes to stylish design, high quality and top-notch ergonomics in a gaming chair. Their Titan model in particular really stands out as an ergonomic gaming chair that can comfortably fit in an office setting as well.

Ask any owner of Secretlab chairs, and they will tell you the two main reasons whey they keep coming back to the brand- unparalleled comfort and durability. This stems from Secretlab's use of the highest quality materials and design choices that favors comfort over pretension.
The chair can recline back to an impressive 165 degree. What's really impressive is that the seat angle can also be locked, enabling you to work in a highly reclined position to really relax your back:
The armrests on the Secretlab Titan is text book ergonomic as well. They are 4D, moving in every direction, including pivoting to support your arms whichever position they take.
We're a big fan of the lumbar support in the Secretlab Titan. Unlike in most gaming chairs where it consists of a simple external pillow, in the Titan, it's both built in and depth adjustable. Using a dial, you can change the firmness depending on the curvature of your back and how much support you need:
In many gaming chairs, often the first thing to wear down is the upholstery. Secretlab understands this, which is why the upholstery on the Titan consists of a special PU material that's up to 4x more durable than standard PU leather. It also has a premium velvety feel to it.
All in all, the Secretlab Titan is simply one of the best gaming chairs we've come across, at any price point.

Pros:
Robust backrest recline with seat angle lock support
Depth adjustable lumbar support
Impressive 4D armrests that locks into place.
Durable, premium upholstery that's more resistant to tearing
Cons:
Seat could be a little too firm for some people
The Importance of Investing in a good Ergonomic Chair
Sitting can wreak havoc on a person's body and with our sedentary lifestyles and desk jobs, serious health concerns from sitting are becoming more prevalent.
A work chair has a direct impact on the posture you maintain while sitting, which is why ergonomic chairs are considered to be one of the most effective methods to promote a healthy sitting posture and minimizing the detrimental impact of prolonged sitting.
A variety of studies validate the positive impact ergonomic chairs have on an employee's work life. This study shows that a mismatch in the dimensions of a chair can reduce the ability of the postural muscles to support the body, causing chronic spinal pain.
Chairs meeting ergonomic requirements can prevent these effects and hence can be beneficial in the reduction and prevention of spinal pain. Another study suggests that the introduction of ergonomic chairs in the office with proper ergonomic training can reduce musculoskeletal strains and loads, consequently allowing employees to maximize employee health and productivity.
What is the Best Office Chair Under $500?
All 6 chairs featured in our list are excellent choices in the $500 range, giving you excellent ergonomics and quality not found on lower end budget chairs. However, choosing the right chair for you from these excellent candidates come down to your specific requirements and style preferences.
For people looking for an mid back ergonomic chair that doesn't stick out, the Hon Ignition and Sidiz T50 are the obvious choices there.
The Browery is my go-to choice for those of you that can't find comfort in a mesh or leather backrest- the elastomer material may just be the ticket for long term back comfort for you.
For people with upper back and cervical spine problems, the Sunnow chair is the smartest choice with the separated 3 tier backrest.
For the executive office or those we crave the supple feeling that only genuine leather can provide, the Forbes Executive Chair is unrivaled in those respects.
And finally, for the sporty gamer that want a high quality chair that is both ergonomic and will actually last past the first year of usage, the Secretlab Titan is your man (or woman).
In the end, choose a chair that complies with all your requirements and is specifically designed for posture issues that you experience and minimize the damage from prolonged sitting.